Yes, I know, it's totally cliché but here it is… another Black Friday sale!
Ah, Black Friday, the day we all love to hate, but secretly still love.
I have 3 awesome deals for you today.
1.Scrapbook Christmas in January
This class will help you capture your Christmas memories in December so you can scrapbook them in January.
You know, January… when you have more time, when you aren't running around shopping, decorating, baking and visiting, when you actually can sit down and scrapbook!
If this sounds like a great idea, it really is! The gals who have taken this class have agreed.
Ali said, "It was fun, NO STRESS, and I complete a mini-album my family loves."
Amy said, " I've scrapped a lot of Christmases already, so I really valued all the ways of celebrating and recording that came with this class!"
I'm so glad there's a way to take the stress out of capturing the magic of Christmas!
Here's the really great news…
If you register before December, and use the code "early10" you can save $10 off this class. That's right ten dollars, not just 10%, that's a savings of 40%
Let's capture the magic of Christmas… after Christmas!
Get more info at Scrapbook Christmas in January.
(Don't forget, if you've signed up for this class before you are automatically in!)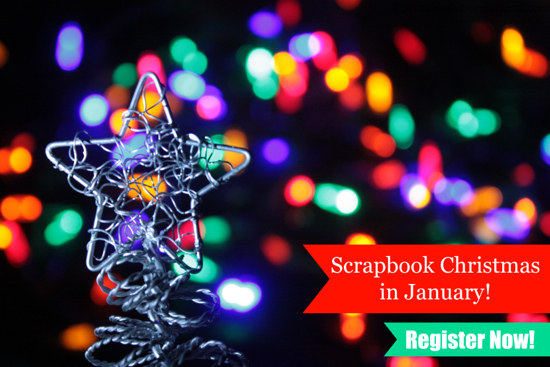 2. Scrapbook YOU!
Have you ever thought about creating an album about yourself and thought, "Where would I even start?"
I had the same problem.
It was kind of embarrassing, I was a scrapbooker and didn't have an album about me.
I'm happy to say I figured it out. I'm sharing a brilliant way to create an album that will become a highlight reel of your life! We will cover all of the important events and by the end you'll have 25 layouts all about you.
Scrapbook YOU! is a class that will help you finally create an album about yourself.
Don't worry if you don't have the right photos… there are solutions that will work for you.
If you've scrapbooked all of the other important people in your life it's time to finally share yours story. Besides, who can tell your story better than you?
And here's the deal…
Save 30% by using the code "black30" at checkout.
This offer is good until the end of Cyber Monday.
Get details at Scrapbook YOU!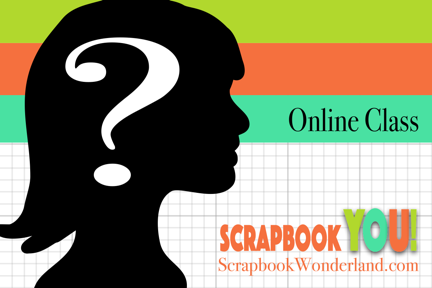 3. ScrapHappy Membership
For the next 24 hours we are offering 20% off an annual ScrapHappy membership. (see code below)
ScrapHappy is a community of scrapbookers, but really we are more like a family. Scrapbooking is a personal hobby. We get to know each other. We celebrate our joyful moments and beautiful scrapbook pages together.
With scrapbook crops and stores disappearing it's nice to know there are others that really understand what it's like to share and preserve my memories.
We have used the magic of the internet to scrapbook together, participate in challenges together, and create real friendships.
There are many perks of membership but one of the most amazing ones is LOAD, the LayOut A Day Challenge. Let me tell you about what happened to my scrapbooks when I participated in my first LOAD.
It was February of 2013, my first LOAD challenge. I signed up on a whim, it sounded like fun. I didn't think I could actually scrapbook every day for a month, but I knew that no matter what I did, I'd end up with a bunch of completed layouts and that would be a win all by itself. I listened to the daily prompts and I scrapbooked my layouts. Part way through the month I realized, "I was doing it! I was scrapbooking a layout a day!" By the end of the month I'd completed 28 layouts. They were amazing pages. I told stories I'd never thought to. I'd filled an entire album. I knew I needed more, so I signed up for ScrapHappy membership and never looked back!
I'm so grateful I found LOAD and ScrapHappy when I did. My scrapbooks are grateful too. ScrapHappy members have access to 3 LOAD challenges each year, one in February, May and October. I think I do 80% of my scrapbooking for the year in those 3 months!
If you'd like to experience stories flowing onto layouts you might want to come and join our ScrapHappy family. If you're like me, and we both like scrapbooking so we do have something in common, you'll be so glad you did.
Save 20% off a ScrapHappy membership by using the code "turkey20".
This offer is only good for the next 24 hours!
Go to ScrapHappy.org and see what's included in membership!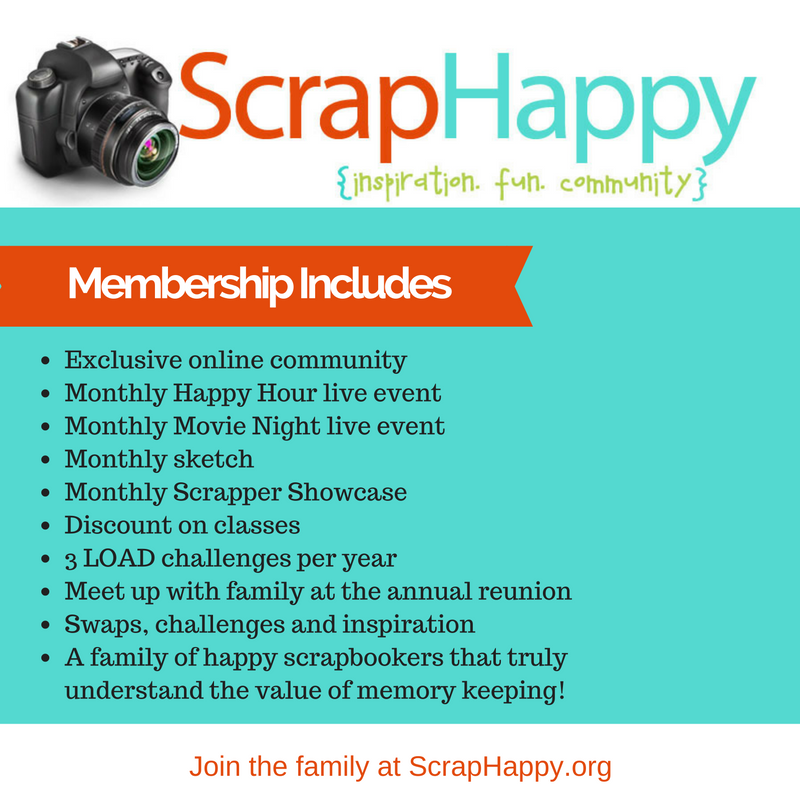 No matter what you are doing this Black Friday, I hope you are having fun. Don't forget to take pictures so you can scrapbook it too!
Alice.