One of my favourite things I've ever done for my scrapbooking is the LOAD challenge.
LOAD is the LayOut A Day challenge, where you take on the task of scrapbooking every day for a month!
It might sound scary… or impossible.
Honestly, the first time I participated I thought I might only complete 5 days! (I guess I wasn't setting the bar too high!) Once I started I couldn't believe how the way the LOAD challenge worked kept me motivated and helped me to complete not just the first 5 days, but the ENTIRE month! Go me!
Why it Works
Every day for the month you receive a prompt. Then you scrapbook your layout. You can choose to use the prompt or go off in your own direction… there's no rules about that… you just need to scrapbook! Then you upload your layout to a private Flickr gallery. You'll see everyone's layouts and can share comments and love on them. It's awesome!
Having the accountability of needing to upload that layout to the gallery is super motivating. If you finish every day for the month on time you'll be eligible for a Finisher's Prize. This is a small reward for everyone that completes an entire month of scrapping. Hooray!
The next challenge is LOAD217 Greek Mythology and it starts February 1, 2017. All of the prompts are based on stories from the Ancient Greek gods and goddesses.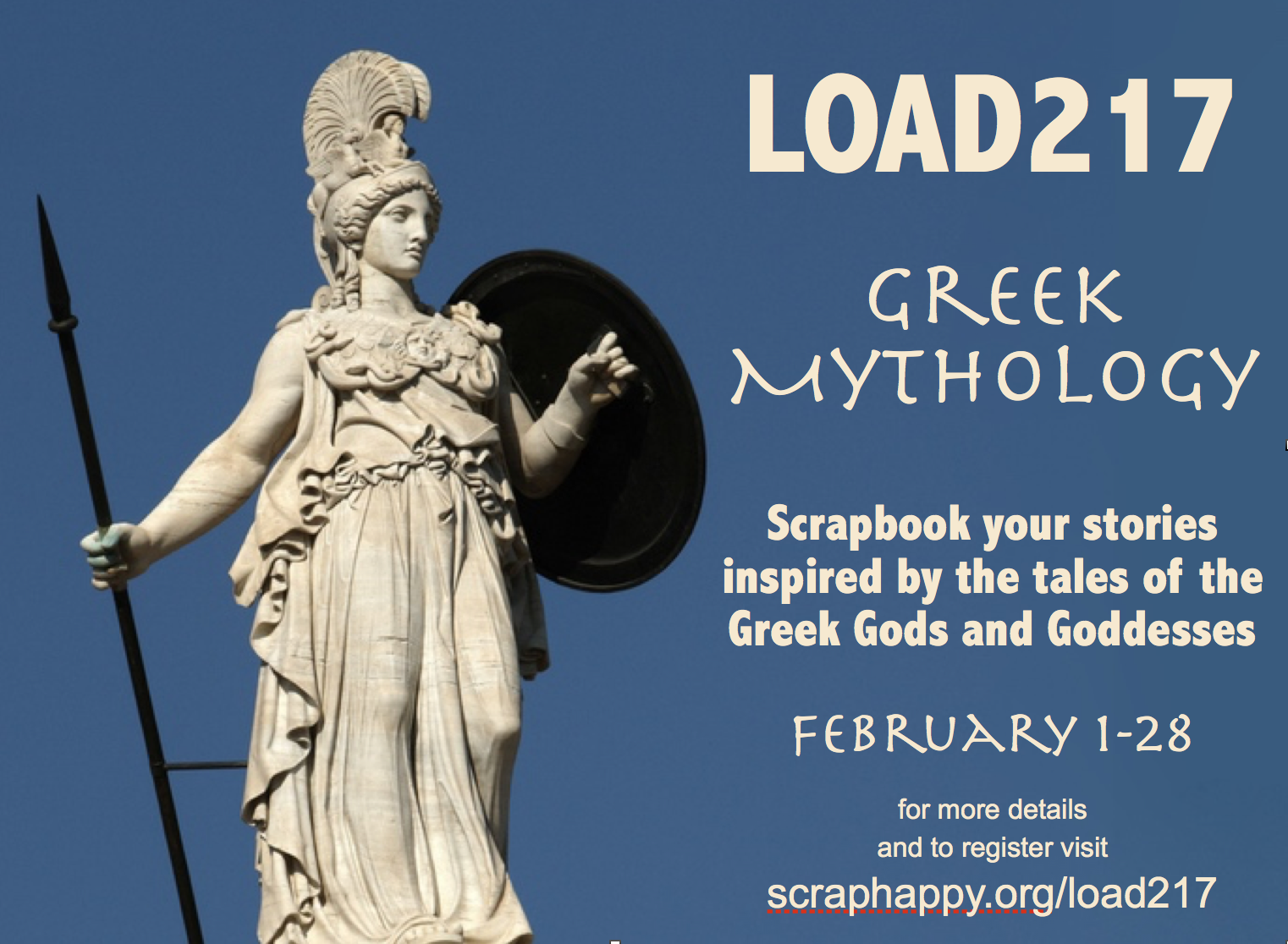 I love the idea of taking stories that we've all heard of and know, kind of vaguely for the most part, to inspire stories that fit into my current life.
If you're excited to join hundreds of scrapbookers on a month of scrapbooking your special stories, inspired by tales from the Ancient Greek gods and goddesses sign up now!
Until the end of January 20th you can use the early bird code "zeus15" to save $15 off your registration. Yay! (If you aren't seeing this until the 21st, try the code… it might still work!)
Pop over to ScrapHappy to get signed up, or for more info if you aren't quite sure if this is your thing yet!
I hope I'll be seeing your layouts in the gallery!
Alice.
P.S. Did you know that ScrapHappy members can participate in LOAD challenges for free? It's just one awesome perk of membership. If you'd like to know more about what the ScrapHappy membership does check out the videos at ScrapHappy.org