Adding an embarrassing story to your scrapbooks can be a lot of fun!
Let's be clear. I'm not talking about the scandalous, shocking, outrageous, humiliating, awkward, or mortifying stories. You can keep those to yourself! 😉
How about a slightly embarrassing story instead.
Page prompt: Scrapbook an embarrassing story!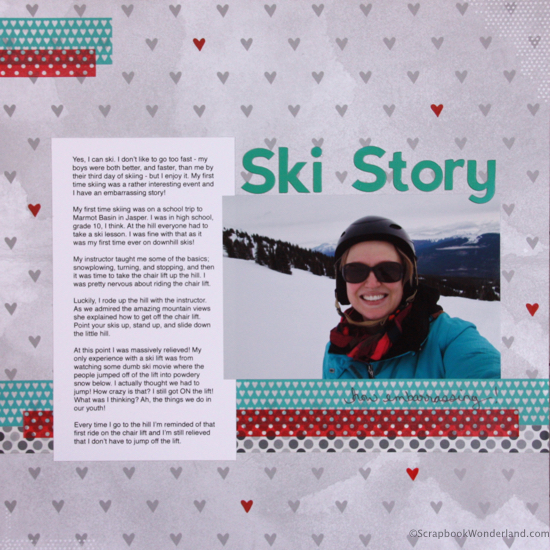 Journaling details:
Yes, I can ski. I don't like to go too fast – my boys were both better, and faster, than me by their third day of skiing – but I enjoy it. My first time skiing was a rather interesting event and I have an embarrassing story!
My first time skiing was on a school trip to Marmot Basin in Jasper. I was in high school, grad 10, I think. At the hill everyone had to take a ski lesson. I was fine with that as it was my first time eve on downhill skis!
My instructor taught me some of the basics: snowplowing, turning, and stopping, and then it was time to take the chair lift up the hill. I was pretty nervous about riding the chair lift.
Luckily, I rode up the hill with the instructor. As we admired the amazing mountain views she explained how to get off the chair lift. Point your skis up, stand up, and slide down the little hill. 
At this point I was massively relieved! My only experience with a ski lift was from watching some dumb ski movie where the people jumped off the lift into powdery snow below. I actually thought we had to jump! How crazy is that? I still got ON the lift! What was I thinking? Ah, the things we do in our youth!
Every time I go to the hill I'm reminded of that first ride on the chair lift and I'm still relieved that I don't have to jump off the lift.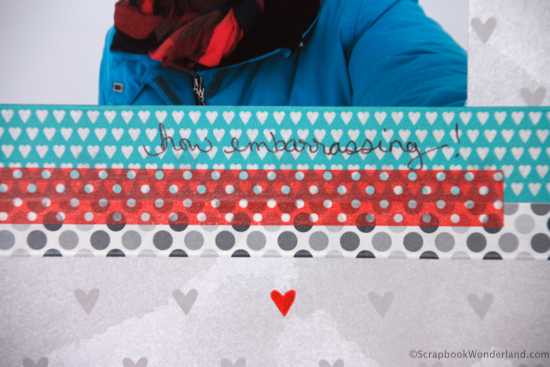 Awesome Tip!
Did you know you can write on washi tape?
Well, you CAN!
You just need the right pen.
(I have tried several different kinds and trust me… most pens do NOT work!)
I recommend a Sharpie, permanent, ultra-fine point pen. It writes easily on the washi tape and doesn't wipe off. (That's important!) 😉
Make it Monday
Welcome to the Make it Monday blog circle. Your next stop is to the Scrapbook Campus where Carol will show you how to add text inside a silhouette for a fun and original result using Paint Shop Pro.
Are you brave enough to share an embarrassing story in your scrapbooks? If you are even braver feel free to share a link to a page you've created in the comments, or you can share a photo on the Scrapbook Wonderland Facebook page!
Be fearless and let your creativity shine!
Alice.