Do you use prompts to inspire your scrapbook pages?
If you've ever participated in a LOAD, (LayOut A Day challenge) you probably have! This month is LOAD216 and I'm excited to be the featured scrapper for Saturday, February 6th.
Today's prompt is:
Geography – What story can you tell related to geography?
My husband has a small plane and absolutely loves to go flying. He found a way for me to fall in love with flying too, by taking me on a flight to the Rocky Mountains. I approached the journaling in a fun and playful way by starting with a question and then sharing my answer. I used a large photo on the page as I wanted to focus on the gorgeous view we had from the plane.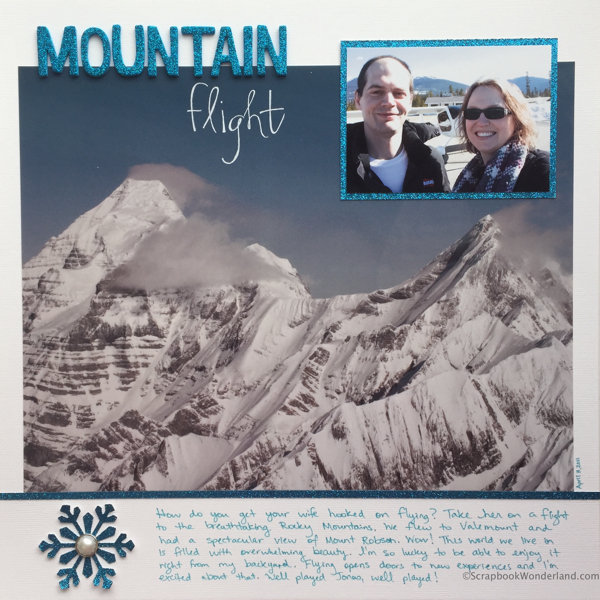 Journaling:
How do you get your wife hooked on flying? Take her on a flight to the breathtaking Rocky Mountains. We flew to Valemount and had a spectacular view of Mount Robson. Wow! This world we live in is filled with overwhelming beauty. I'm so lucky to be able to enjoy it right rom my backyard. Flying opens doors to new experiences and I'm excited about that. Well played Jonas, well played!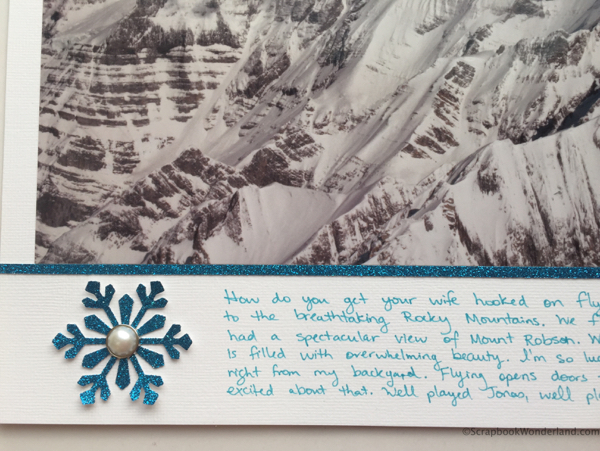 Design Tip:
Not sure about using large photos on a layout? Check out this post: 10 Tips for Using Large Photos on Layouts
Let your creativity shine!
Alice.