When you are sitting in front of a blank page wondering what to scrapbook it can be intimidating and overwhelming. Where do you start?
One thing that makes it a whole lot easier is having a prompt to kickstart your page. In LOAD216 we are scrapbooking every day with a prompt to guide our layouts.
Page Prompt
Use the colours of the Canadian flag, red and white, to create your layout.  Since our inspiration is the Canadian flag we will spell colour with a U, that's the Canadian way! (Have you noticed I tend to favour Canadian spellings on this site?)
My son Joe sent me a photo of himself with the beautiful frost we had on the trees. I loved that my son could appreciate the beauty and that he was enabling my scrapbooking! I used red and white for the page, inspired by the Canadian flag, and I also butted each end of the page with the red sections, kind of like turning the flag on its side.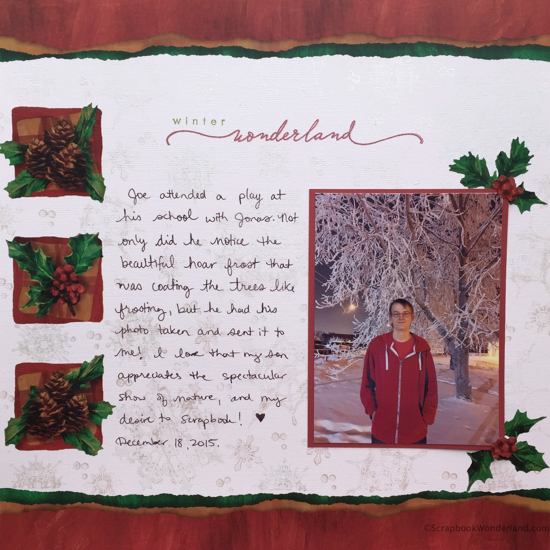 I often do my journaling by hand. I do cheat and pencil in some straight lines, which I usually go back and erase once the ink is completely dry.  (Who am I kidding… more than once I've smeared the  ink because I started erasing too soon!) 😉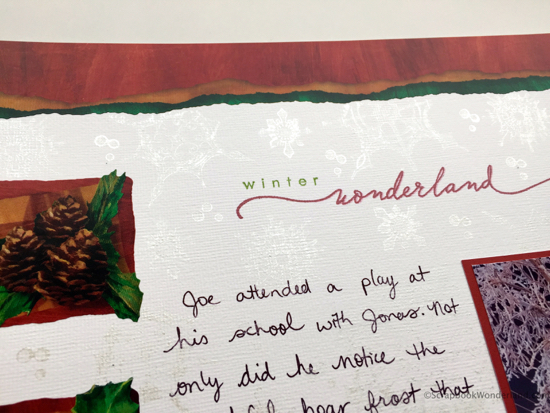 With this detail photo you can see the bit of shine that I've stamped on the background paper using Tsukineko All-Purpose Ink. I'll share a link for this at the end of the post!
Journaling
Joe attended a play at his school with Jonas. Not only did he notice the beautiful hoar frost that was coating the trees like frosting, but he had his photo taken and sent it to me! I love that my son appreciates the spectacular show of nature, and my desire to scrapbook! <3
Design Tip
Let the prompt inspire you, not restrict you! Just because the prompt is to use red and white doesn't mean you can't use other colours. Get started and see where you end up! There are no rules that you MUST follow in scrapbooking. Do what makes you happy!
This is the white ink I used to stamp the snowflakes on the white background. It's so pretty! I use a foam brush to paint it on to the stamp and then apply it to the paper.
Are you ready to get your scrap on? Let your creativity shine!
Alice.