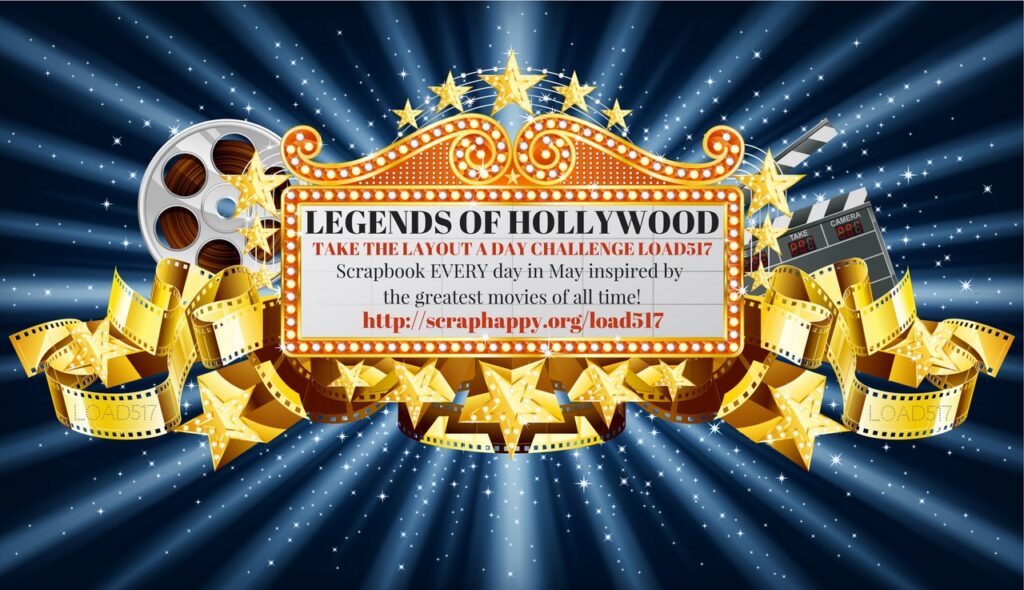 It's almost here! LOAD517 Legends of Hollywood.
Are you ready to take the Layout a Day challenge to scrapbook every day in May?
Don't miss out.
Here's why I love layout a day.
I finally stop collecting scrapbook supplies and finally start using them!
If you've been a bit of a scrapbook collector and shopper, then you might enjoy actually putting your supplies to good use too.
When I tell people what I'm doing in May they always say, "I could never do that!"
That's EXACTLY what I thought too, the first time I signed up on a whim.
Let's be real. Not every scrapper will complete a layout every day for the month. And that's okay. Imagine doing half of that. Or a third. No matter what the magic number is for you, you'll finish the month with a sense of pride and satisfaction, just looking at all of those layouts you've completed!
Let me tell you about my first LOAD challenge.
I signed up, thinking that even if I complete a few pages I'd be happy, because at least I'd be getting something done. The first day was easy. I made my page, uploaded it to the gallery and gave myself a pat on the back. The next few days went much the same way. I found that because I was part of the challenge I held myself accountable. Other scrappers were commenting on my layouts with supportive words and encouragement. By the end of the first week I realized, "I was doing it! I was scrapbooking a layout a day!" The momentum kept me going, then I had a difficult day. With the craziness of life I just didn't have time to scrapbook, but by now I was invested. I ran to my scrap space. I grabbed a photo, an awesome piece of scrapbook paper, added a title and dashed of journaling right on the background paper. 20 minutes later I'd produced the fastest layout I'd EVER made. (This was before you could create a layout on your phone in 5 minutes!) And I liked it. It turns out that scrapbooking every day had taught me a few things about scrapbooking. Not every page was a masterpiece, but a lot of them were really great. I also realized I was scrapbooking more stories, and that made all the difference. I loved the layouts and I loved LOAD. So naturally when the next LOAD challenge came I signed up. You know what happened the next time? I finished the entire next one too, right? Not quite! I finished 7 layouts. That's it. I failed, right? No! I FINISHED 7 LAYOUTS! My average on a good month was 4, so to finish 7 was still fantastic, and they were pages I loved that told great stories. That's the magic of LOAD!
Want to join me? Deadline to register is April 30, 2017.
Go to ScrapHappy.org/load517 to sign up!
And you may finally use up some of your scrappy supplies!
Alice.