Have you heard of the Counterfeit Kit Challenge?
I was so excited because my friend Lisa asked me to play along with the Counterfeit Kit crew as a guest designer for the month of June.
I'd be delighted! 🙂
THE CHALLENGE
Use an inspiration kit to recreate the feel/vibe of the kit using your own supplies! Create a 'counterfeit kit' to use when creating layouts during the month of June.
INSPIRATION KIT
For inspiration we'll be using the May 2018 Hip Kit Club scrapbooking kit.
One look at this kit and I was in love! I could happily create beautiful layouts with those supplies, but my challenge was to recreate this kit using supplies in my stash.
Considering the size of my stash… that shouldn't be a problem.
Okay… FINDING things might be the problem… but I knew I'd HAVE some great things!
MY COUNTERFEIT KIT
Here's my interpretation of the kit, after raiding my stash.
COOL TIP>>> I actually pulled apart (raided!) several old kits. This was perfect because I wasn't inspired by the older kits as they were, but combining the papers in this new way made me realize what treasures I had just lying there!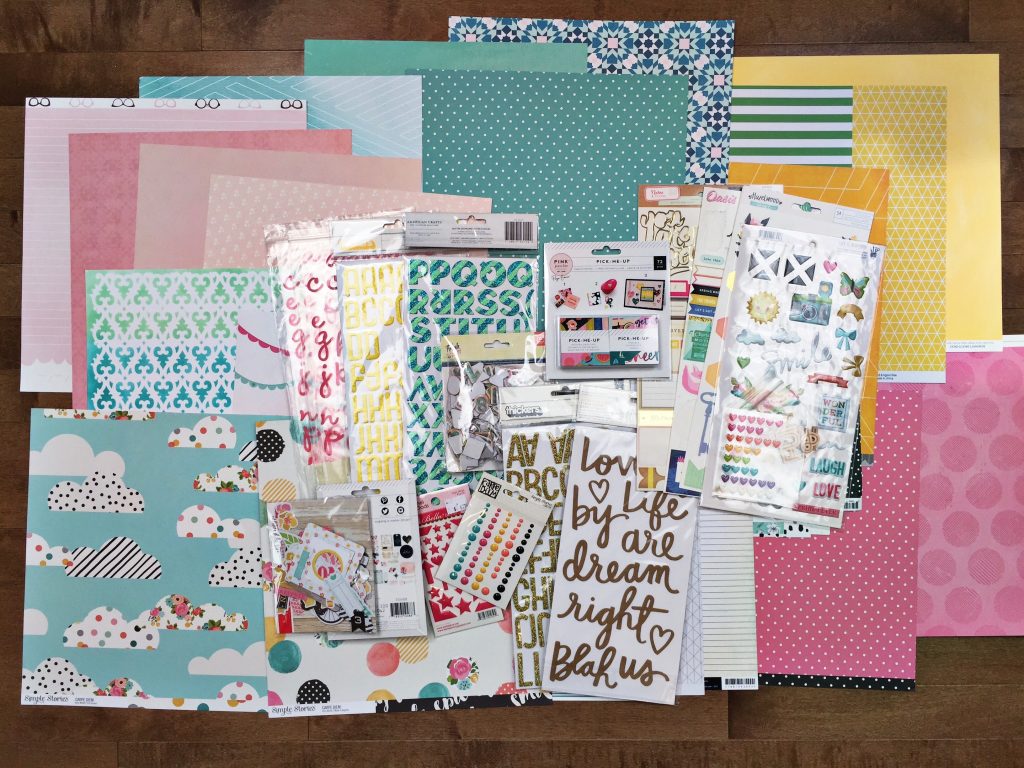 I used these categories as inspired by the Hip Kit.
Fun prints (as inspired by the glasses paper and the bird paper) I found clouds, colourful dots, banners and a fun paper that I had inked.
Peach and soft pinks. These will be great as a a neutral for layering.
Teal patterns. The sample kit had both soft teals, and some that were a bit bolder, so I found both.
Black and white. Although the inspiration kit only had one sheet of black and white I'm pretty sure I'll need a bit more!
Yellows. I love combining yellow, teal and pink and can't wait to play with this!
Bright pinks. These will add a great pop of colour!
White/lined patterns great for journaling. I'll probably add as much cardstock as needed without counting it as part of my kit. 😉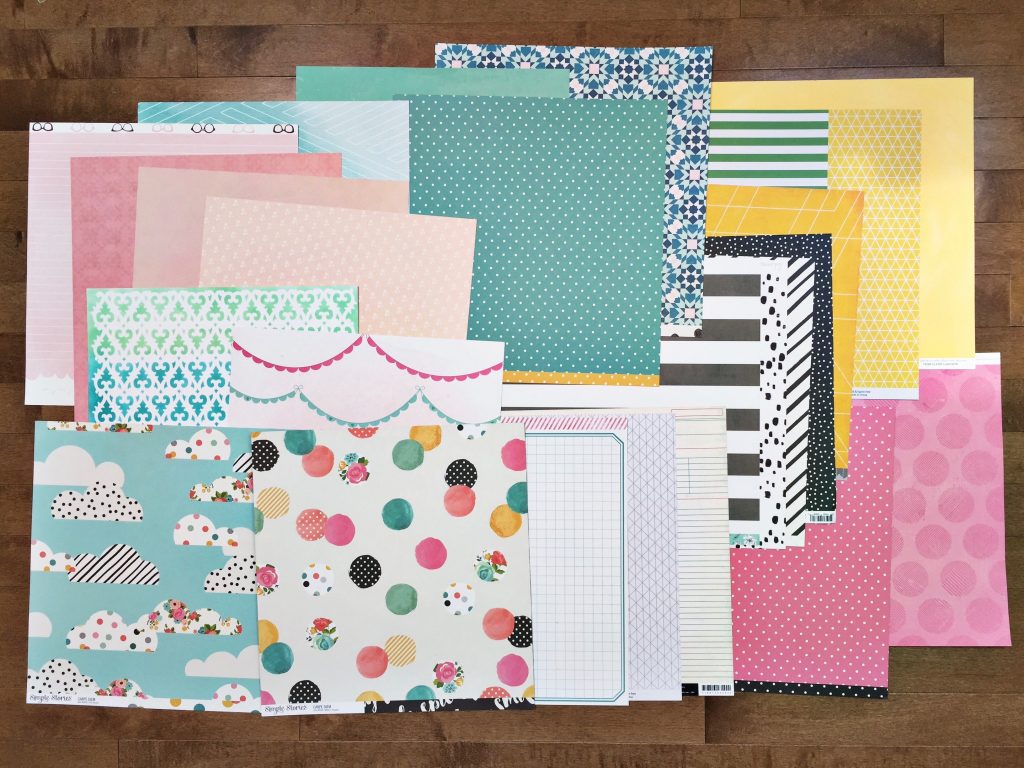 Here are the embellishments and alphas I chose.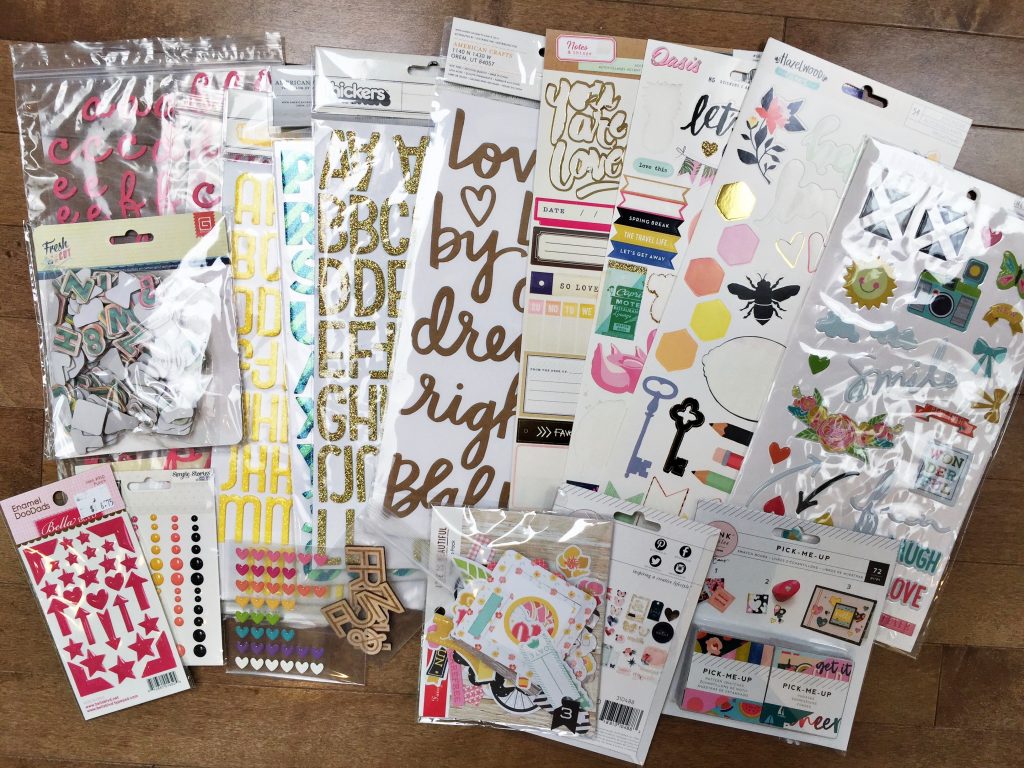 I started with a fun and funky alpha (in the small packaging) that I've had in my stash for ages and never used.
I knew I'd need more than one alpha so I pulled out a few, a yellow, a teal, a pink and a gold glitter.
For embellishments I found several packs of stickers that fit the colours and had a lot of life in them. You'll see on the sheets that I've used some of the stickers, but overall there's still a lot to choose from. I also found a couple packs of die cuts that are lovely and should be good for embellishment clusters!
To my kit I added enamel dots, stars, hearts and arrows, and a sheet of puffy stickers. (The basics!)
I also found some wood grain words and some wood veneer words for a touch of natural.
Finally, I added the 2×2 squares from Paige Evan's Pick Me Up collection, as they are new and I'm itching to see what I can do with them!
I can't wait to get scrapping with this kit! You can play along too. Pop over to Counterfeit Kit Challenge for more details, or hop along to Cindy's blog for her kit reveal!
Hop along the entire list to see how each person put their counterfeit kit together!
Happy scrapping!
Alice.