I'm excited to be the guest designer for the Counterfeit Kit Challenge for the month of June.
I shared all about my kit in this post HERE.
For the next challenge it was suggested to create a layout inspired by the fabulous bird paper in the inspiration kit (the May 2018 Hip Kit Club Kit).
The Challenge
The theme would be, "A little birdie told me…"
At first I was a bit stumped. My counterfeit kit didn't have the gorgeous bird paper, but I had a look to see what I might use instead.
One of my sticker sheets had an adorable little bird! Yay!
I also really loved the chipboard Thicker words and thought they might be a good choice.
The Story
I realized I had a perfect story to for this prompt. Ryan's coach had given me a head's up that he'd be recognized at his swim club year end awards night. (Thanks Coach!)
Ryan received the top male swimmer of the year award and Coach Ryan (yes, my son is Ryan and his coach is Ryan too) had very thoughtfully bought him a University sweatshirt as he's going off to University in the fall.
I was unable to attend the night, so my husband went in my place. Little did he know that he'd literally be stepping into my shoes… or in this case, my new t-shirt, courtesy of the team!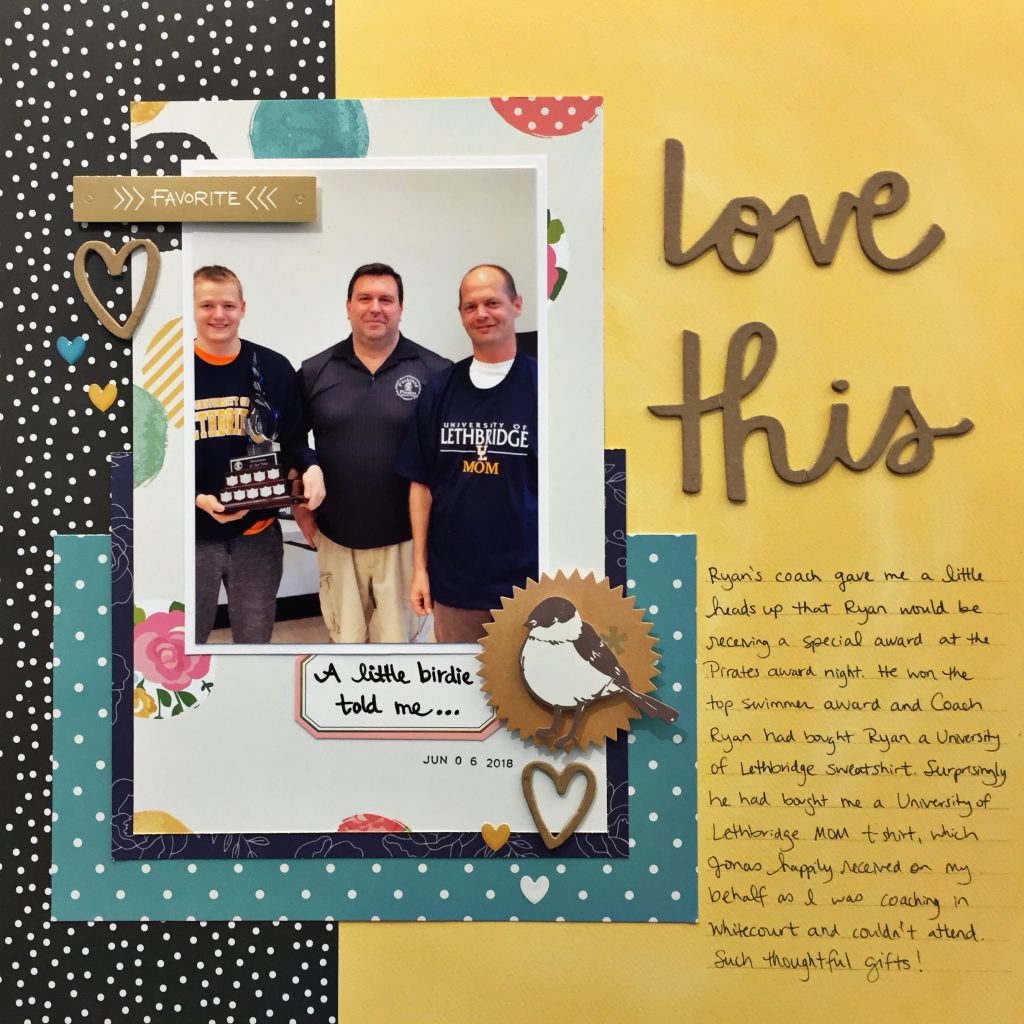 I had many great options for papers in my counterfeit kit.
I liked the big circles, teal dot and black dot from (Simple Stories Carpe Diem), and the mellow yellow Double Dot paper (from Bo Bunny).
I pulled stickers from two of my partially used sticker sheets. I loved that they had some gold foil details.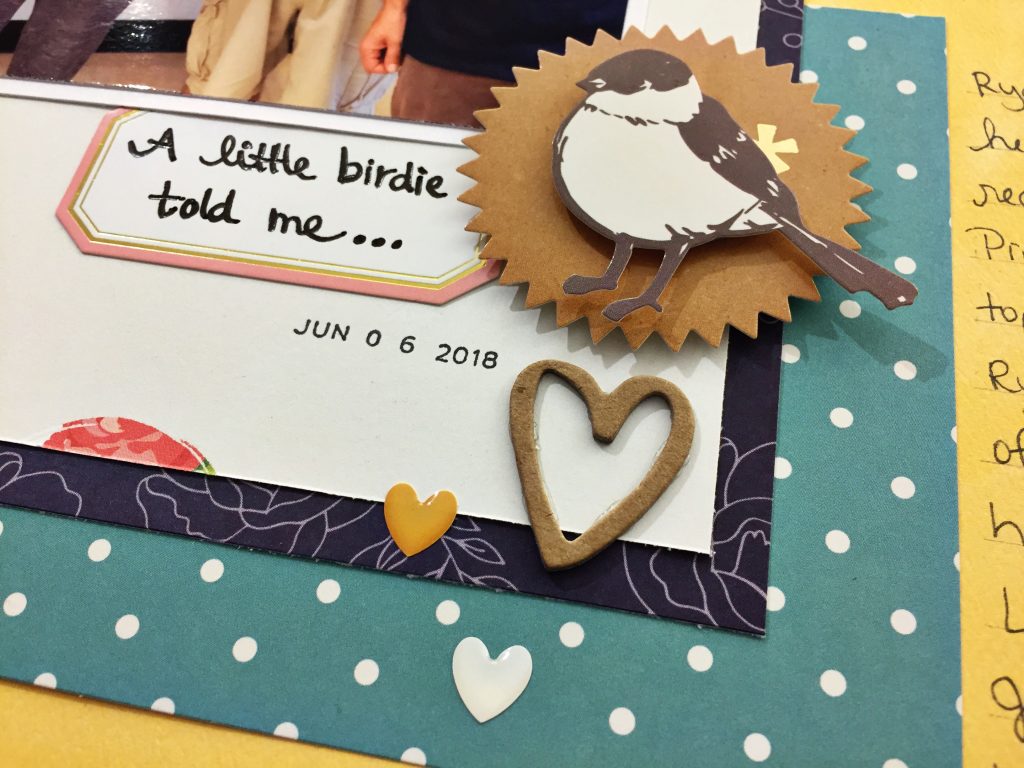 I also added some of the hearts from the Thickers and some enamel hearts.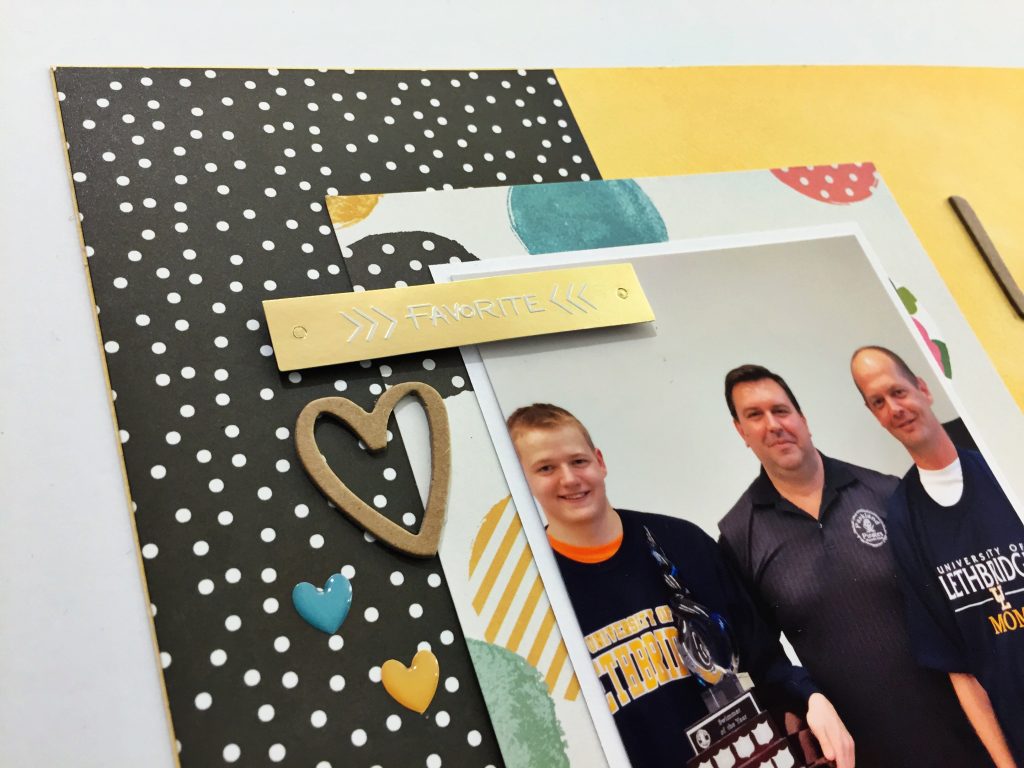 I love how the layout came together so easily with my kit! I thought it was great that my kit contained the perfect shade of yellow to play up the yellow lettering on the shirts.
The "a little birdie told me" prompt was such a fun idea as it gave me a great way to introduce my journaling for this story.
I can't wait to see what else I can create with my kit!
Have you ever put together your own kit? How did you bring everything together? Were you inspired by another kit, or did you have a theme? How did it work out for you?
Happy scrapping!
Alice.