Mother's Day is almost here. Do you use your scrapbooking supplies to make cards for Mother's Day? These 3 gorgeous Mother's Day cards are here to inspire you to pull out your supplies! Don't miss the VIDEO for the third card too!
Make it Monday
Are you hopping along the Make it Monday blog hop? You'll have arrived from Jen Wright Designs where Jen is sharing a free template "All About Her" to celebrate Mothers Day! I'll share your next stop on the hop at the end of this post.
Mother's Day Cards
I have 3 gorgeous Mother's Day cards that are sure to inspire your creativity so you can create a card for a mom in your life. Don't miss the VIDEO for card number 3!
Show 3 cards
Butterfly Card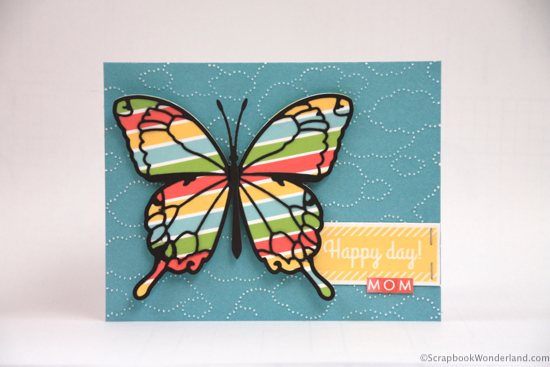 I'm in love with this butterfly die! There's so many ways to make this butterfly look unique and I think it's just so beautiful. When I remembered I had the cloud embossing template I was thrilled… a perfect pairing!
Details:
The base of this card was embossed with a Sizzix embossing folder. I lightly sanded the clouds to reveal the white core of the paper.
The tag that says, "Happy day!" is washi tape, from Close to My Heart, mounted on white paper. It is glued and attached with mini staples. (I'm loving my mini stapler… why are little things so cute?) 😉
The "Mom" sticker letters are from Webster's Pages.
The butterfly was created by putting washi tape onto white paper in strips, then running that paper through the die cut machine using a Memory Box die. Then the black layer was cut using a co-ordinating die. I curled the edges with my fingers and applied it to the card with foam tape.
Floral Card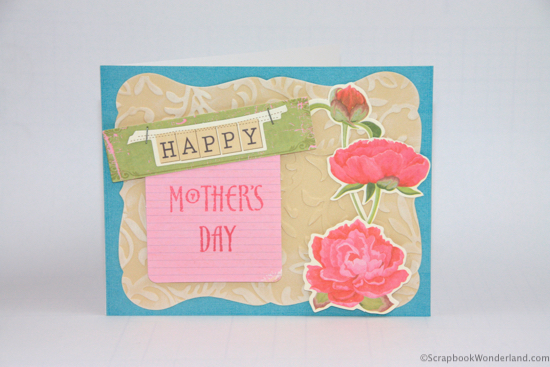 This card is simple and elegant. Oh, and did I mention easy?
Details:
The flowers, tags and 'happy' are from a die cut pack. I'd love to tell you which one, but it looks like something exploded in my scrap room!
I used my mini stapler to attach the 'happy' to the green tag. 🙂
"Mother's Day" is stamped using a CTMH stamp set and ink.
The "Debutante Frame" (that 's what's called) is a die cut from Memory Box. I embossed it with a Provocraft embossing folder, and rubbed some colonial white ink from CTMH onto some of the raised areas.
Washi Tape card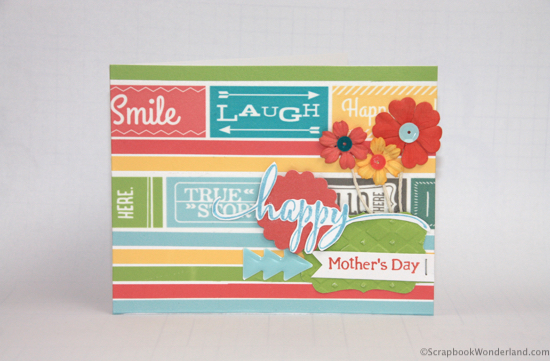 This card is so much fun! If you love washi tape, especially if you happen to have a little 'collection' of it, you'll want to make cards like this for sure! (We're not calling it hoarding… why would we do that?) 😉
Details:
Really, you'll see all of the details if you watch the video, but I'm happy to share more details here too!
The base of the card was made using strips of washi tape from CTMH.
The stamps are also from CTMH. Actually most of the supplies are!
The green shape is a punch from Stampin' Up and was embossed with a Sizzix embossing folder. The pink scalloped shape was made with a punch from Fiskars.
The paper flowers were sprayed with ink to match the washi tape. The centers are sequins… love them!
Of course, I used the mini  stapler to attach the "Mother's Day" banner. 🙂
Make it Monday
Your next stop on the Make it Monday blog hop will take you to Clicky Chick Creates where Connie will show you how to create a one-layer Mother's Day card! Yes, it is possible! Perfect for mailing, gorgeous to share!
International Scrapbooking Day
This Saturday is National Scrapbooking Day. To kick off some fun and excitement I'll be participating in some exciting challenges hosted by The ScrapGals!
I'm going to rev up the fun by presenting one of the challenges! I can't wait!!!
Join the ScrapGals Facebook group today so you'll be ready for Saturday's adventures! Click HERE.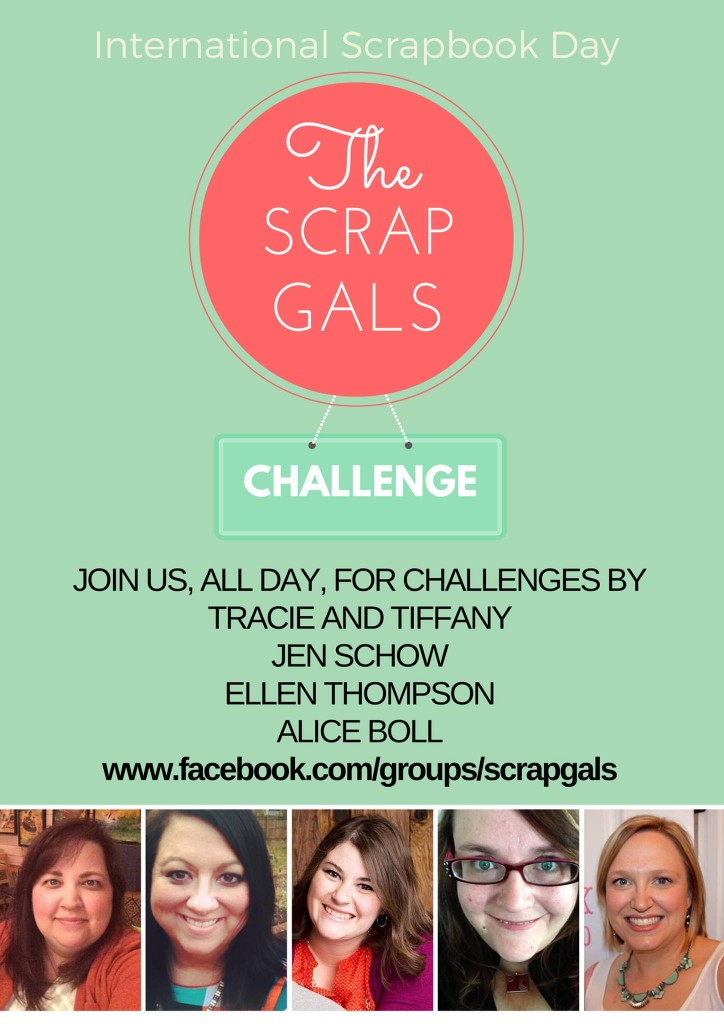 Okay! There's so much excitement here today! I hope you'll check out the links and I'd LOVE to see YOUR Mother's Day creations! Share a link in the comments or pop over to the ScrapbookWonderland Facebook page and post a pic!
Let your creativity shine!
Alice.