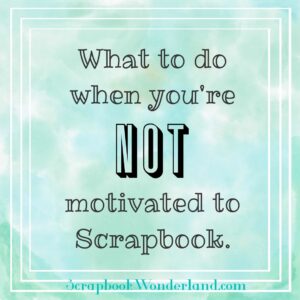 Let's be real. Sometimes even though you love scrapbooking you just don't feel like doing it.
When you go through a dry spell and you are not inspired to scrapbook there are some things you can do to get your scrappy mojo back.
These tips actually work. You probably won't need all ten tips at once, but something will spark your interest and get you back on the path to telling your stories.
Don't. Just don't scrapbook. Sure, this sounds pretty contrary to helping you get back on track, but there's a good reason for this advice! If you're not into scrapbooking right now just allow yourself to be like that for a while. Maybe you scrapbook in cycles like MANY other scrapbookers. Maybe it's just a seasonal thing and you'll be back at it when the weather changes.
Try something creative. Do something totally unrelated to scrapbooking. Make a card, a tag, a piece of jewelry, doing something creative will spark your excitement for crafting and before you know it you'll be back into the groove of scrapbooking again.
Play! Practicing related skills will help you get ready for scrapbooking. Practice watercolouring, learn a new photoshop skill, learn how to create the perfect splatter effect.
Try out a new format. Side-step your usual format of scrapbooking to try something new. If you normally scrap 12×12 try:

a traveller's notebook
an art journal
a pocket page
a mini album
a digital or hybrid layout

Get inspired. Find someone's work you absolutely love and scraplift them. Go on Instagram or Pinterest and find an inspiring scrapbooker. Use their style to kick-start your own pages. WARNING: Don't look too long! Pinterest can become a pacifier, instead of doing something you end up looking at what others are creating.
Take a class. This can help you do new things or learn something you'd love to try. Need ideas? Lettering, art techniques, journaling prompts are a great place to start.
Participate in a challenge. Whether it's 30 Days of Lists, iCAD (index card a day) or LOAD (layout a day), taking on a specific challenge really helps. It's also great that by doing a challenge there's an extra layer of accountability involved.
Immerse yourself in it. Listen to scrapbooking podcasts (like the ScrapGals podcast), watch scrapbooking videos, chat with others about scrappy news, read magazines… there's still a few out there! (Try Creative Scrapbooker Magazine.)
Join a community of like-minded people. Hanging out with others that also love scrapbooking is a great way to get motivated again. Try the ScrapGals Community on Facebook or join the ScrapHappy family. It's a membership group for scrapbookers that want to do more scrapbooking and have fun while doing it!
When you're ready to scrapbook…

use products you truly LOVE and
start with a story you can't wait to tell.
Make it easy on yourself, use a sketch or design you love.
Remember your why. Why do you WANT to scrapbook?
Just by thinking about why you want to scrapbook you will be more likely to want to sit down and get scrapping!
Bonus Idea:
11. Start doing laundry. You'll quickly realize scrapbooking is MUCH MORE FUN that laundry and you'll be motivated to play with your scrapbooks instead!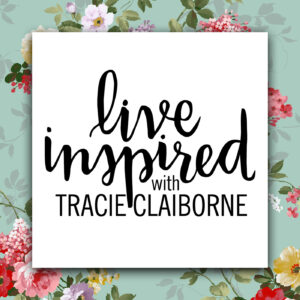 Still need a bit more motivation? I chat about all of these ideas and more with Tracie Claiborne on the Live Inspired podcast. Click HERE.
If you have a tip for what to do when you are not motivated to scrapbook please leave it in the comments! I'm always looking for more ways to be inspired.
Happy scrapping!
Alice.