When I attended Creativation, formerly known as CHA, in January there was a LOT of buzz about the new washi tape storage unit from Deflecto. You can see it in the New Product Showcase video.
Unfortunately at the time you couldn't actually GET it yet!
The good news is that it's available now!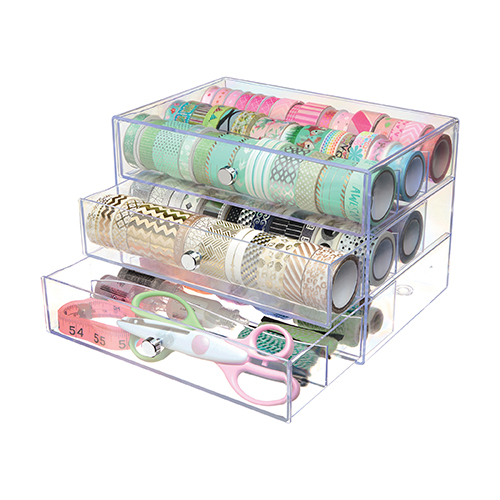 This 3 drawer clear acrylic storage cube is beautiful and functional. It's designed to hold up to 150 rolls of washi tape, although it will depend on how wide the rolls are.
Product Description:

Three-drawer storage cube for organizing standard size washi tape rolls, spools of thread, yarn and more.

Dimensions:  10″W x 7″H x 6.8″D

Color:  Clear

Features:
Transparent cube allows full visibility to quickly access what you need

Divided drawers keep tape neat and tidy

Compact, stackable design leaves plenty of room on your workspace

Can also hold ribbons, small supplies and tools

Non-skid pads on bottom protect work surfaces
How do you store your washi tape? I think my storage needs an upgrade (see photo below), what about you?
Happy scrapping!
Alice.