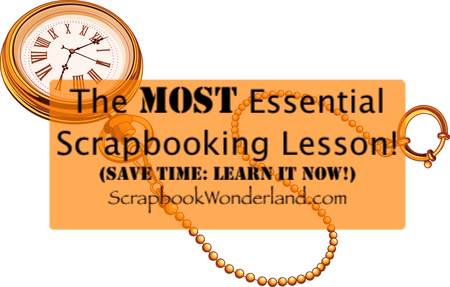 Have you ever read a blog post and thought, "I should do that!"  That's what happened when I read THIS POST  on the Creating Keepsakes Blog.
What was this super inspiring blog post you ask? Stacy Croninger simply wrote about how she started scrapbooking.
In telling my story I need to share the most essential lesson that years of scrapbooking has taught me. So, on with the story…
It all started in 1999 with the birth of my first child, my son Joe.
Actually, it started BEFORE that!
I was invited to attend a Creative Memories scrapbooking party.  I was asked to bring 4-6 photos with me and a small fee to cover the cost of supplies.
I showed up at the party with my photos and money and was ready to learn about scrapbooking. I took my 5 completely unrelated photos and attached them to the page with some decorative paper triangles in the corner and a sneeze of stickers. TA DA! My first ever scrapbook page!
At the time the cost of the supplies was prohibitive to me, and to be honest, the idea of cutting my precious photos made me fairly uncomfortable. That was the end of my adventures in scrapbooking for a year and a half.
When I was pregnant with my first child, I started to think about creating a baby book.  I knew I wouldn't be satisfied with a baby book that didn't include tons of photos, so I decided I would create a scrapbook baby book. (This was a fairly new concept back then. Most baby books were a store bought fill-in-the-blank book.)
I went back to the lady from Creative memories, purchased an album, some adhesive squares, a special journaling pen and my first tool, a corner rounder. Now I was a SCRAPBOOKER!
ESSENTIAL LESSON!
Over the years I've seen many changes in scrapbooking. Tools, techniques, supplies and styles have all changed dramatically.  The one thing that remains constant is the purpose of scrapbooking, to capture the stories and memories of your life.
I look back at my older pages with a bit of disappointment and regret. There are so many pages where I've left the journaling for later, or I didn't know what to say, or I simply said "You're so cute!" or "We had fun!"
I didn't realize how important the stories were. I didn't understand that I wouldn't always remember those adorable little details. I didn't know that my own handwriting was good enough. I didn't know that years later, it wouldn't be the design or embellishments that disappointed me, but the lack of journaling on the page. Journaling is the most important part of a scrapbook page.
I hope you will take this essential scrapbooking lesson to heart. Save time and learn it now so you will have no regrets later!
Happy Scrappin'
Alice.
P.S. I'd love to hear what YOUR most essential scrapbooking lesson has been, or how you got started in this hobby.  Leave your story in the comments!