You'll love this unique advent calendar idea!
This was submitted by reader Fiona Hatfield from Ontario, Canada. She replied to one of the emails I sent about advent calendars, (you know you can do that, right?) and I quickly sent her a request asking if I could share it here! (If you are not on the Scrapbook Wonderland email list it's easy to SUBSCRIBE!)
Lucky for us she agreed and I'm so pleased to share this advent calendar with you!
Fiona created an advent calendar using takeout boxes. Her banister looks amazing with the greenery, lights, and the rich red colour of the boxes.
Like any true crafter (or passionately determined one) she didn't take the easy route… no pre-made boxes or die cuts for her! She cut each of the boxes by hand using a template.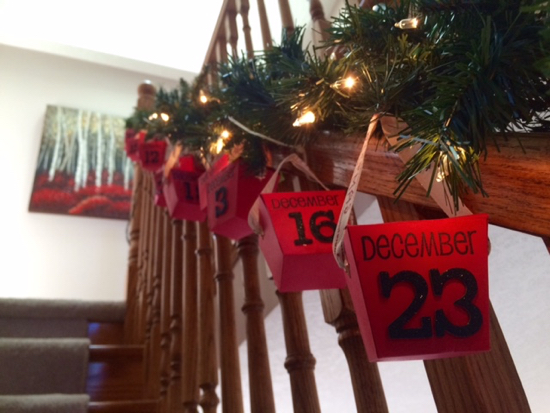 Here's what Fiona said.
I made tiny Chinese takeout containers for my advent calendar and attached them to my banister. I have filled them with Christmas experiences (eg. Christmas music dance party, or bake holiday cookies) plus a healthy sprinkling of toys and chocolates. My daughter is more than happy to wake up 30 minutes early every day to find out what's in the box.

The scary thing is, I made each one of these by hand … No die, no cutting machine … Labour of love.
Here's a link to the template Fiona used:
http://www.victorineoriginals.com/images/patterns/0014.pdf
Why it's WONDERFUL:
1. Not only did Fiona HAVE the idea to make the calendar, she ACTUALLY DID IT!
2. She found creative activities and experiences to put inside the boxes, so it wasn't just about treats or gifts. (A Christmas music dance party? BRILLIANT!)
She didn't make excuses as to why it couldn't be done. Lack of a die cutting machine might have made the project more difficult, but definitely not impossible.
It's absolutely gorgeous and adds perfectly to her holiday decor.
Thank you so much Fiona for sharing your advent calendar with us! I'm sure this helps to add to the magic of your Christmas season.
Scrapper Showcase
Watch for a new feature we will be starting soon called Scrapper Showcase. We will find out more about our fellow scrappers and their scrappy talents! When did they start scrapbooking? What is their scrappy style? Why do they scrap? Where do they find inspiration?
Scrapbook Christmas in January CLASS!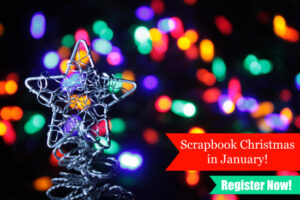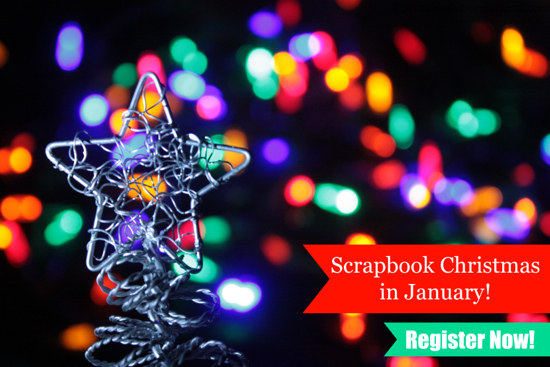 If you haven't signed up for Scrapbook Christmas in January it's not too late! We are in the process of capturing our memories, so we can scrapbook them in January. Click here for more details about the class!
If you love this advent calendar as much as I do be sure to leave a comment for Fiona!
Let your creativity shine!
Alice.