Spring is the time of new beginning and… BABIES! In this post you'll find 3 fun techniques to create the feeling of spring on your layouts.

Make it Monday
Jen has a unique Spring Flower Layout get your free scrapbook template for Make It Monday at Jen Wright Designs.
Use the symbolism of new life when you are creating a layout about spring.
Spring Symbolism:
baby animals; chicks, lambs, ducklings, rabbits
birds nests
umbrella's, rain boots, and rain drops
flowers and blossoms; crocuses, daffodils, tulips, cherry blossoms
fresh colours palettes; try green, blue and white or pink, yellow and white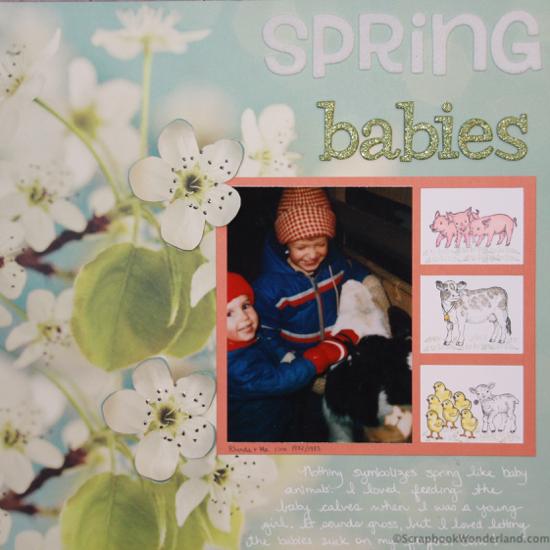 Fun Techniques:
1. Cut the background paper.
Using a craft knife cut the tips of the flower petals and curl them. You may need to line the back of the layout with paper.
2. Make fuzzy letters.
Add flock to alpha letters to create soft and fuzzy titles.
3. Layer stamps using a mask.
The grouping of baby chicks was created using a single stamp, stamped multiple times.

Make it Monday
Kristie shows a great way to use a full page photo on this Spring layout at Artful Adventures.
Have fun with these techniques and scrapbook a spring layout today!
Let your creativity shine!
Alice.