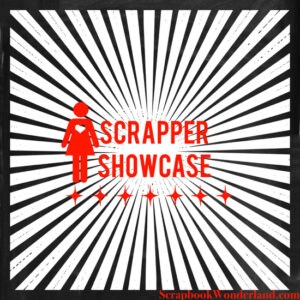 Welcome to the very first episode of a new series at Scrapbook Wonderland, the Scrapper Showcase!
I'm excited to introduce you to Wendy Grimstad-Davidson. Wendy is a close friend of mine and has been a member of my scrapbook club for several years.
I originally met Wendy through swimming, our kids are on a competitive swim team together, but we bonded over our shared love of scrapbooking… and wine!
I asked Wendy questions about how scrapbooking is a part of her life.
Meet Wendy!
Wendy, when did you start scrapbooking?
I went to a Creative Memories party back in the mid 90's. I made a volleyball layout.
How did you get hooked on scrapbooking?
I liked the idea of telling the story and not just having photos and maybe some dates. It took a long time to get over the fear of cutting the pictures back in the day of negatives!
What was your style like? How has it evolved?
I used to cut photos into shapes. No patterned paper. Embellishments were stickers. Now, I'm not great with patterned paper, but I try to use it and layer. I like to use multiple photos in my layouts because I'm cheap!
What type of scrapping do you do now?
Mostly the kids, mostly 12×12 layouts, although 6×8 pocket books are some of my favourites. They are fun because it is easier and using 3-4 papers make it easier and it was finished. And travel albums.
How often do you scrap?
Not often enough! Honestly, lately, only once every couple of months.
What kinds of topics do you scrap?
My kids, travel, events, pages in memory of. One of my favourite pages is called "She". I had my nieces, nephews, brothers and sisters all share something about my mom. ie.) She made the best chocolate chip cookies. I gave it to my mom and it was a nice memory for my dad after she was gone.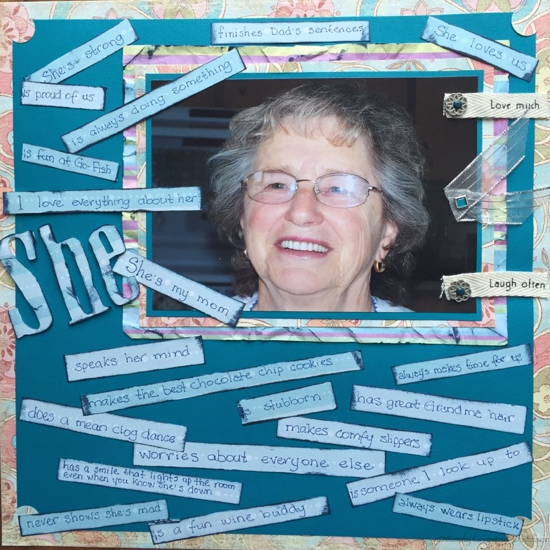 What is your process?
Generally I start with photos, then choose background paper and accent paper. I always use at least 2 colours, then I pick embellishments and titles. All of it comes second to the story and photos, sometimes I don't even add a title.
What helps you get more done?
Having a project helps. Not searching for things! I'm not the most organized scrapbooker but for a project, like my Japan book, I have everything together. If I don't have enough time to scrap I put things together, so I'll be ready. I also like to drink wine. It helps the creative process.
What do you love about your scrapbooking?
It's my only creative outlet. I like that my kids can look at the scrapbooks in 20 or 50 years and they'll know what was happening. Our travel and baby albums are pulled out the most to relive the memories. Usually another story is told and I think that it should go in there, but it probably won't happen.
Frame of Mind
I love Wendy's attitude towards scrapbooking. She dives right in and creates gorgeous pages that tell her stories and share her beautiful photos of her family. One day at our scrapbooking club she saw a layout I had created…
She turned to me and said, "I'd like to make a layout just like that!"
I said, "No problem!" and we pulled out the supplies so she could recreate this page. Here's her creation.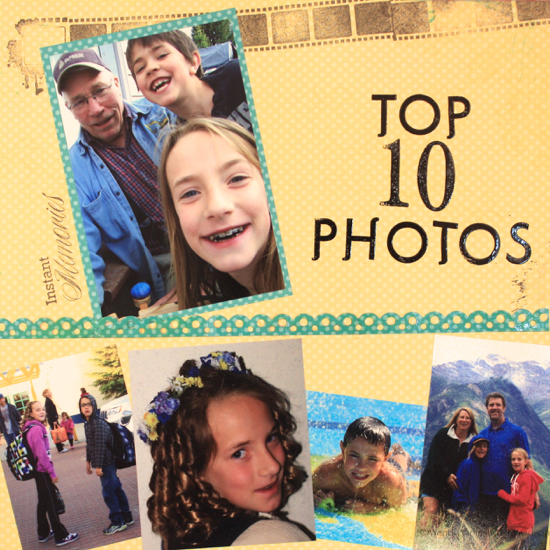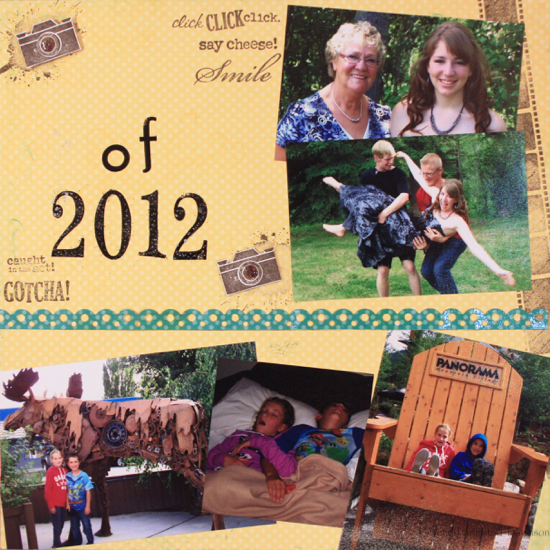 I find it inspiring that Wendy wasn't worried about copying a layout she loved. She happily created this page because she saw something she liked. Her page will probably never be displayed next to mine. (Well, I guess it was here. 😉 No one will know that she didn't design the page, and no one will care. She made a layout that shares highlights of her life, and that's the reason she scrapbooks, to capture the stories of her life.
By keeping the reason why she scrapbooks in mind Wendy has created many beautiful layouts that her family will cherish for years.
Thank you so much Wendy for being our first featured scrapper on the  Scrapper Showcase!
Alice.