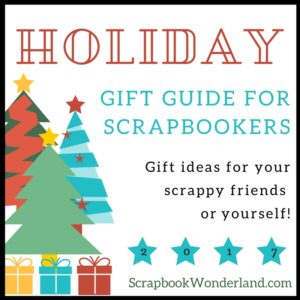 Are you looking for great holiday gifts for a scrapbooker? These gift ideas are perfect for your friends… or yourself!
I'll show you my recommendations for tools and essentials, for classes, and what's on my scrappy wish list.
The great thing is that there's nothing really expensive on this list. The tools and essentials are reliable products that I've been using for a long time and the wish list has some beautiful and fun products to get scrapping with!
***Don't miss the discount coupon for a year of ScrapHappy membership at the end of this post!
Want to shop for these items on Amazon instead?
Click HERE
Skip to:
TOOLS
Back to Top
Tim Holtz Scissors
If you don't have these scissors already YOU ARE MISSING OUT! These scissors are the best ever. They cut through anything. Metal, chipboard, paper, doesn't matter. They're so good I have three pairs. There's always one handy to grab, and one in my travel bag. Plus, because the blade is fairly short from the pivot point to the tip of the blade I've been able to take it in my carry-on bag when I travel. (TSA looks at them, but they have been fine – check the rules before you fly though, you'll be heartbroken if they take these babies from you!)

Tonic Studios – Tim Holtz – Non-Stick Micro Serrated Scissors
And if these aren't wonderful enough now there's a mini pair! I don't have these  yet, but they are going on my wish list!
The Tim Holtz Mini Snips

Tonic Studios – Tim Holtz – Mini-Snips – 5 Inches
Fiskars 12″ Trimmer
This is the only trimmer I use. I've tried rotary. I've tried guillotine. This is by far the best and easiest to use to get nice clean cuts.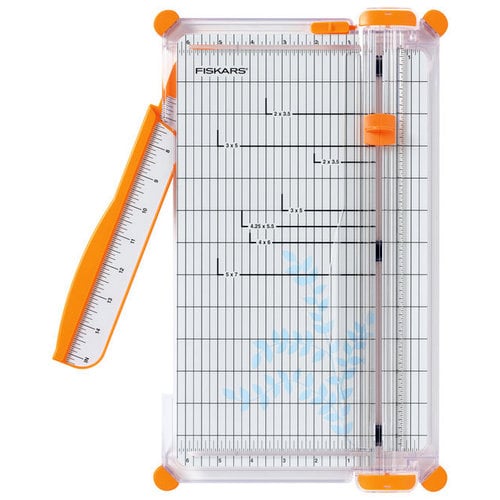 Fiskars – 12 Inch Premium Cut-Line Portable Trimmer – Blade Style I
Fiskars 12″ Trimmer Replacement Titanium Blades
Do yourself a favour and get some replacement blades… cutting is so easy you'll be sure to wear them out! There's nothing like the feeling of cutting with a new blade.

Fiskars Paper Trimmer Titanium Replacement Blades Triple Track 2Pk Blade Style I
Tim Holtz Stamp Platform
I really didn't know how badly I needed a stamp platform until I had one! Now I can't imagine stamping without it! How quickly times change. I have this one from Tim Holtz. I like that it works with clear stamps or rubber ones. It's very easy to use and it really lets you get a crisp image every time. Plus you can do super fun things like ombre SO EASILY! Check it out the ombre on the Fairy Sparkle Card video here.

Tonic Studios – Tim Holtz – Stamp Platform
We R Memory Keepers Fuse Tool
If you're a pocket page scrapper you'll want to consider the world that a Fuse tool will unlock for you. I'll confess mine was in the packaging for about 4 months before I cracked it open. It's super easy to use and lets me do really creative things with pockets, like shakers, flaps and custom sized pockets. Worth it!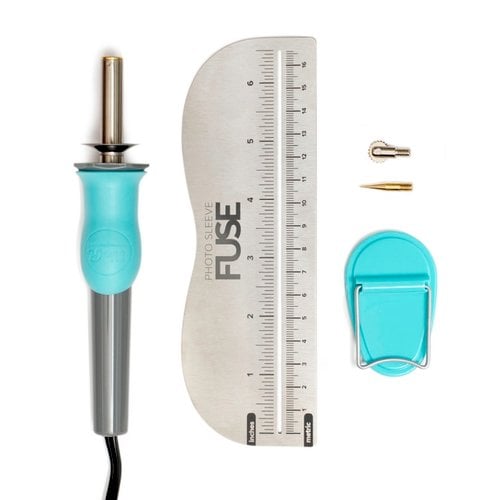 We R Memory Keepers – Photo Sleeve Fuse Tool
Envelope Punch Board
If you've ever made a card of non-standard size you'll know how difficult it is to find an envelope to fit it. Ugh! Thankfully the Envelope Punch Board allows you to make envelopes of custom sizes.


We R Memory Keepers – Envelope Punch Board
Ranger Inkssentials – Reusuable Non Stick Craft Sheet 15 x 18 "
If you're getting crafty it can get a little messy. Having a craft sheet makes clean up a breeze!


Ranger Ink – Inkssentials – Reusable Non Stick Craft Sheet – 15 inch by 18 inch

Heidi Swapp Date Roller Stamp
This date roller stamp has the sweetest font ever, because you know… it's Heidi Swapp's handwriting! I've had mine for years and still LOVE IT! You should know that the months are written with all small case letters, so there's no capitals, and this usually bugs me, but it's just so cute I can deal with it!


Becky Higgins – Project Life – Heidi Swapp Edition Collection – Roller Date Stamp
ESSENTIALS
Back to Top
Distress Oxide Inks
These inks are so creamy and beautiful to work with. Then you can adds some water and watch the magic happen.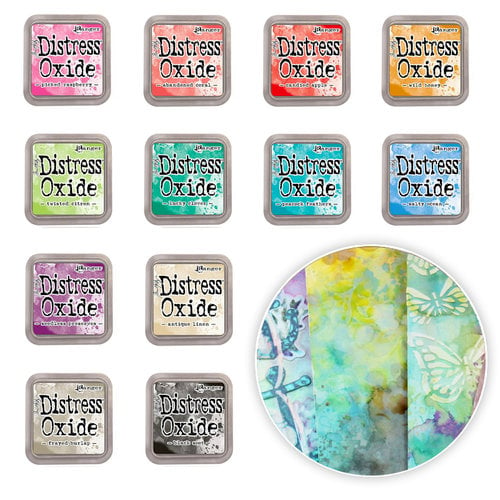 Ranger Ink – Tim Holtz – Distress Oxides Ink Pad Kit – 2017 Bundle Two
Gold Color Shine from Heidi Swapp

Heidi Swapp – Color Shine Iridescent Spritz – 2 Ounce Bottle – Gold Lame
Wink of Stella
I love adding a bit of sparkle and shine to my projects. The Wink of Stella brush is perfect! If you've never tried this before I'd start with Glitter Clear.

ZIG – Memory System – Wink Of Stella – Glitter Brush Marker – Glitter Clear
White Gel Pen
The best white gel pen I've found is the Signo White Uniball pen

Signo – White Uni-ball Impact Pen
Glue Dots
Are you worried you can't get that embellishment to stick and stay put? Glue dots to the rescue! I love that they have a dispenser now, it makes them so easy to use.


Glue Dots – Dot n Go – Adhesive Dispenser – Mini
Paper Tape
I love working with paper tape. It's very strong and reliable and it tears so it's easy to get just the right amount onto a project.

Prima – Memory Hardware – Artisan Adhesive Tape – 0.25 Inch
Foam Tape
To add texture and dimension foam tape is a must-have. If it's not thick enough you can easily double it up, or even triple it up! I'd recommend cutting foam tape with your Tim Holtz scissors, they're teflon coated and won't get sticky from the adhesive.

Kaisercraft – Lucky Dip – Foam Tape
Xyron Create a Sticker
I've had an X sticker maker for many, many years now. If I'm creating a bunch of small punched shapes these are perfect for adding adhesive to them. These are great for alphas you cut from a cricut, cameo or die cut, just make sure they are smaller than 1.5″ to fit in the sticker maker. (If they're larger than that it's usually pretty easy to add adhesive anyways.)

Xyron Create-A-Sticker – Model 150 "X" Dispenser
BOOKS
Back to Top
Craft A Life You Love – Amy Tangerine
With Amy's help you'll be infusing creativity, fun and intention into your every day. I love that she includes ideas for what to do when you lose your creative mojo and how she encourages you to find your weirdness and embrace it. There are just so many good messages to get you on a crafty journey to a life you love.
Better Than Before – Gretchen Rubin
Technically this isn't a book about scrapbooking. This is a book about LIFE! If you've ever wondered why you can't keep your word to yourself and you have trouble with habits, (like doing the scrapbooking you really want to do) then THIS BOOK can really help. I know, because it helped me.
The Four Tendencies – Gretchen Rubin
After you read Better Than Before you're going to want to read The Four Tendencies. Or maybe you should read this first. No matter what… these books will help you understand yourself so you can accomplish the things you want to do… like scrapbooking!
Wreck This Journal – Keri Smith
Perfectionism getting you stuck? This book and it's fun, creative and provoking tasks will get you out of your rut and back into the creative zone! Along the way you probably will wreck this journal!
Clean and Simple Scrapbooking – Cathy Zielske
If you've ever wanted to learn the design principles that make a scrapbooking page awesome this book is the place to start. Any time I make a pleasing page that captures the eye it's probably Cathy's fault. (And when I don't, I take full responsibility for not following the rules!) This book is older, but that means you can get a steal of a deal on used copies!
MAGAZINES
I know of two FABULOUS scrapbooking magazines that you won't want to miss out on! A great gift would be a subscription to one, or both of these!
Scrapbook and Cards Today Magazine
CLASSES
Back to Top
Do you wish you could learn more about scrapbooking to improve your skills? I love taking classes.
Do you want to DO more scrapbooking? The best way I know to get motivated to do more scrapping is to be part of an active course/class.
LOAD218 Choose Your Own Scrapbook Adventure
This layout a day challenge will inspire and motivate your scrapbooking by challenging you create daily during the month of February 2018.
It's amazing what you can accomplish when you join hundreds of scrappers for a layout a day challenge!
Get more info and register at ScrapHappy.org/load218
***Use the code: DELIGHT15  to save $15 before December 31, 2017.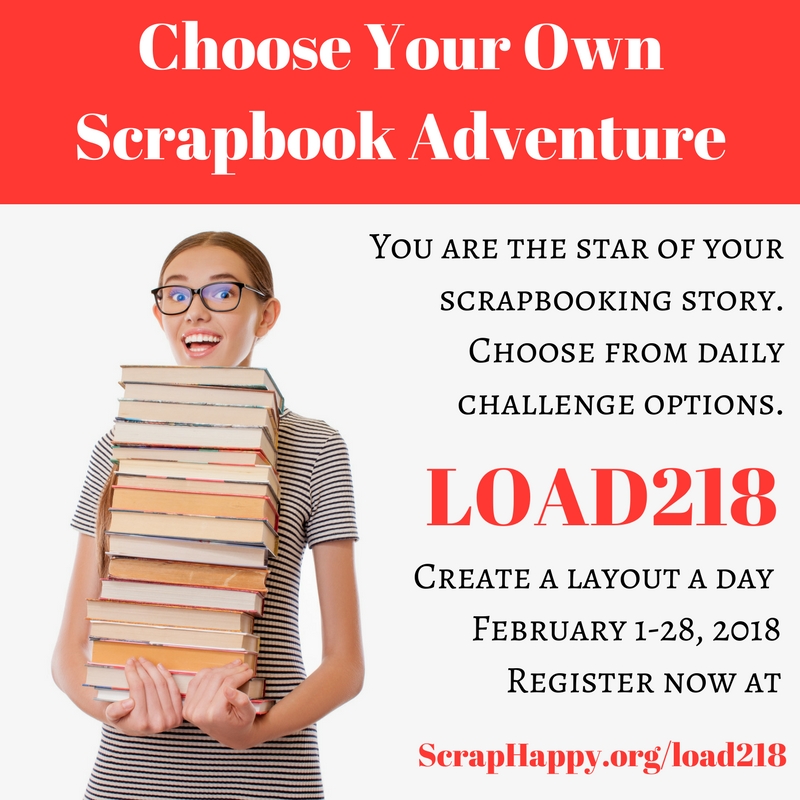 One of my favourite places to find great classes is Creative Live. It's a cool site because you can watch the classes for free while they are live. This lets you really see what the classes are about. You can then purchase the class so you can  watch everything you miss! Check out the scrapbooking classes here.
You may like these ones, I did!
Scrapbooking with Project Life with Becky Higgins
Advanced Digital Scrapbooking: Design Layouts in Photoshop with Traci Reed
Scrapbook Christmas in January
There is so much going on in December. I love the idea of telling my holiday stories, but there's no way I'm going to have enough time in December to do this! Join me for the class Scrapbook Christmas in January. I'll show you my tricks to do as little as possible in December to capture your memories so we can scrapbook them together in January.
Use code: MERRY to save $10 before the end of November!
For more info click here.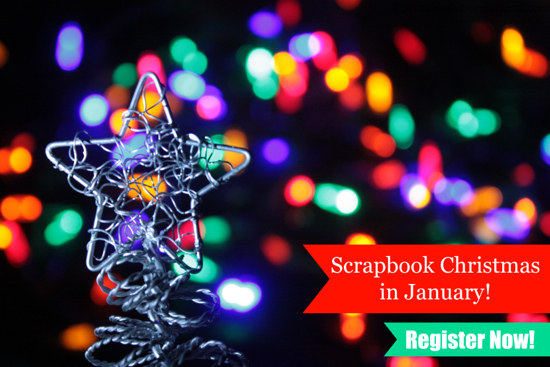 MY WISH LIST of Scrappy Products
Oooh!! There are so many awesome products, which ones are on your scrappy wish list? I've already mentioned that I'd like a pair of the Mini Snips, but there's a few more things I've had my eyes on.
Glitter Girl Collection by Shimelle
Oh my gosh this collection is adorable! I love the colours, the images… just look at that camera paper!!!! Some of this paper has glitter and foil accents. There are super sweet embellishments to go with this paper pack too!

American Crafts – Glitter Girl Collection – 12 x 12 Project Pad with Glitter and Foil Accents
Glitter Girl Collection Enamel Dots by Shimelle
Okay, I confess, I already have these, but just looking at them you can see how quickly they're going to be used up!

American Crafts – Glitter Girl Collection – Enamel Dots
Becky Higgins Project Life- Oh My Heart Collection (by Paige Evans)
I love to do a bit of pocket scrapping and although I'm pretty sure I could scrapbook forever without running out of pocket cards… I'm pretty sure I need these ones! Come on, they're designed by Paige Evans! This whole kit is absolutely adorable and the bright and fun colours are so lovely.

Becky Higgins – Project Life – Oh My Heart Collection – All In One Kit
Pebbles Sunshiny Days Thickers
These chipboard Thickers have the most gorgeous ombre shading. I love that you can have some colour variation with the ombre, but they aren't different colours. I always find Thickers will multiple colours hard to work with. The nice simple font is also a big plus!

Pebbles – Sunshiny Days Collection – Thickers – Letter
Webster's Pages Planner – White Diamonds
I'm torn between which planner I'd like to use next year. I really love two of them from Webster's Pages. The white diamond and the red patent. Which would you choose? You can get the planner as a kit, or just with the binder, and they're also available as a traveler's notebook. Maybe I need one as a planner and the other as a traveler's notebook? (That way I can have BOTH!)

Websters Pages – Color Crush Collection – A5 Planner Kit – White Diamond Stitching – Undated
Webster's Pages Planner
See how pretty the red patent is? Such a hard decision!

Websters Pages – Color Crush Collection – A5 Planner Kit – Patent Leather Red – Undated
Lawn Fawn Stamp Shammy
This looks like the best way to clean stamps that I've ever seen! From the videos I've seen it does a great job cleaning the ink off of stamps too.

Lawn Fawn – Stamp Shammy
Design Objectives Crafts Xcut – Cut and Emboss Folder
Cut and emboss in one step! I have one folder that cuts and embosses, but I'd love to get this one that has a perfect spot to place a greeting on a card.

Docrafts – Xcut – Cut and Emboss Folder – Diamond Lattice
Spellbinders Sunburst Die
I'd love to play with this sunburst die. I think it would be great for layering on cards or on scrapbook layouts. I can already imagine myself cutting out a bunch of them and laying them on a layout to spray with mist!

Spellbinders – The Altered Page Collection – Etched Dies – Sunburst
Pink Paislee- Birthday Bash Collection Copper Foil Thickers – Celebrate
Copper is the new gold. We're going to be seeing more and more of it in the next year. If you want a head start these copper foil Thickers are lovely!

Pink Paislee – Birthday Bash Collection – Thickers – Alpha – Copper Foil – Celebrate
JOIN A GROUP
Back to Top
ScrapHappy

Have you ever wished you could find some more scrappers like yourself? ScrapHappy is a membership group that connects all types of scrappers; traditional, hybrid, pocket, digi, or planner gals. We participate in scrappy challenges like the LOAD (layout a day) challenge, live online events and crops, and we even have a yearly family reunion.
Right now you can save 10% off your first year of membership by using the code: THANKFUL (Discount good until December 10, 2017)
I'd love to know what's on your scrappy wish list! Leave a comment so we can check it out too.
Happy scrapping… and shopping!
Alice.