It feels so good to check things off my scrappy to-do list.
Once a month during Scrapbook Live I manage to do that while scrapping with some online friends.
This month I was using my kit from The Wild Hare Kits. These kits are custom curated. You fill out a style profile and your kit will contain items that reflect your scrappy style.
This month my kit was a stunning success. I really loved the items in my kit. Some of the requests in my profile were geometric prints, acrylic, supplies for pocket scrapping, sequins, and I was even hooked up with some yellow Thickers that I was longing for! As a bonus the kit included a 'Thankful' cut file.
I was happy to give away a free kit from The Wild Hare Kits too!
Here are the layouts that I created…
Video Replay
12×12 Layout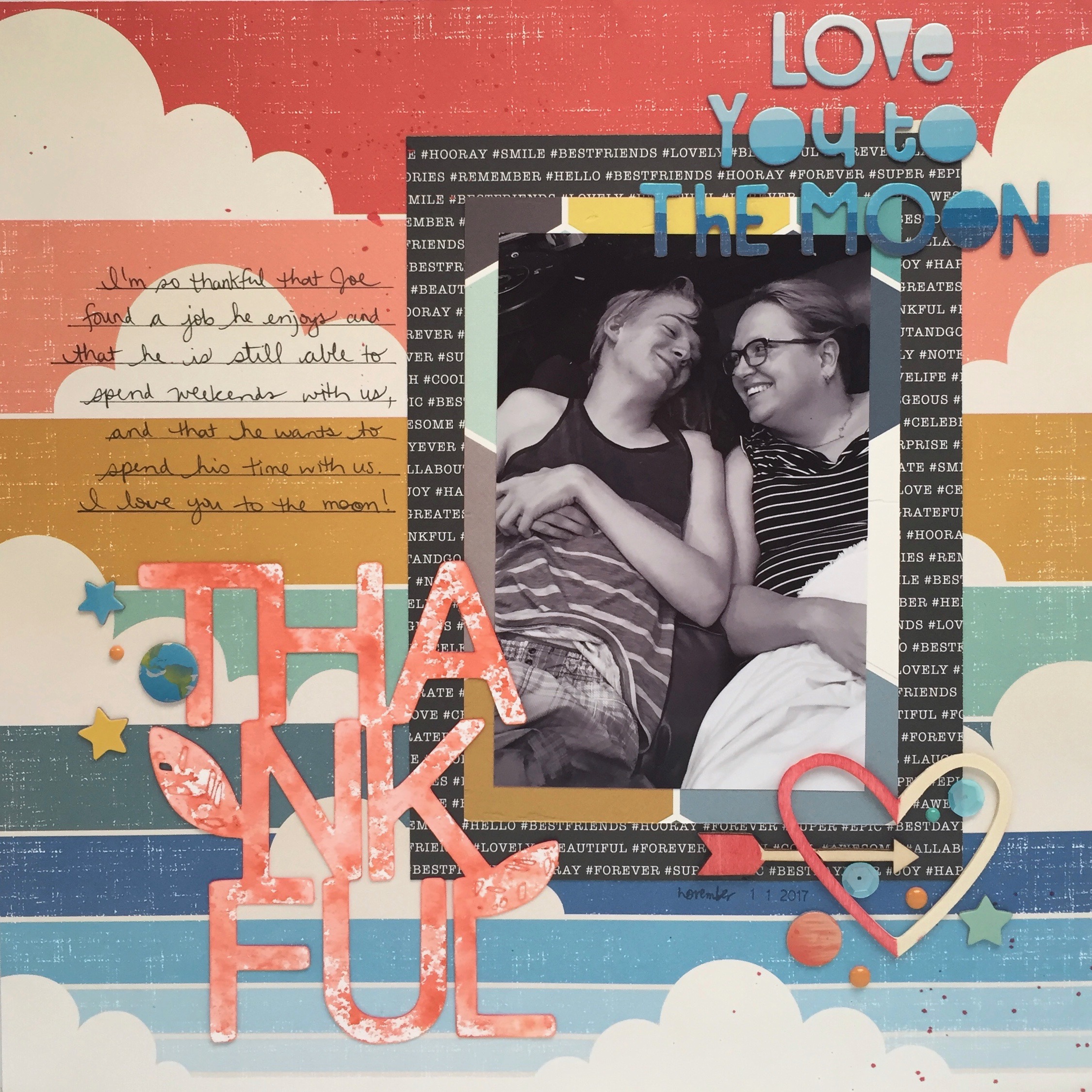 I really loved the cut file, but I was having problems trying to put it on the layout. The background paper is cream, not white and the cute file was white. Ugh… I just can't use the two together. Do you have that problem too?
I finally decided to use watercolours to colour the cut file. I grabbed my mermaid markers and mucked around until the colour matched the coral colour on the background paper. I transferred the colour using a bit of plastic packaging using the 'smooshing' technique. (Seriously, that's what everyone calls it.)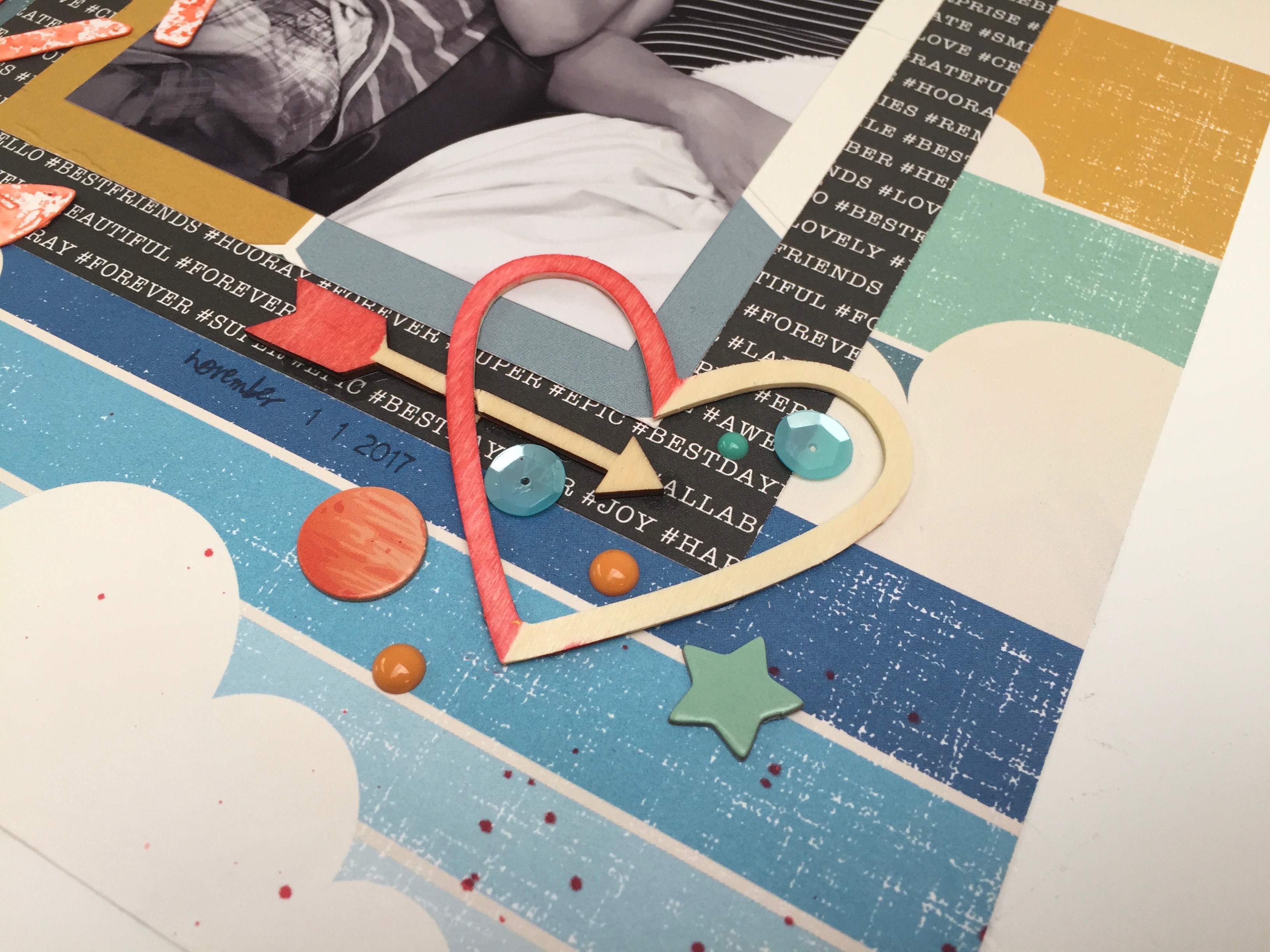 When I found the wooden heart I thought I'd just colour it to match the layout. The one side of the heart was printed and the ink wouldn't stick, so I flipped it over and used the back.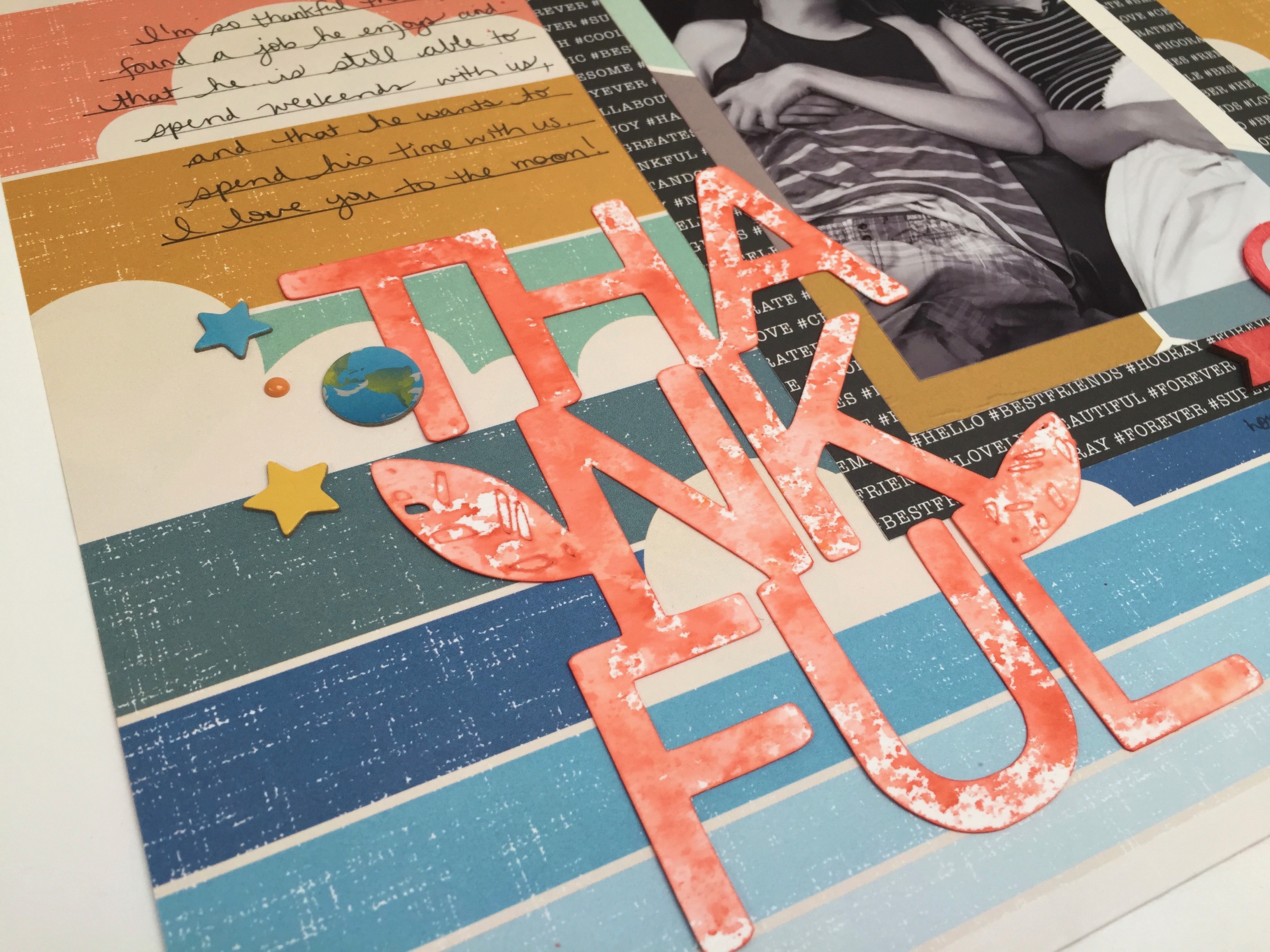 I fell in love with the words, 'Love you to the moon' from the Explorer Thickers package. I love how the words start pale and move down to dark blue.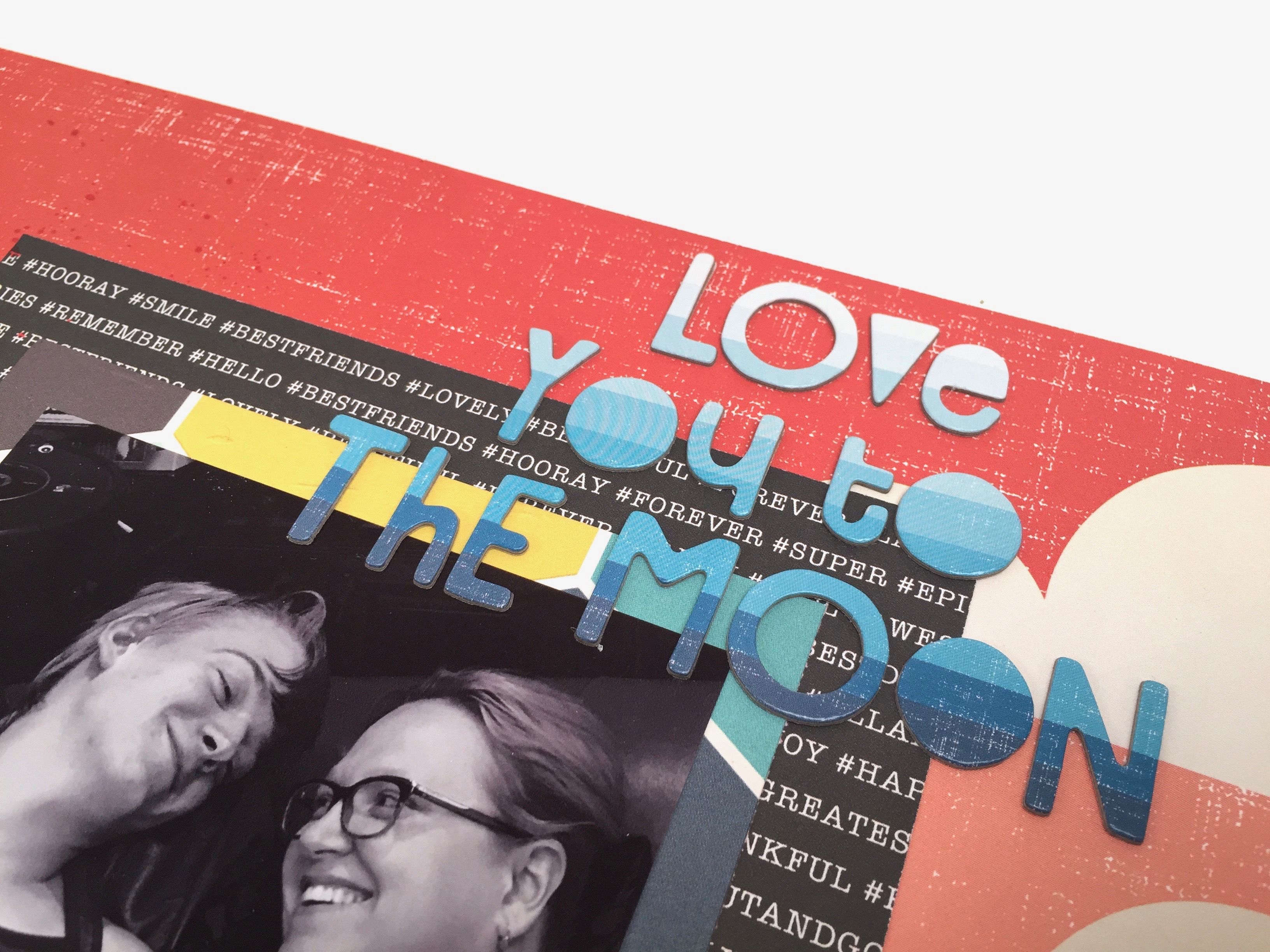 Pocket layout LEFT
Next up was the pocket page. I had printed my photos before we started so I showed my process for figuring out how to lay out the layout. Lol.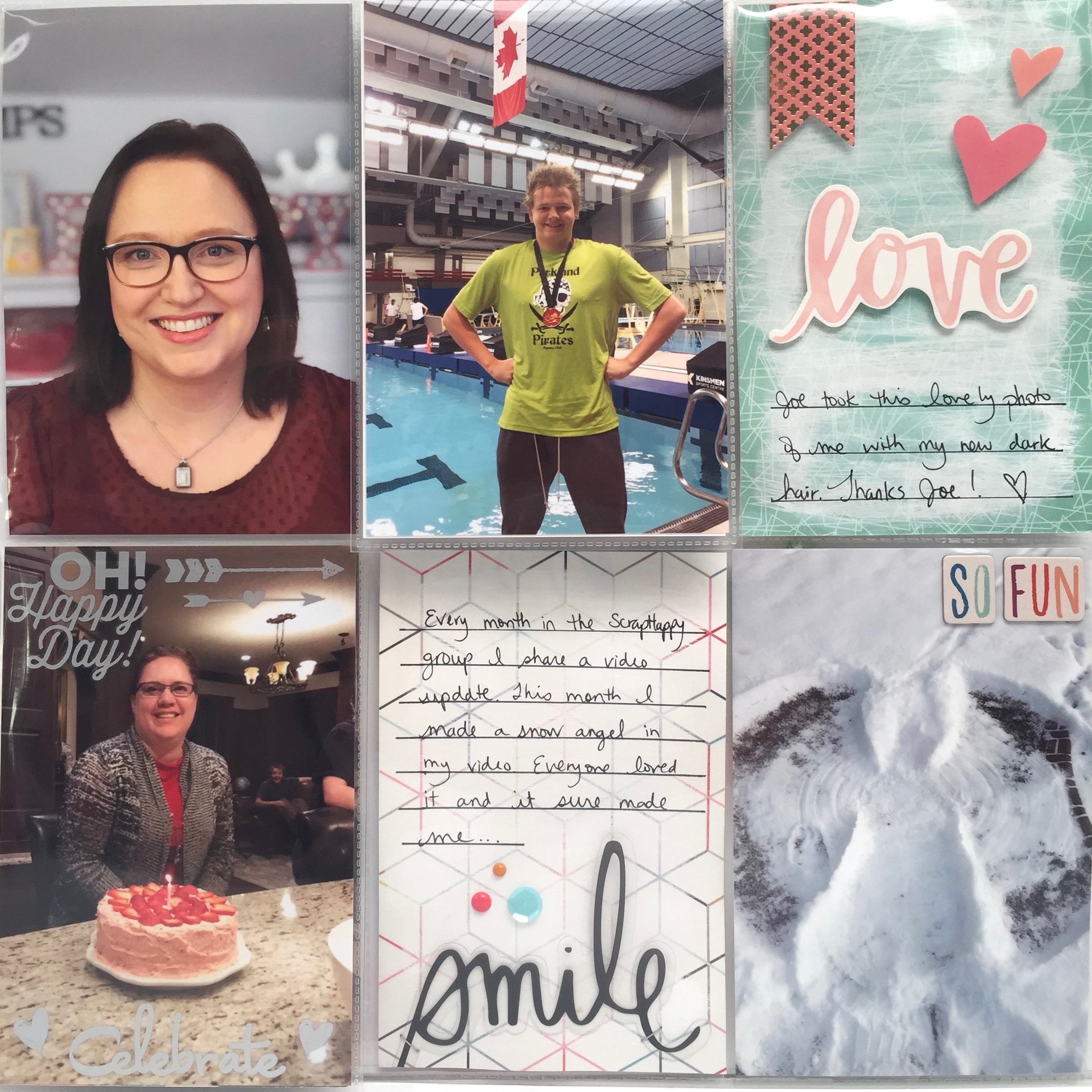 I loved the papers, but when I went to add my journaling I knew it was going to be hard to read over all of the lines on the one pattern. I used a bit of gesso to create an area for my journaling. Perfect!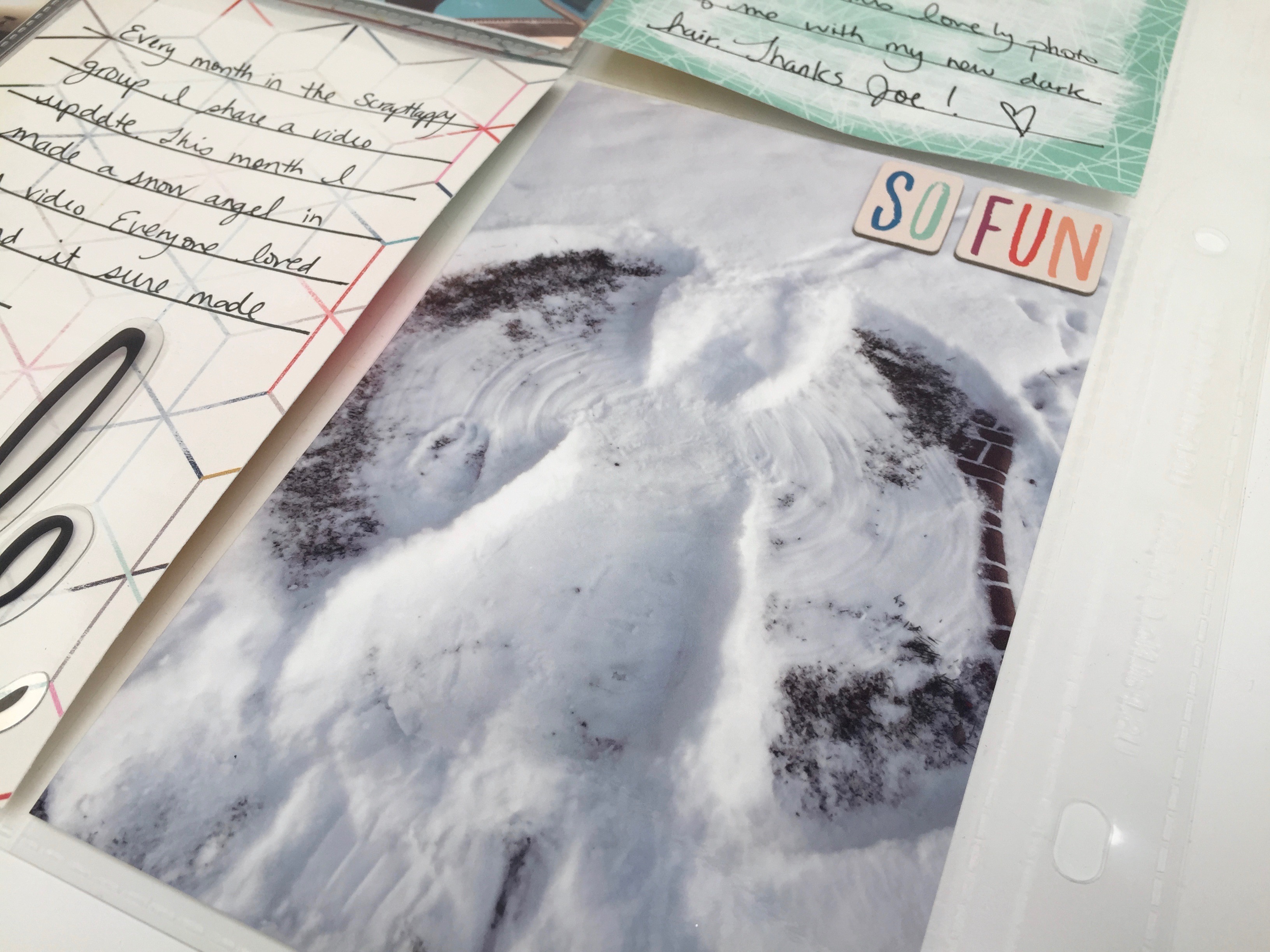 I always try to keep my pocket pages simple, but I like to add a few details like stickers/rub ons to the photos.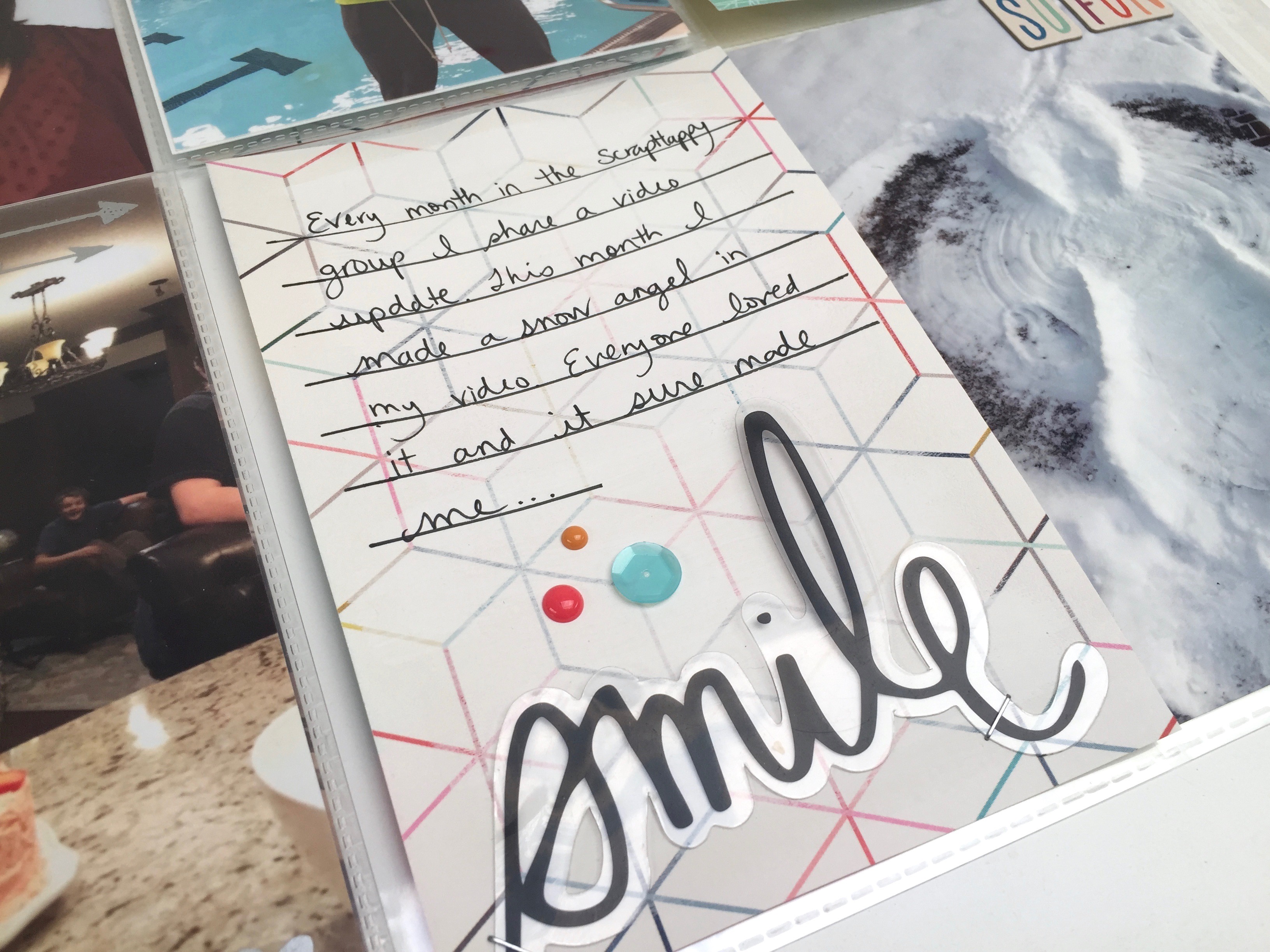 The 'smile' embellishment is from last month's Wild Hare Kit.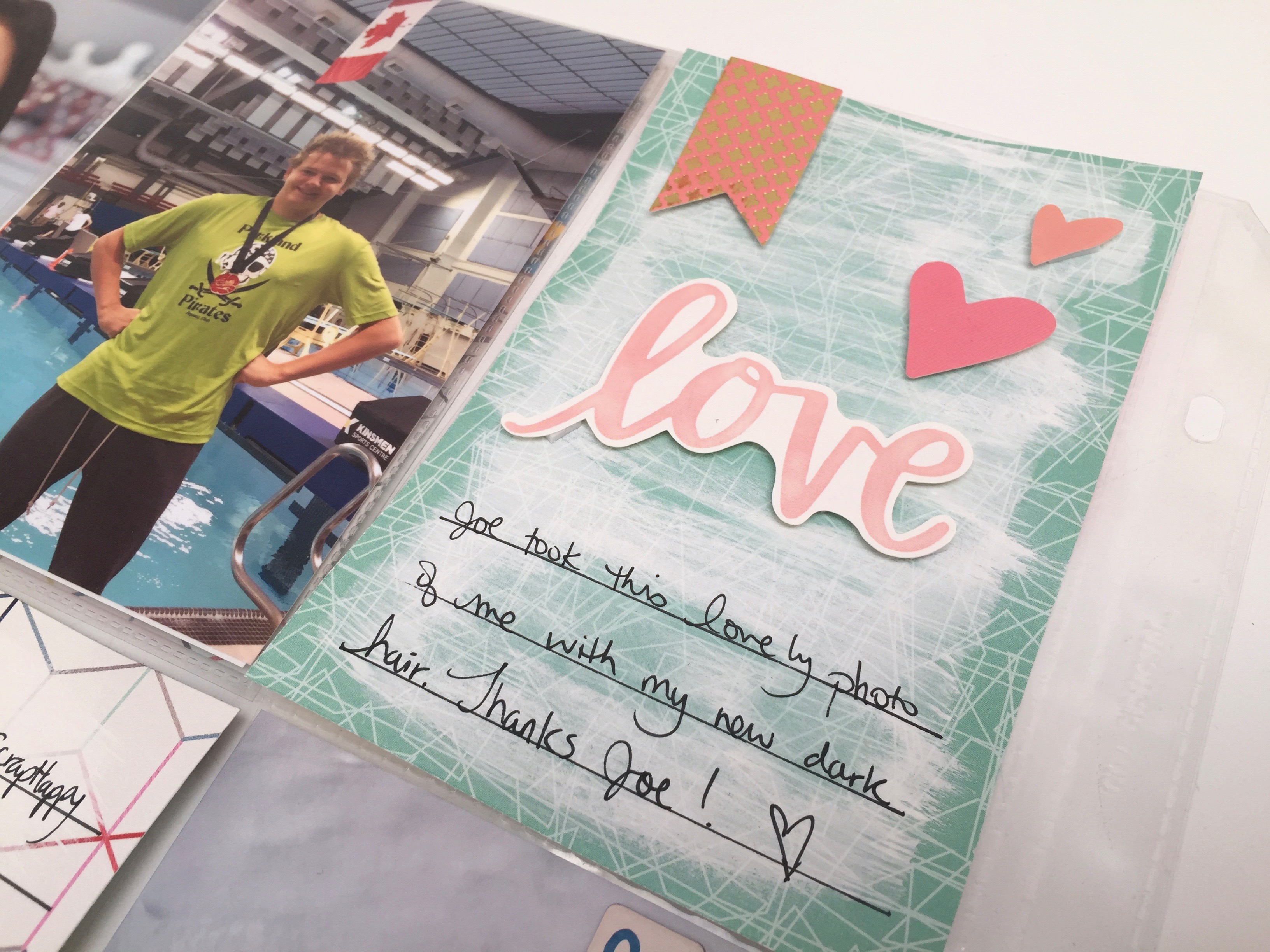 Pocket layout RIGHT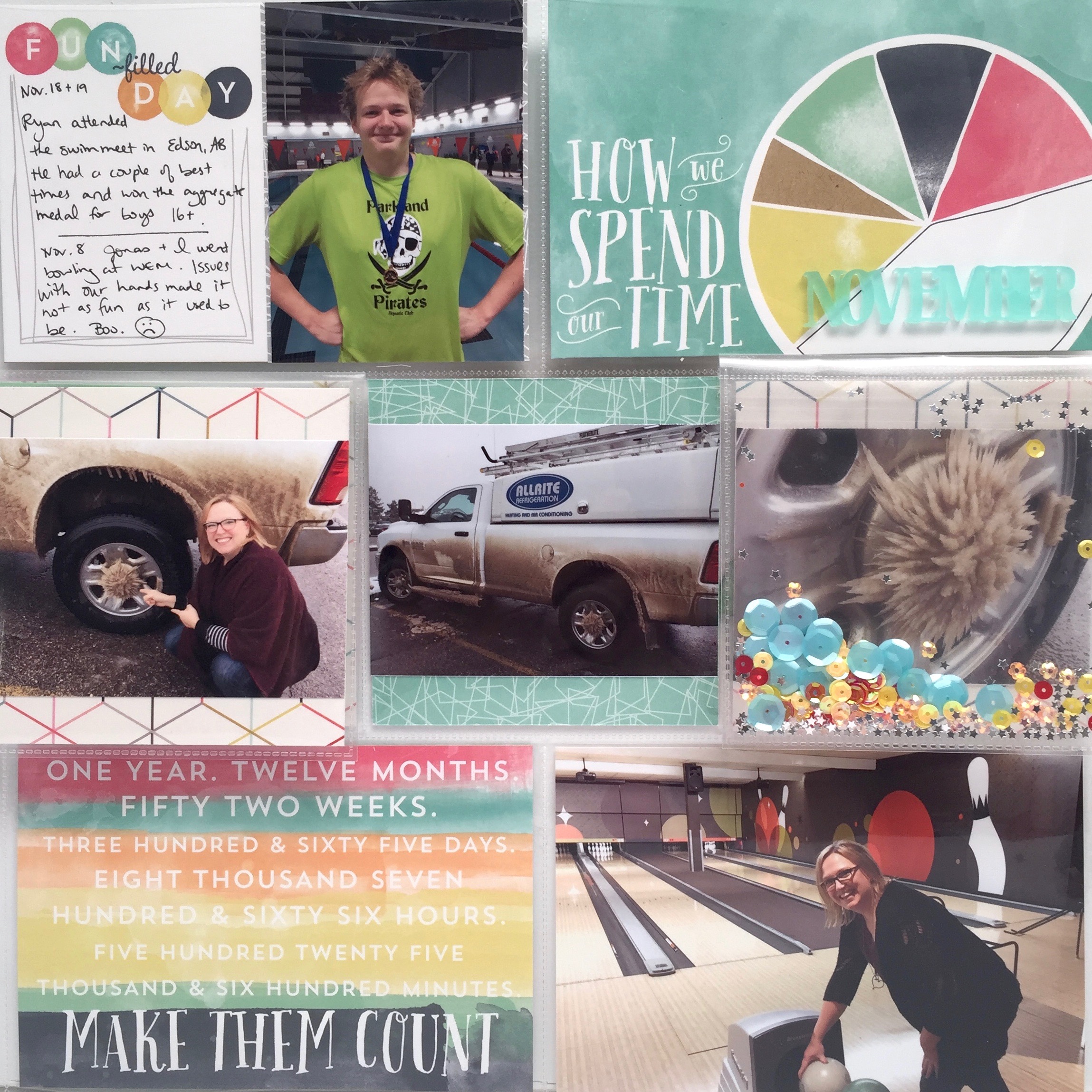 I was excited that I remembered the beautiful acrylic 'November' that I'd been saving since last year. Then I thought it would be fun to pull out that Fuse tool again to make another shaker pocket.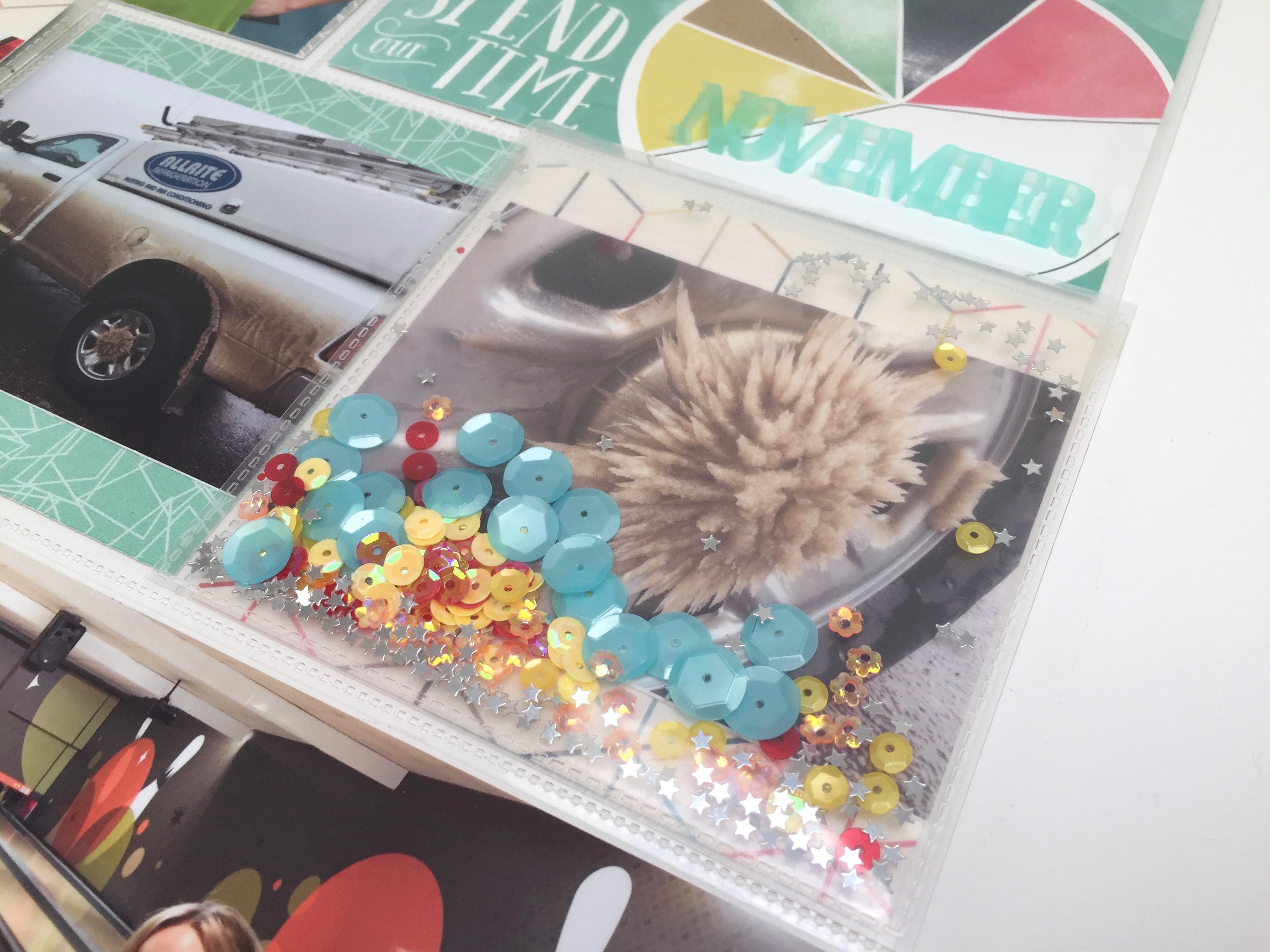 I love how the shaker is over the photo and you lift it up to reveal the picture. I made the shaker and added extra photos to the layout using Close to my Heart flip flaps. I love them and they're available in multiple sizes for great prices. (I used to sell CTMH but I don't anymore, I'm just a fan!)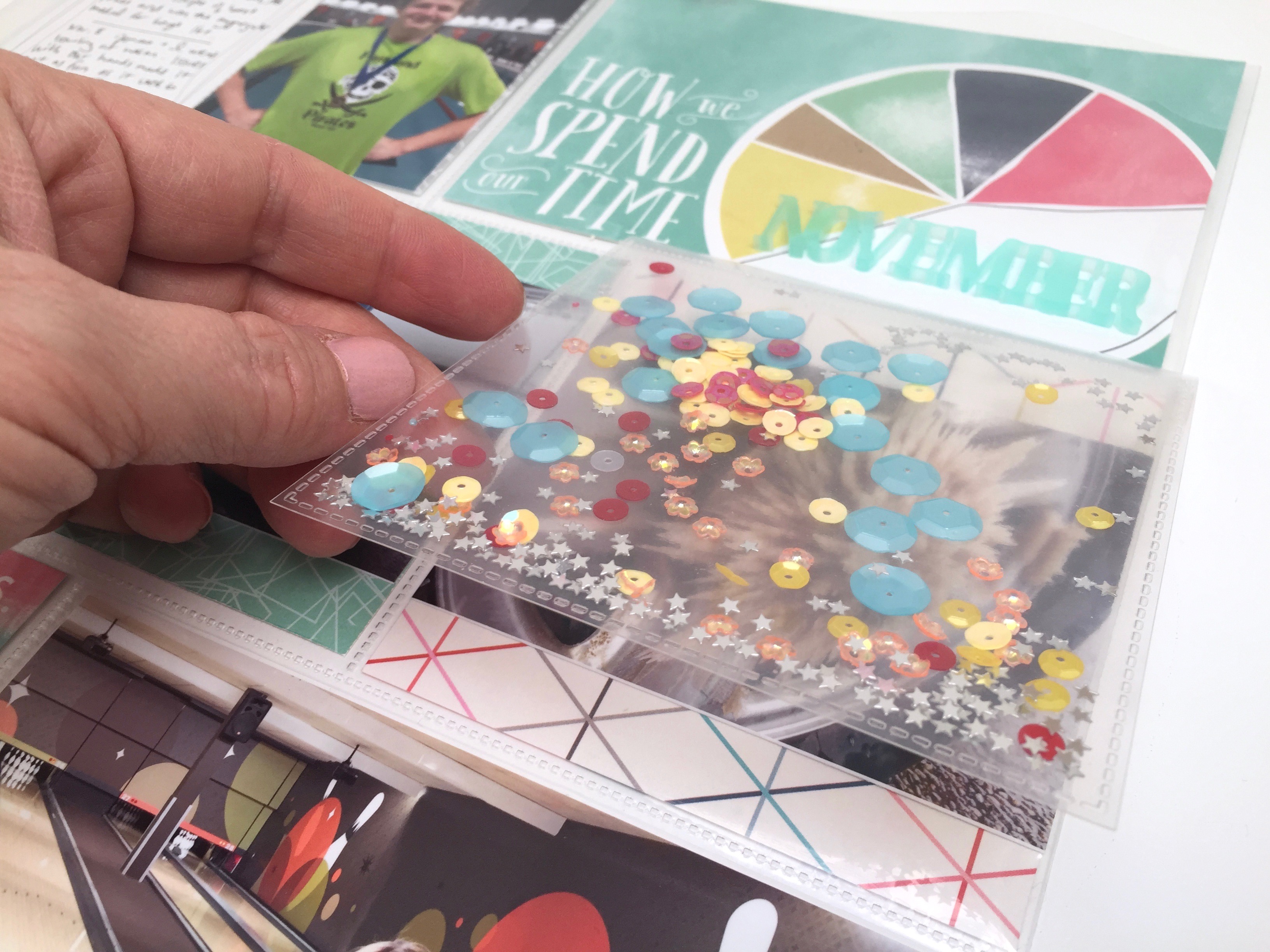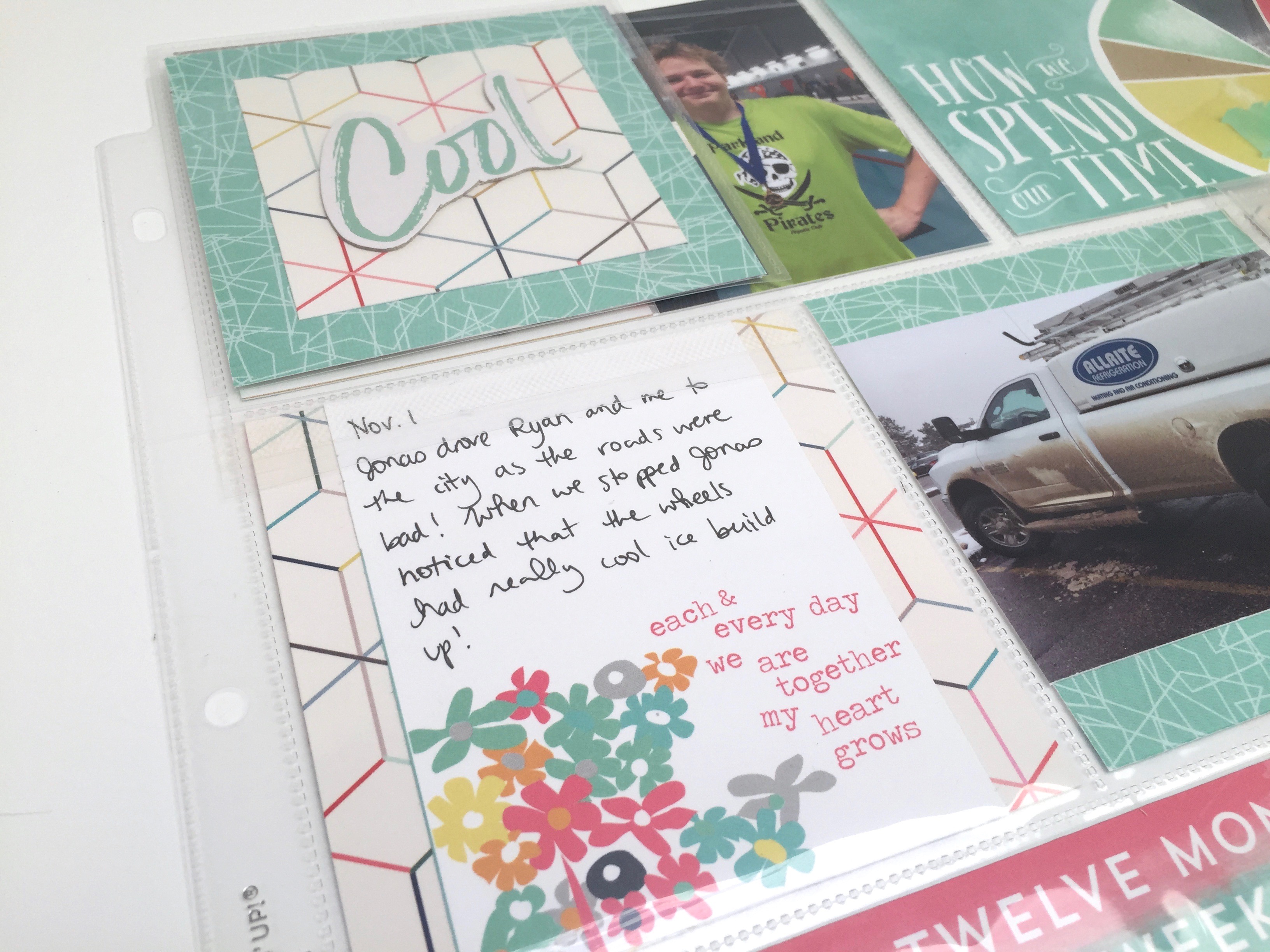 I love that by using flip flaps I'm able to add extra photos and journaling to my layout so that it makes it SO MUCH EASIER to get everything to fit. Plus, they are a fun interactive element.
Scrapbook Christmas in January
If you want to tell your Christmas stories, but can't imagine doing that in December this class is designed to help! Learn how to do the minimum in December so you can scrap your stories in January.
Use code: MERRY by Nov. 30 to save $10
To register or for more info: Scrapbook Christmas in January
LOAD218 Choose Your Own Scrapbook Adventure
There's nothing like a layout a day challenge to get your scrappy juices flowing! Join hundreds of other scrappers to create a layout every day this February.
Use code: DELIGHT15 by Dec. 31 to save $15
To register or for more info: LOAD218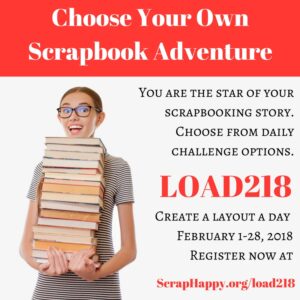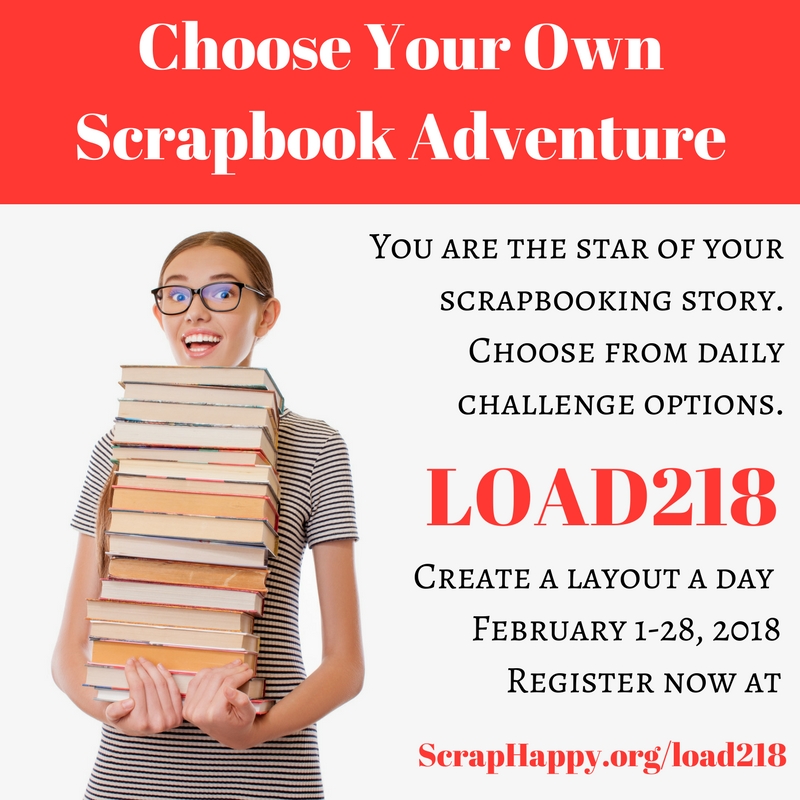 ScrapHappy Membership
Have you been wondering where all the fun scrappers are nowadays? They're hanging out at ScrapHappy! We have challenges, like the LOAD challenges, monthly live events and activities, and so much more. Come and see what we're all about.
Use code: THANKFUL by Dec. 10 to save 10%
To register or for more info: ScrapHappy.org


If you'd like to join me next month for Scrapbook Live, and be eligible to win a free kit from The Wild Hare Kits please sign up for emails!
Happy scrapping!
Alice.