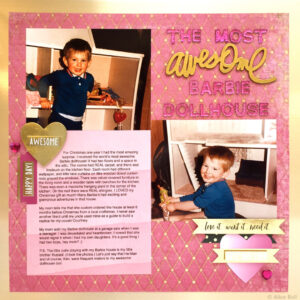 This layout was inspired by a prompt for LOAD217 Greek Mythology.
The challenge was to scrapbook the best gift you've ever given or received.
I decided immediately to focus on one of my favourite gifts from childhood, my Barbie dollhouse.
Let's look at the details.
My first dilemma.
Photos!
I couldn't find a photo of my Barbie dollhouse, or of myself playing with it. I was so disappointed. Then I noticed that it was in the background of a couple of pictures of my little brother that I'd taken as a child.
Sure… it's my brother, not me, but it was the best I had, so I thought they'd work!
I found some gorgeous paper from My Mind's Eye. It's pink and has glitter on it, with a diamond pattern. (Did you see My Mind's Eye's booth at Creativation?)
My second dilemma.
I knew I had a wood veneer word, "awesome" but I was sad that it wasn't a good colour for the gold and pink layout I wanted to create. The word is from Heidi Swapp. (Did you see Heidi's booth at Creativation?)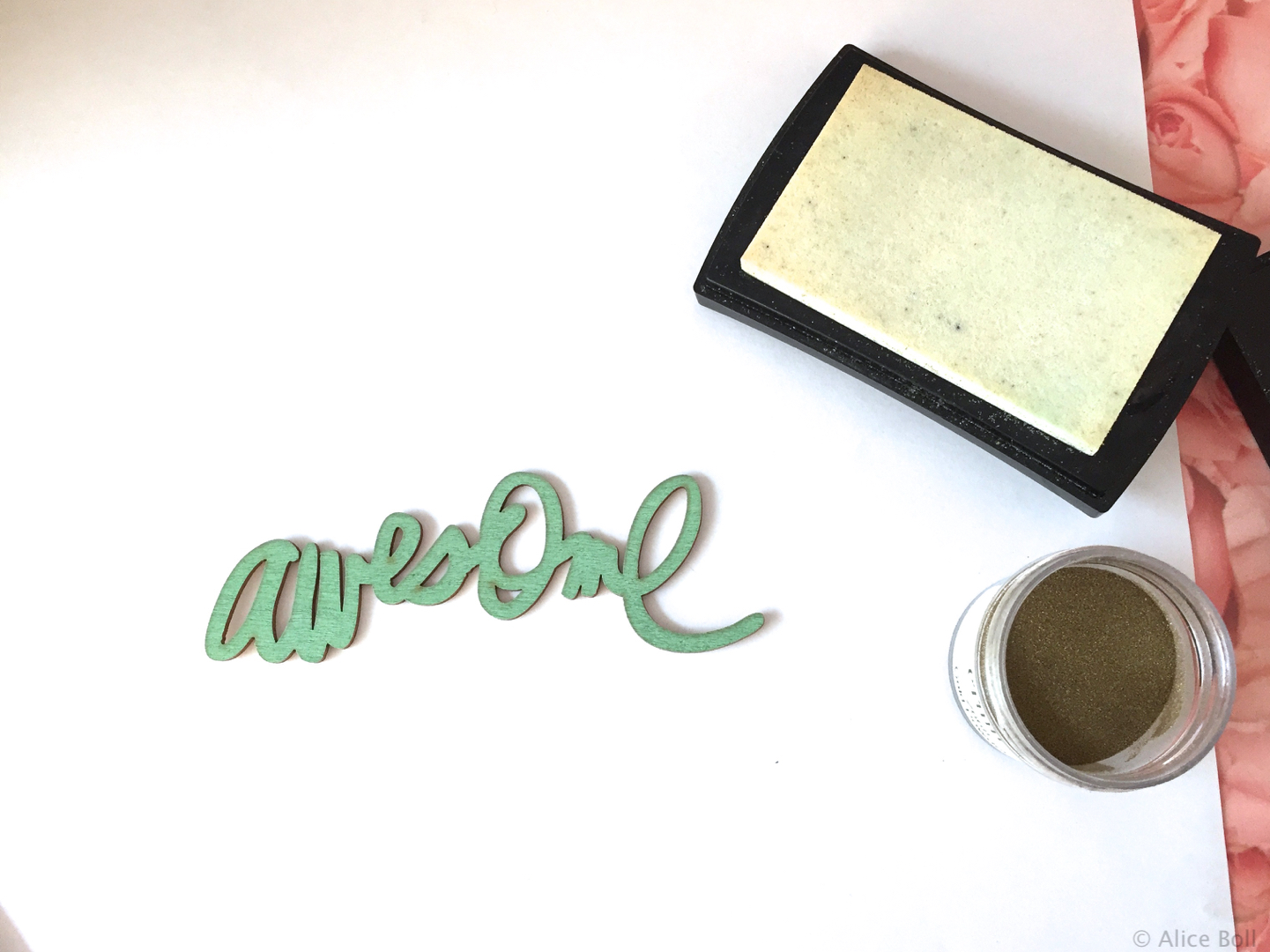 But I wasn't going to let a little thing like the word being green slow me down. I pulled out my embossing powder and ink pad. I inked the word directly with the Versamark pad, sprinkled the gold embossing powder on top, and melted it.
*Want tips for embossing? I have a couple of embossing videos that will help: How to Emboss with Stamps and 3 Quick Tips: How to Know when Embossing is Complete
The gold embossing makes it slightly shiny and it was perfect!
Next I found some great little sparkly pink letters to complete the title.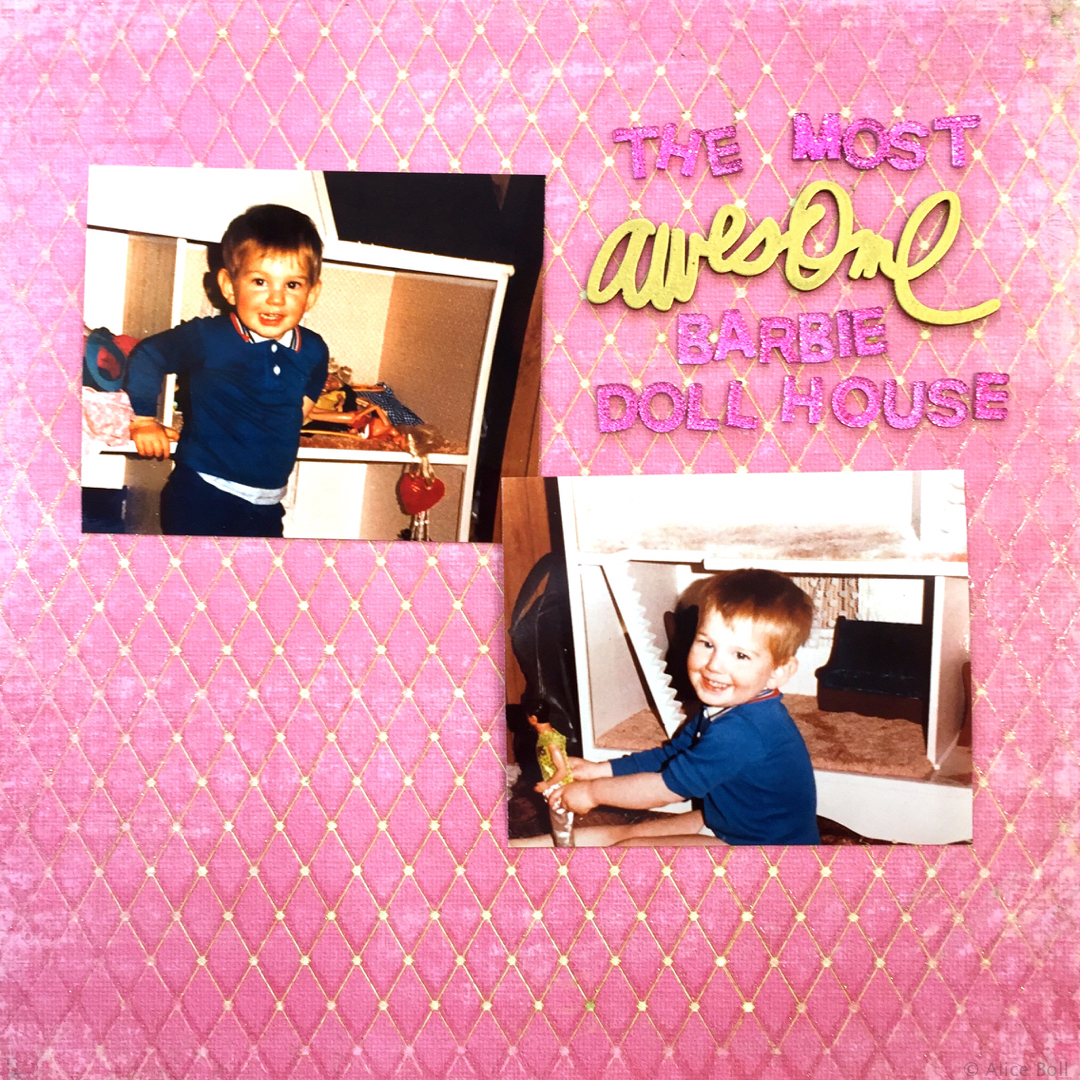 I really liked where this was going, but decided that I wanted to bring more gold into the page.
I decided to frame the layout with gold metallic paper.
I trimmed an inch off of the top and side of the pink diamond patterned paper. I also cut a large square out of the center of the gold paper, so that I wouldn't waste so much of the gorgeous specialty paper when I just needed an edge around the layout. (Plus I can be frugal once in a while!)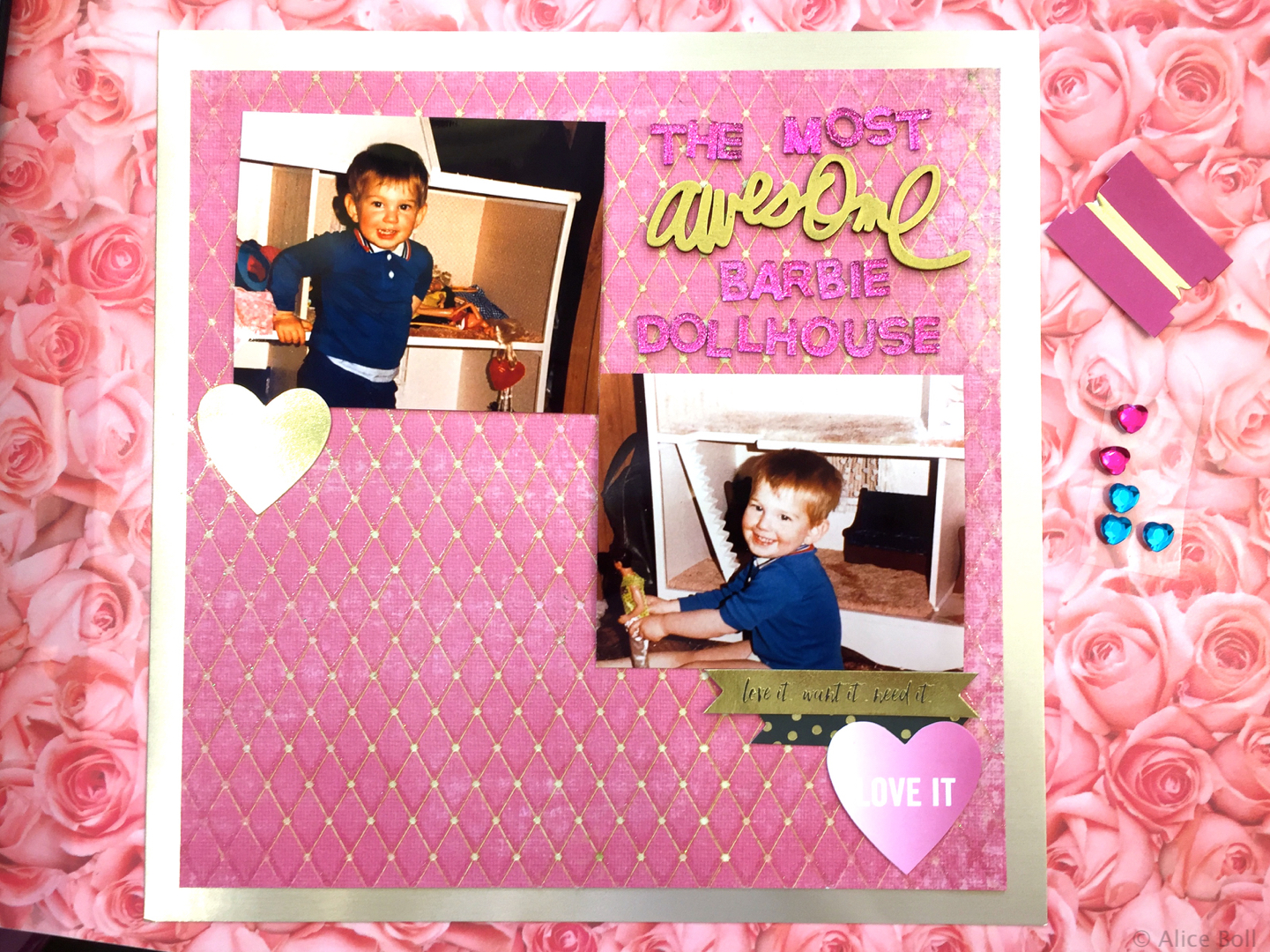 I started fiddling with my golden embellishments. I really loved the pink heart in the corner, but the words "LOVE IT" are a bright white, and it was bugging me. I decided it would be good to put a strip of gold shiny over the heart, like a banner. I had a couple of great banners in an embellishment kit, but I needed another one.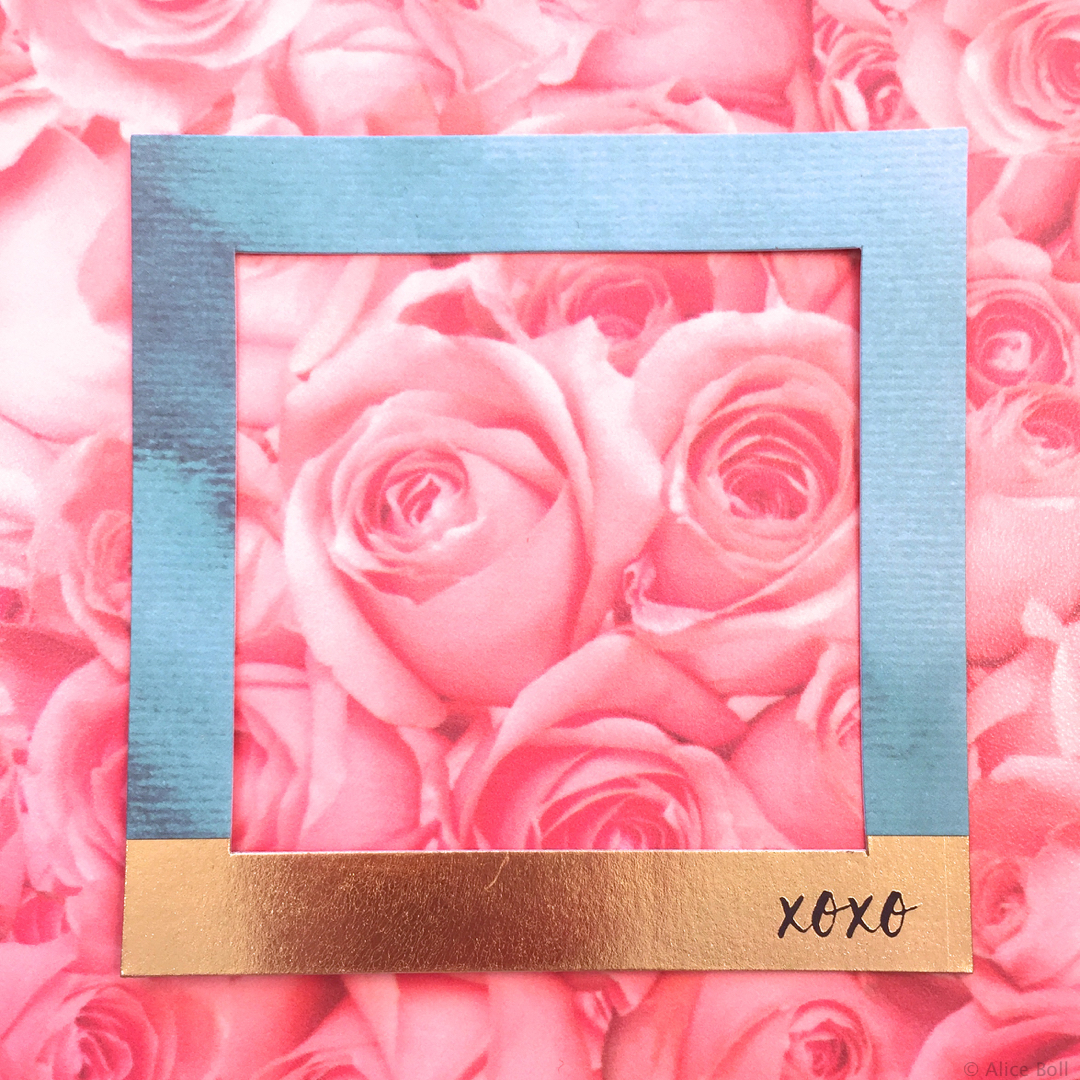 I decided to cut this frame apart and make the bottom into the banner that I needed.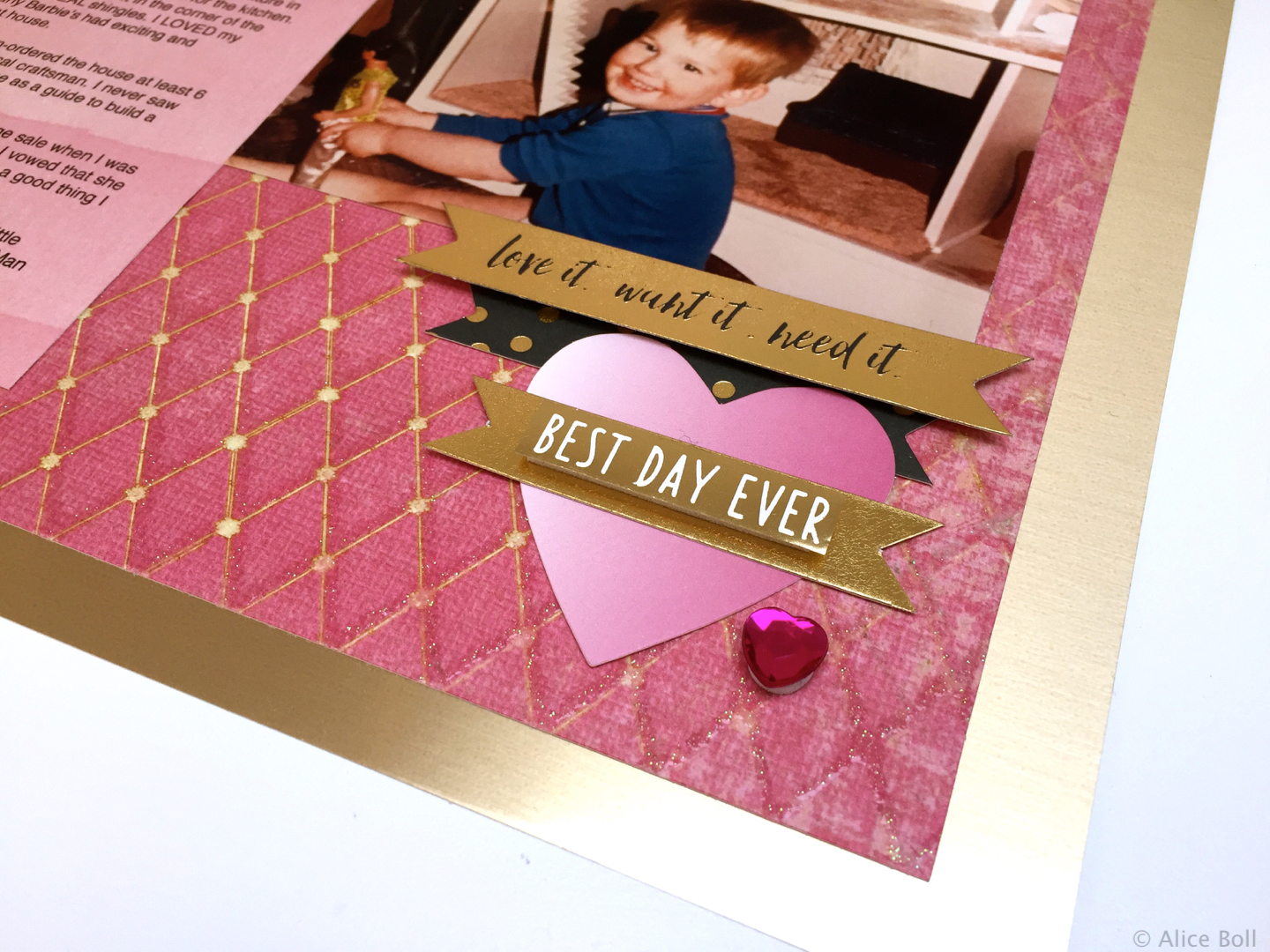 It turned out just the way I wanted!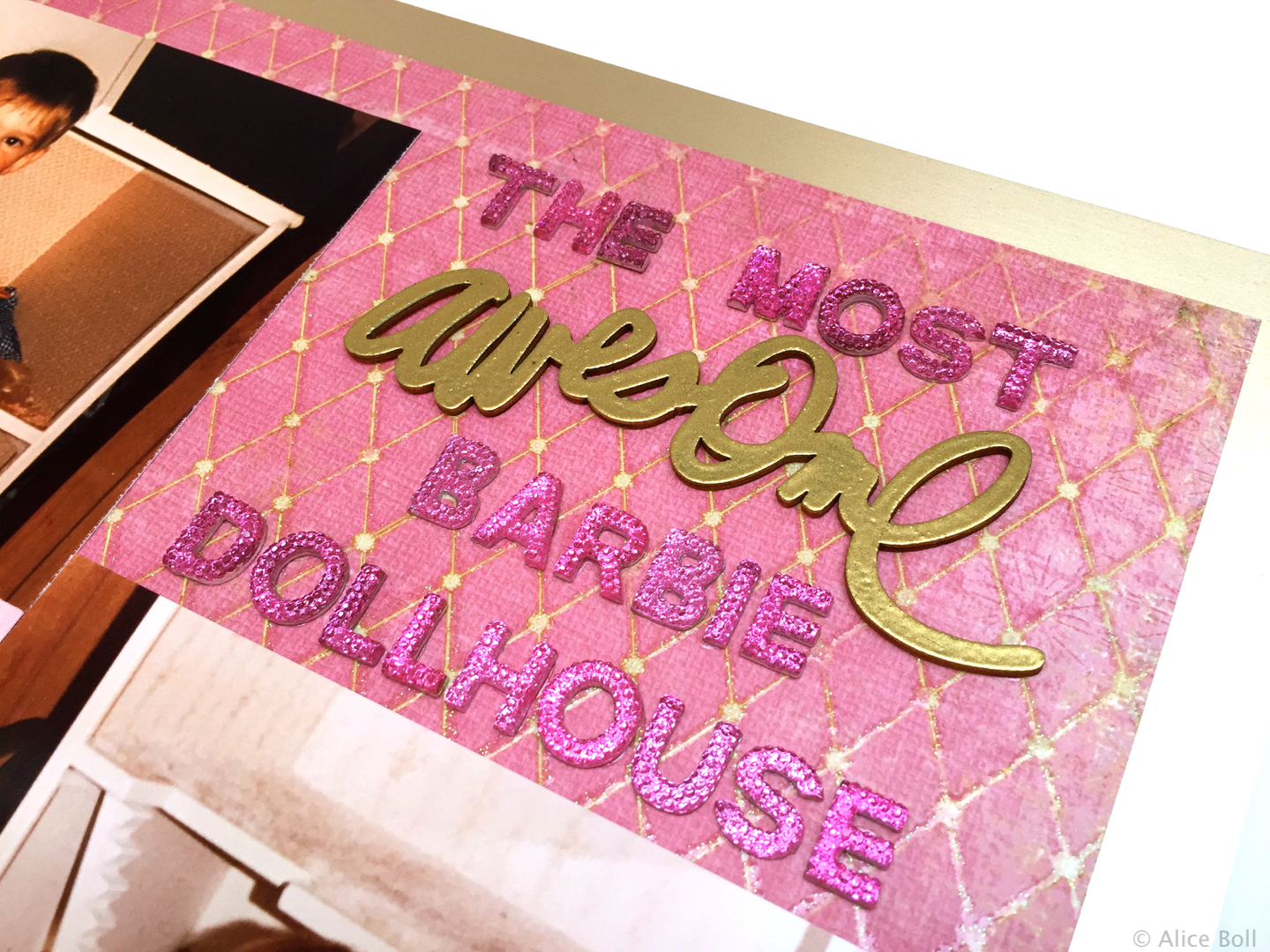 I'll confess, adding those little pink letters kind of sucked. They needed to be glued down and I wanted to make sure they were straight and not all crazy and crooked. Thankfully my clear ruler helped with this a lot! I was able to line them up along the edge of the ruler while I used Liquid Glass as glue to stick each letter down.
I decided that I had too much to say to easily fit it in my own handwriting, so I printed my journaling on the computer. I was able to make the journaling wrap around a shape in the word document so that the words would not be hidden behind the golden heart.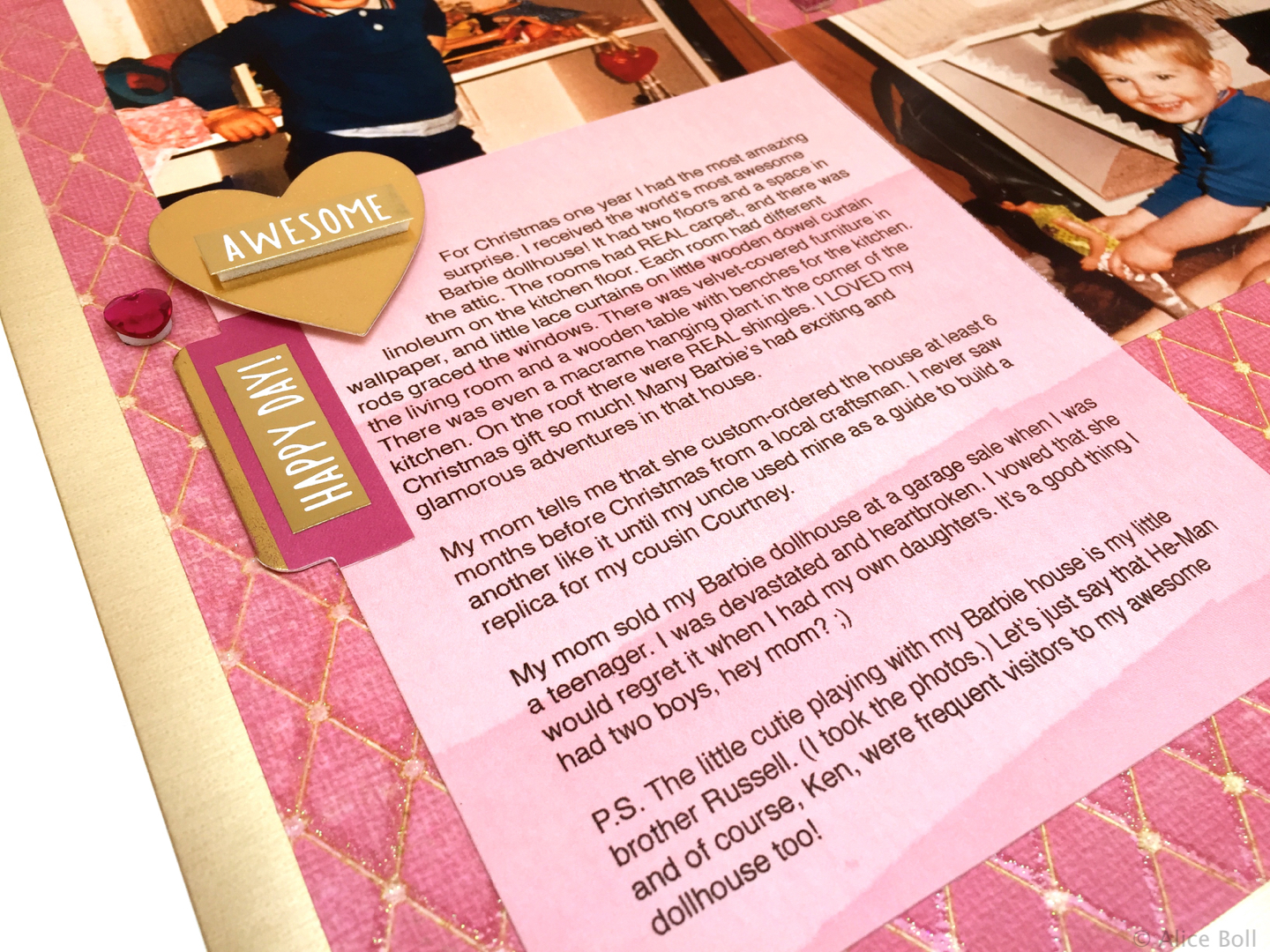 That's it! The page was done.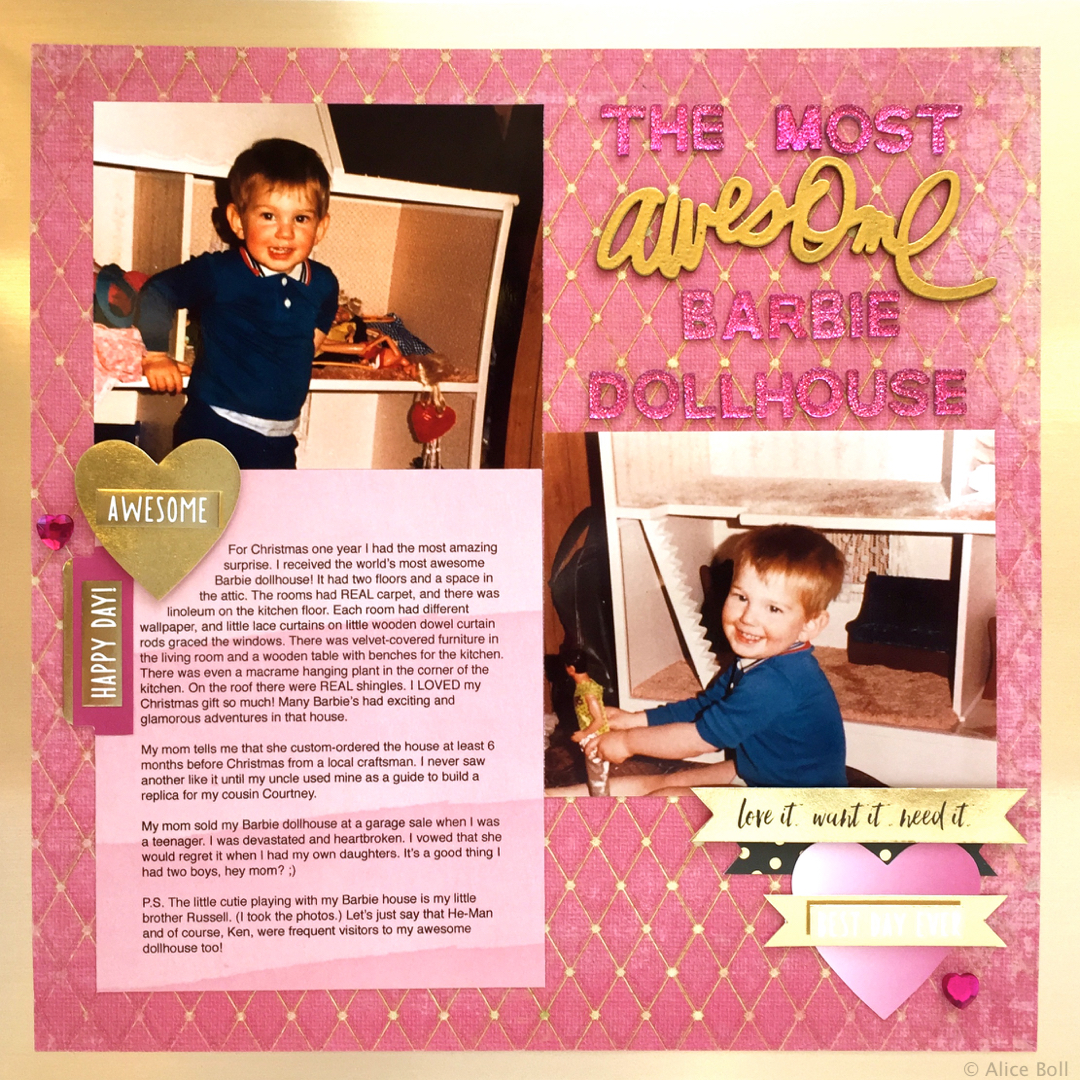 I'm really happy with how the page turned out. It tells a story I've wanted to tell for a long time, I found some photos with my Barbie house in them, even if they weren't perfect, they were good, and I was happy with how the gold and pink look on this page.
What is your favourite gift? Is it something you've given or received? Is it a physical gift or something a bit more abstract? Share your story in the comments… and then go and scrapbook it!
Let your creativity shine!
Alice.
P.S. Would you like to scrapbook with prompts, but don't know where to start? Click the page prompts tab in the menu bar for more ideas.