I love getting together with friends to scrapbook. I miss the days of going down to my LSS (local scrapbook store) for crop nights.
Unfortunately there aren't that many crops available anymore. That's why I created Scrapbook Live! Now I can get together with online friends from around the world and we can chat and enjoy scrapbooking together.
This month I was using my kit from The Wild Hare Kits. These kits are custom curated. You fill out a style profile and your kit will contain items that reflect your scrappy style.
I get the Deluxe kit so there's a ton of scrappy goodness for me to play with! The owner of The Wild Hare Kits also donated a Deluxe kit to give away during the live event… YAY!!!
This month my kit included lots of pink, teal and yellow… some of my favourite colours. There were sequins, glittery alphas and geometric patterns with bright coloured papers. There was even an exclusive cut file… which I proceeded to use right away!
Here are the layouts that I created…
Video Replay
12×12 Layout
I was excited to hang out with my gals from high school on New Year's Day so I printed this photo rather large, it's 5×7 as a starting point for this layout.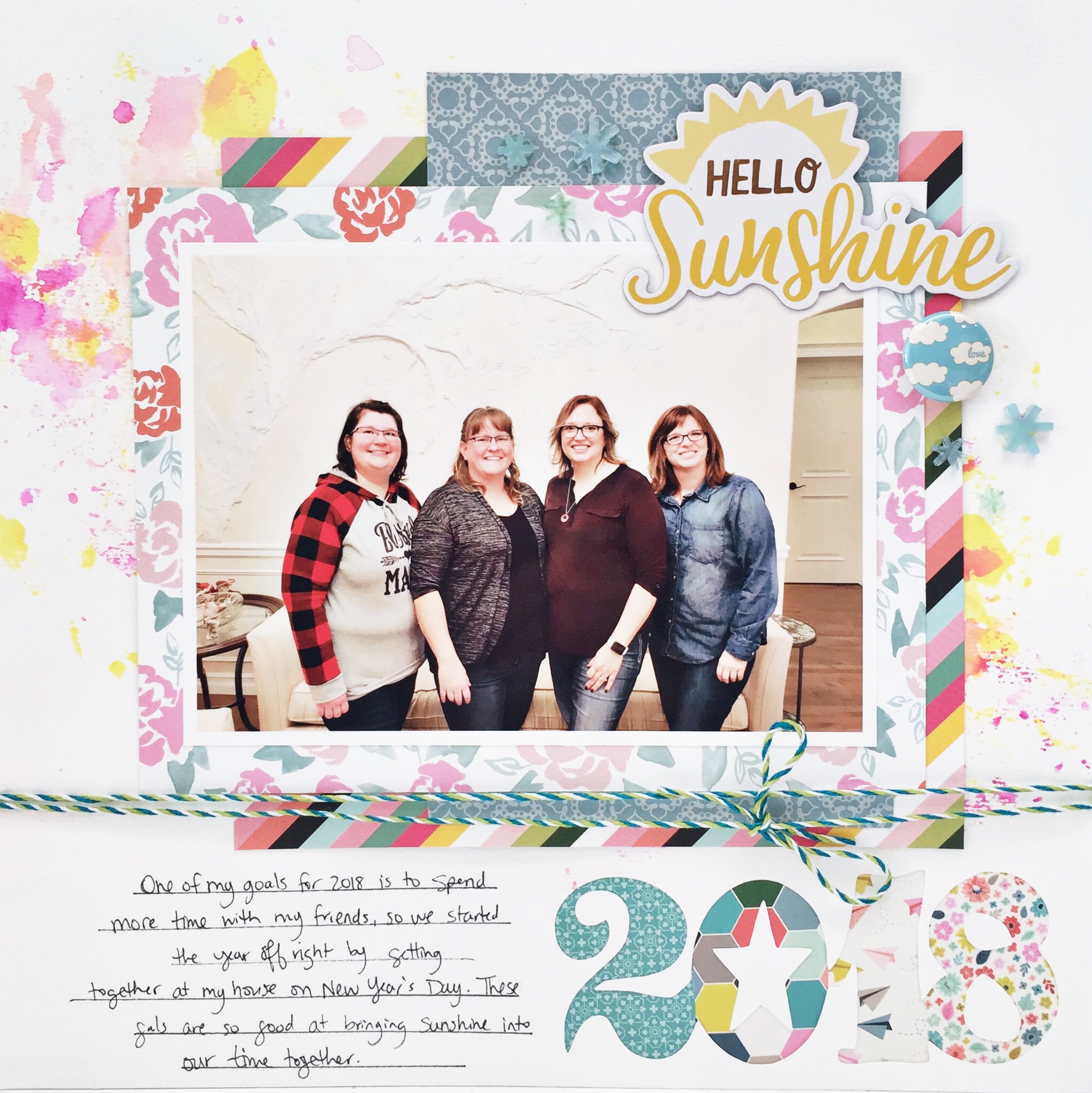 I used the cut file page from The Wild Hare kit, I loved that the kit included the positive and the negative, so I could use either one.
I filled in some patterned papers behind the numbers, I loved being able to add a few more patterns to this layout. (Don't you love the paper airplanes? So cute!)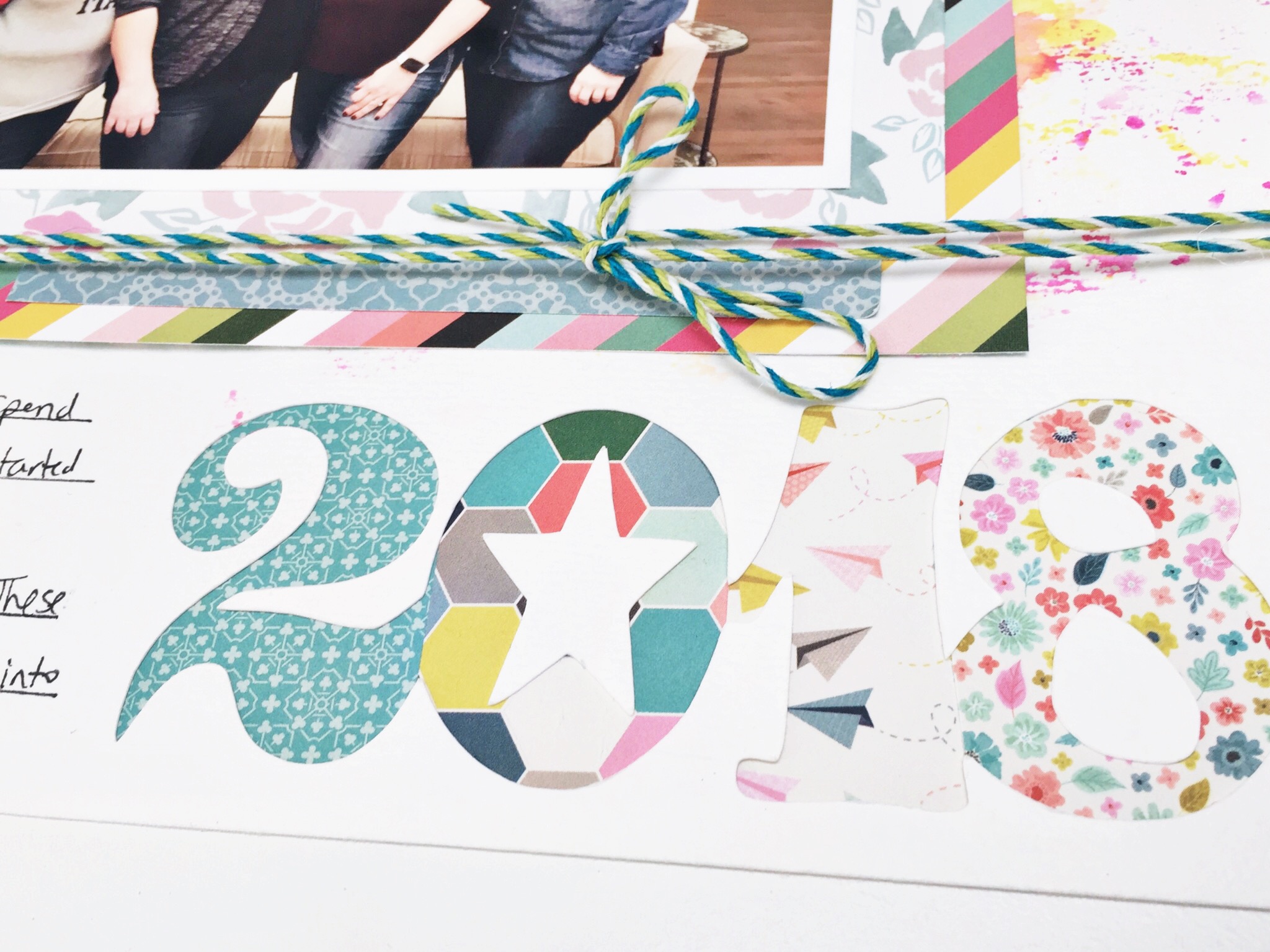 I added some baker's twine that was sitting on my desk.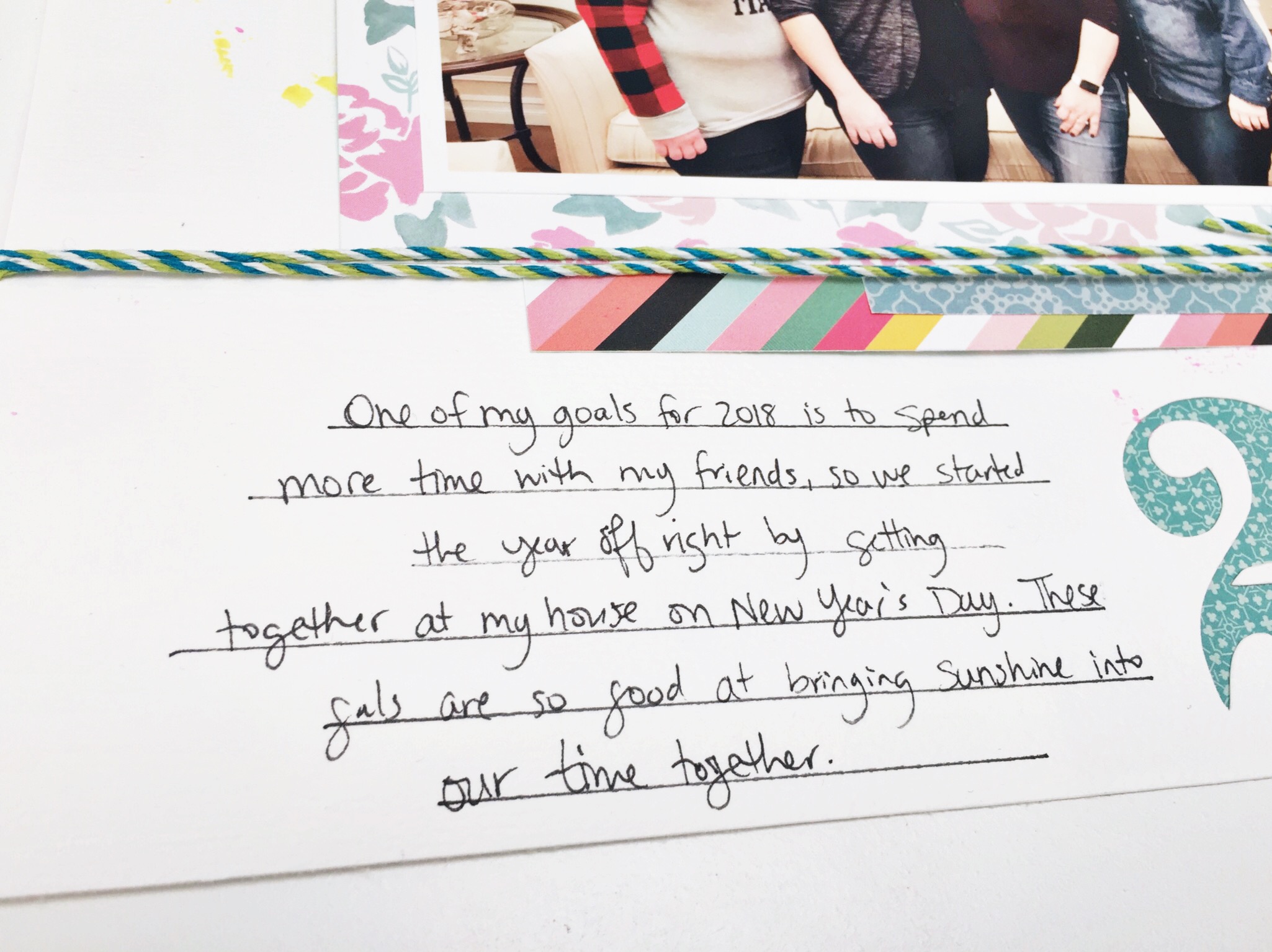 I liked the 'Hello Sunshine' from the Dear Lizzy Magical Thickers, and I was thrilled that it looked like I had made the perfect spot just for it! Happy accident!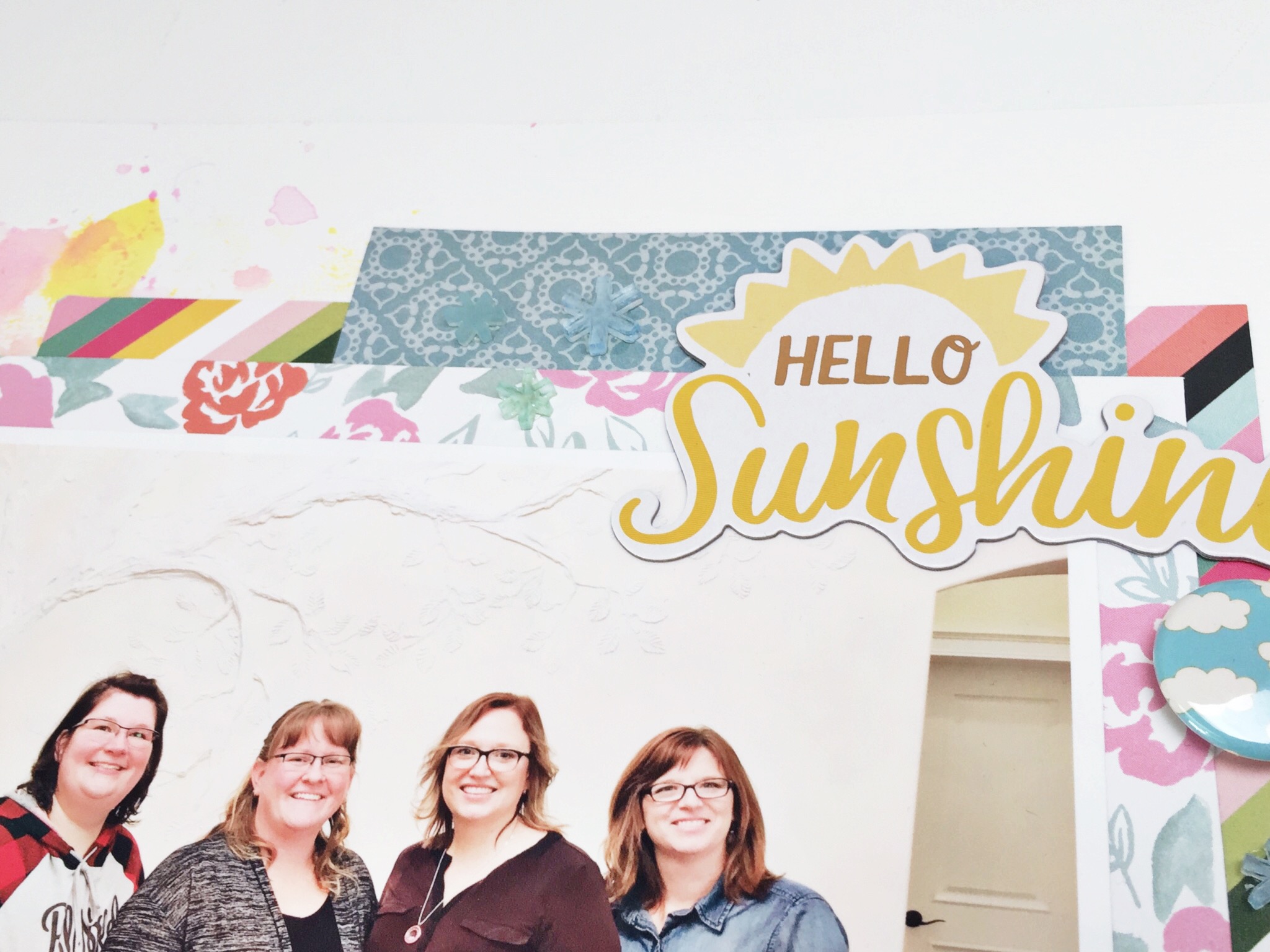 Pocket Page Spread Left
For my pocket page spread I focused on my recent trip to Creativation! (Did you see the videos? Here's the PLAYLIST on YouTube.)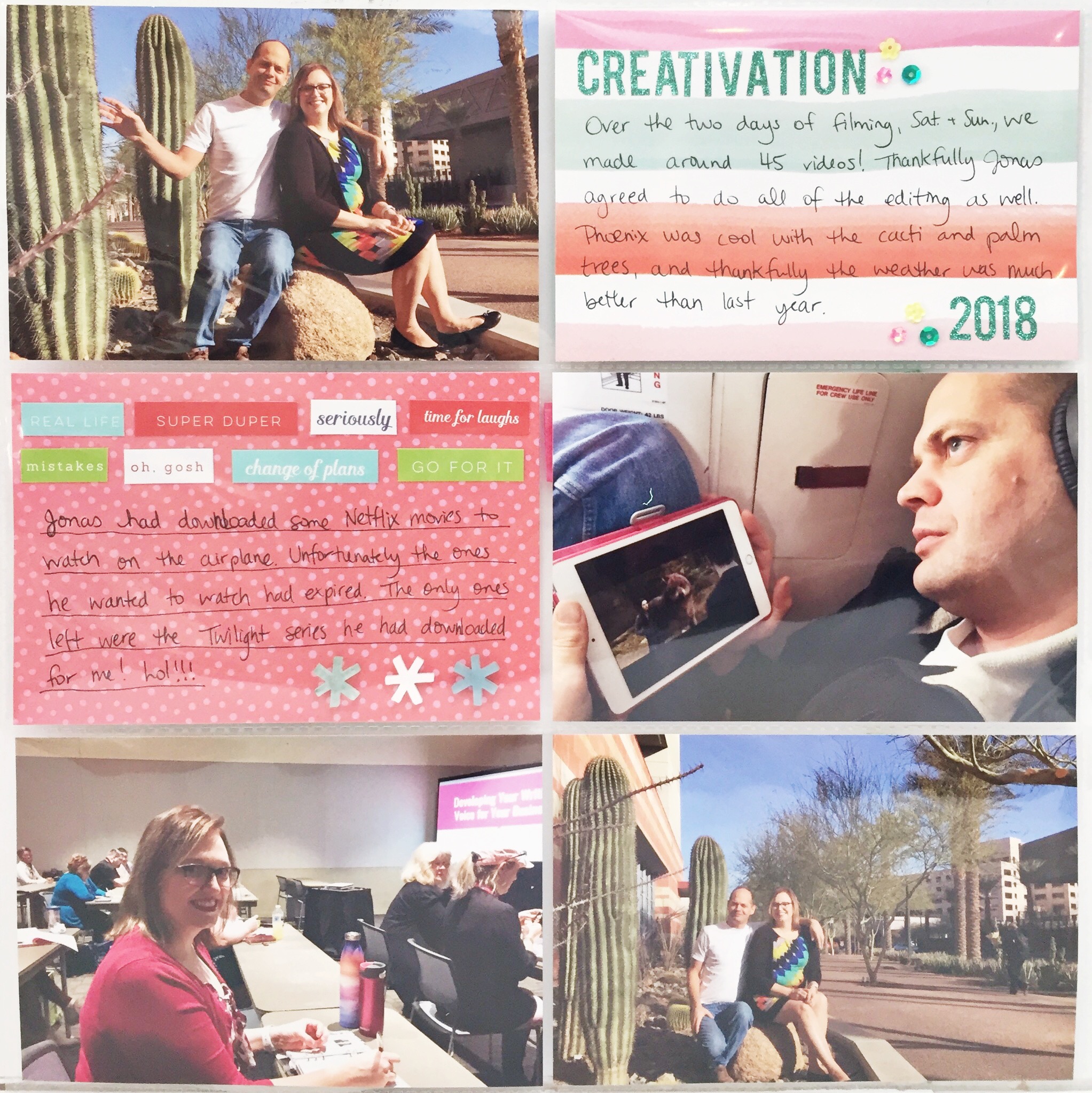 My husband came with me to be my camera man and he was a trooper, we filmed around 45 videos in 2 days!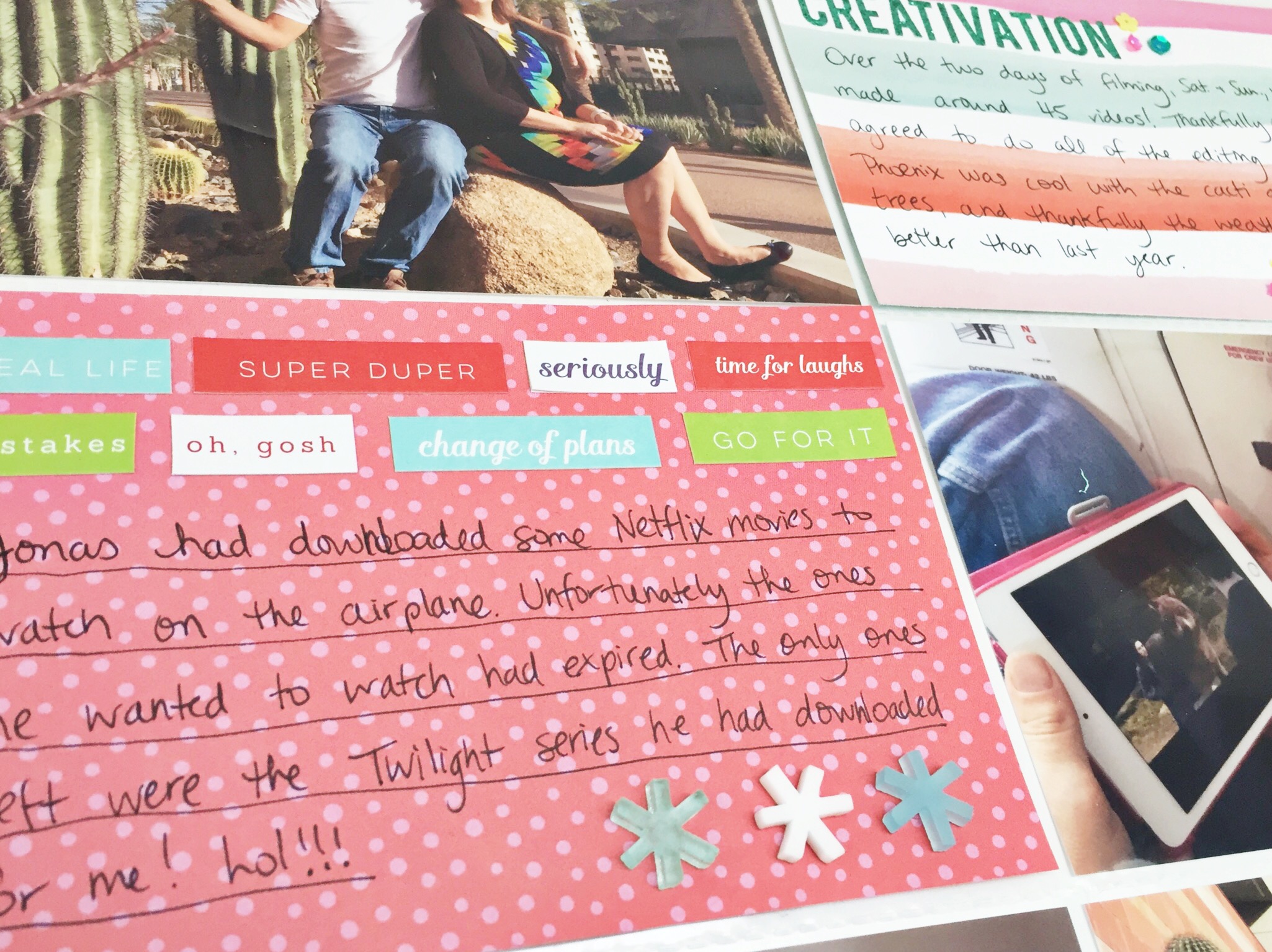 One funny thing that happened… he had downloaded some movies on Netflix to watch on the plane, but the ones he wanted to watch had expired. The only ones still available were the Twilight movies he'd downloaded for me. (Of course I had to take a picture of him! Lol!) 😉

Pocket Page Spread Right
On the right hand page I featured the selfies I'd taken at the booths.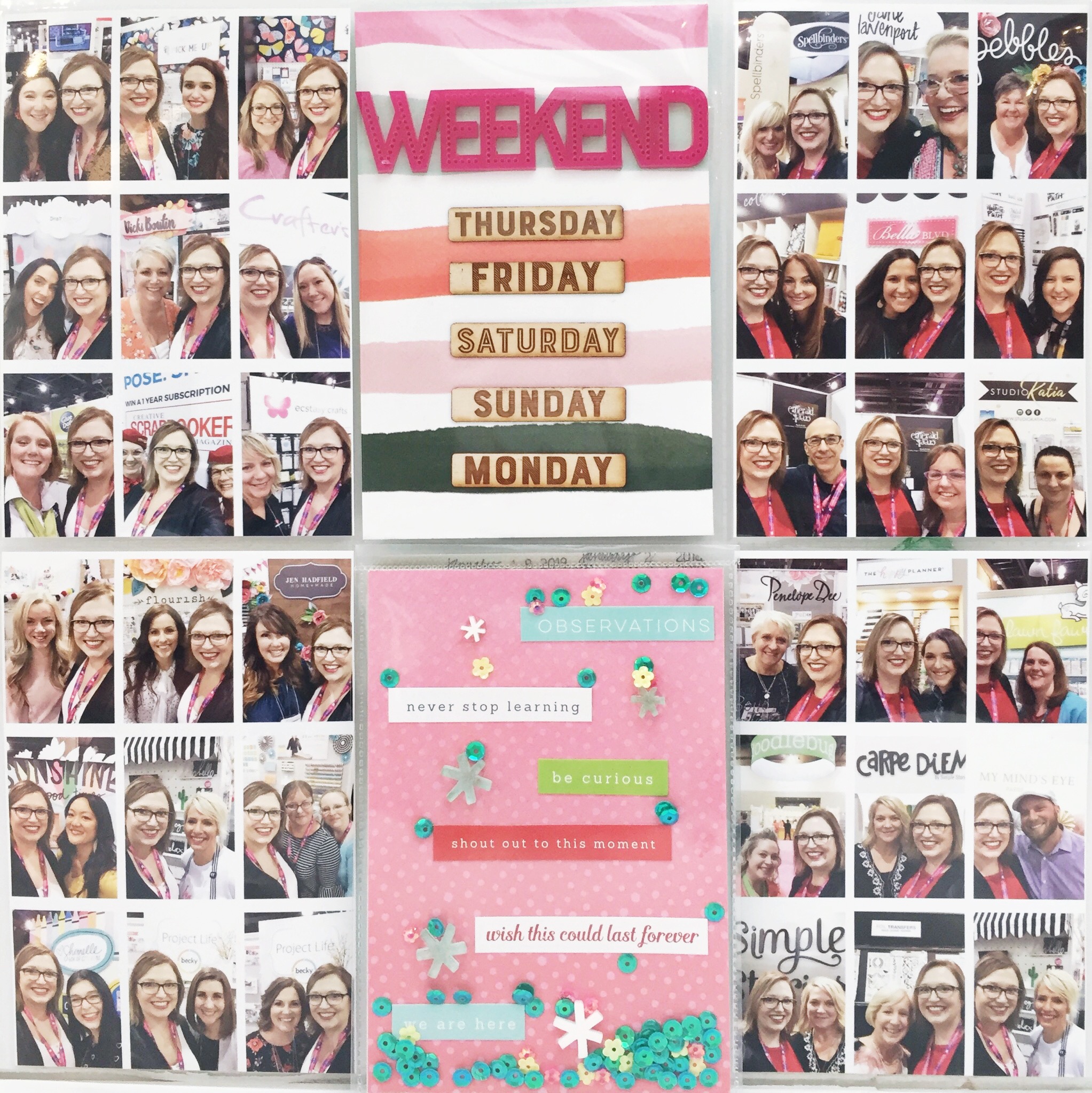 Did you see that I accidentally included Heidi Swapp twice! Oops!
I created a shaker flap with adorable sequins from my kit (they're from Spiegelmom Scraps). The little confetti acrylic pieces are from Color Cast Designs. I love that my kits from The Wild Hare kits include such fun embellishments!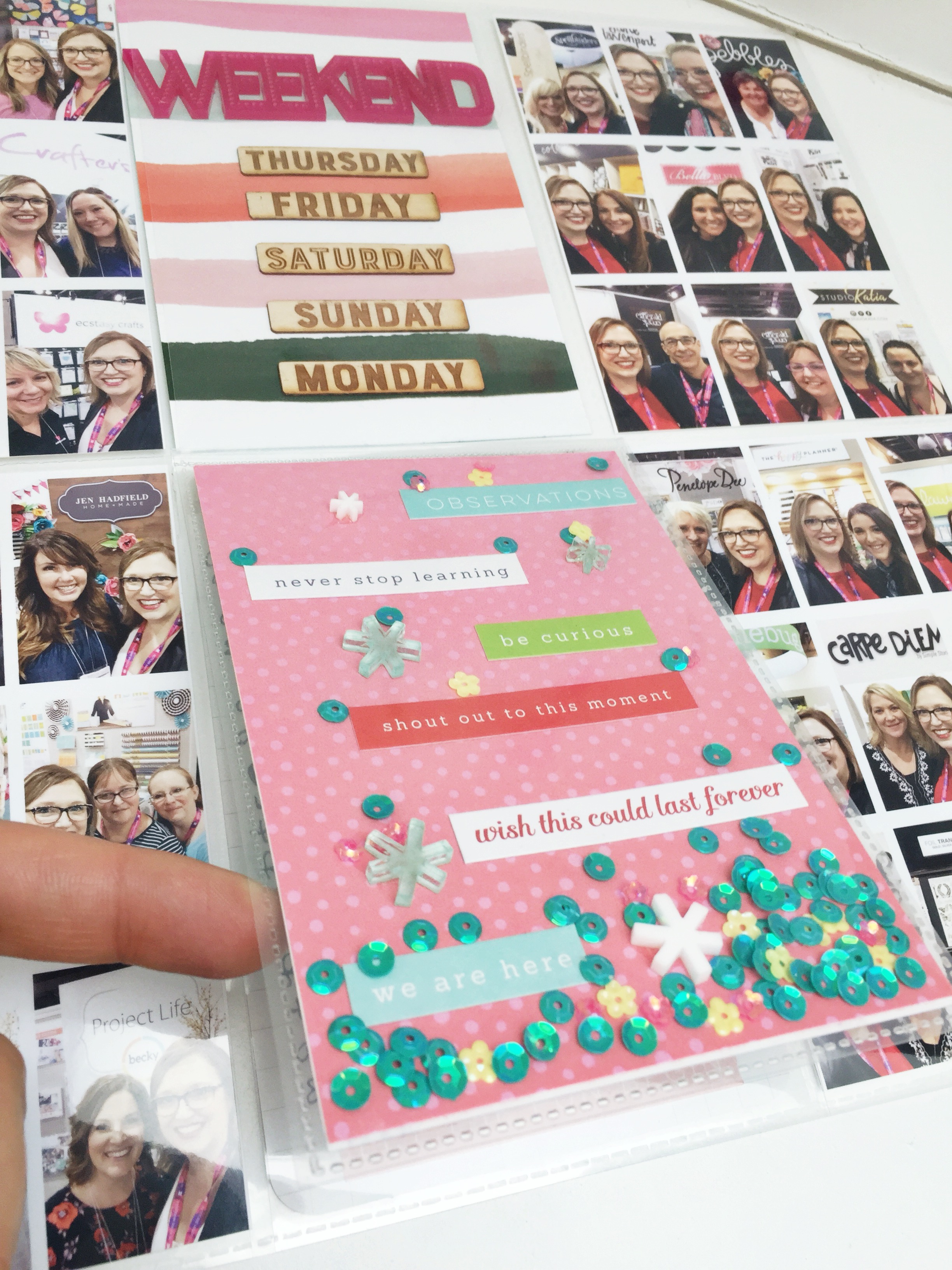 I also included the acrylic weekend (it has cute holes that look like marquee lights, what a fun detail) and the wood veneers that showed the days we were in Phoenix.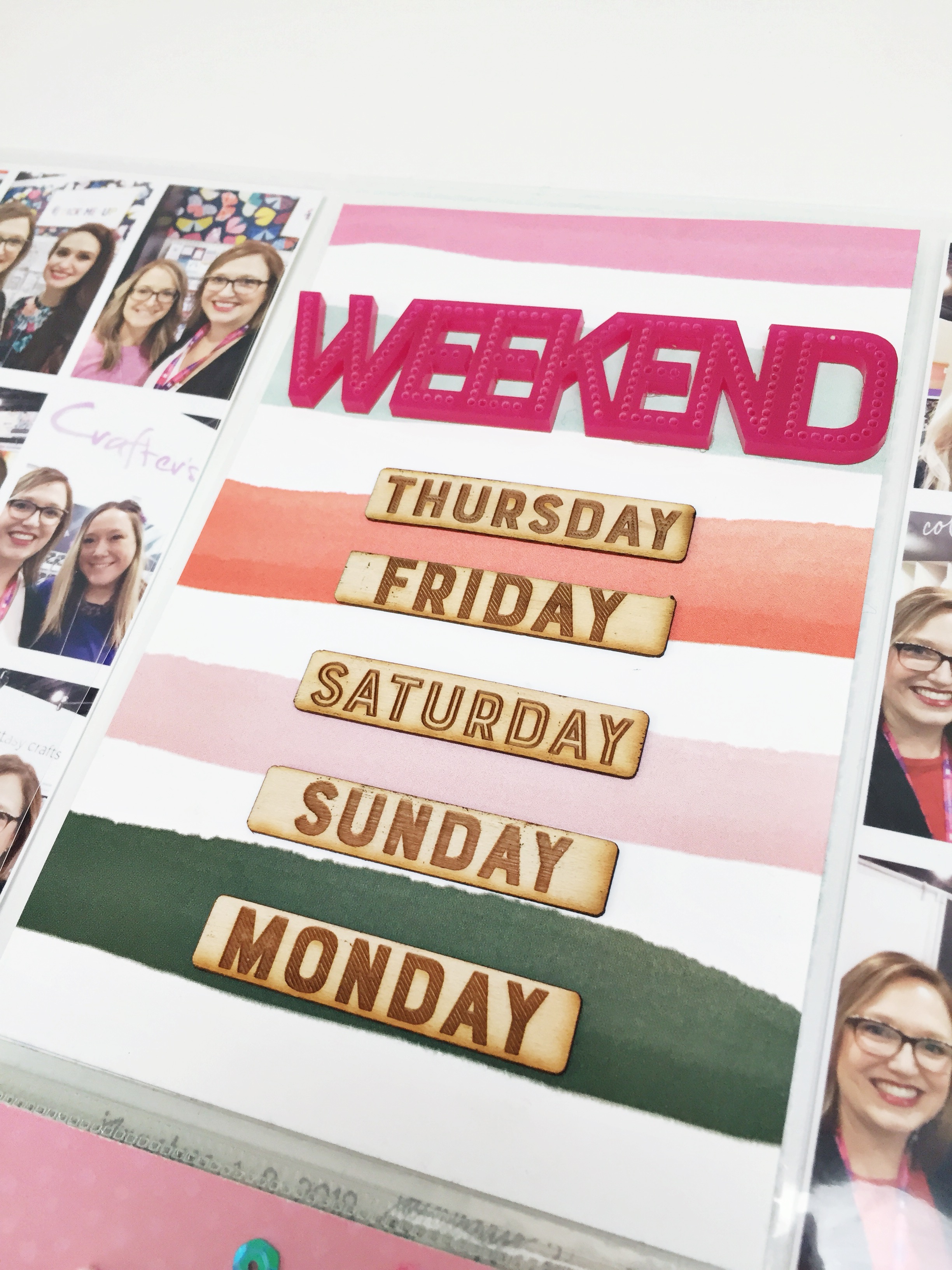 Journaling is included under the flap.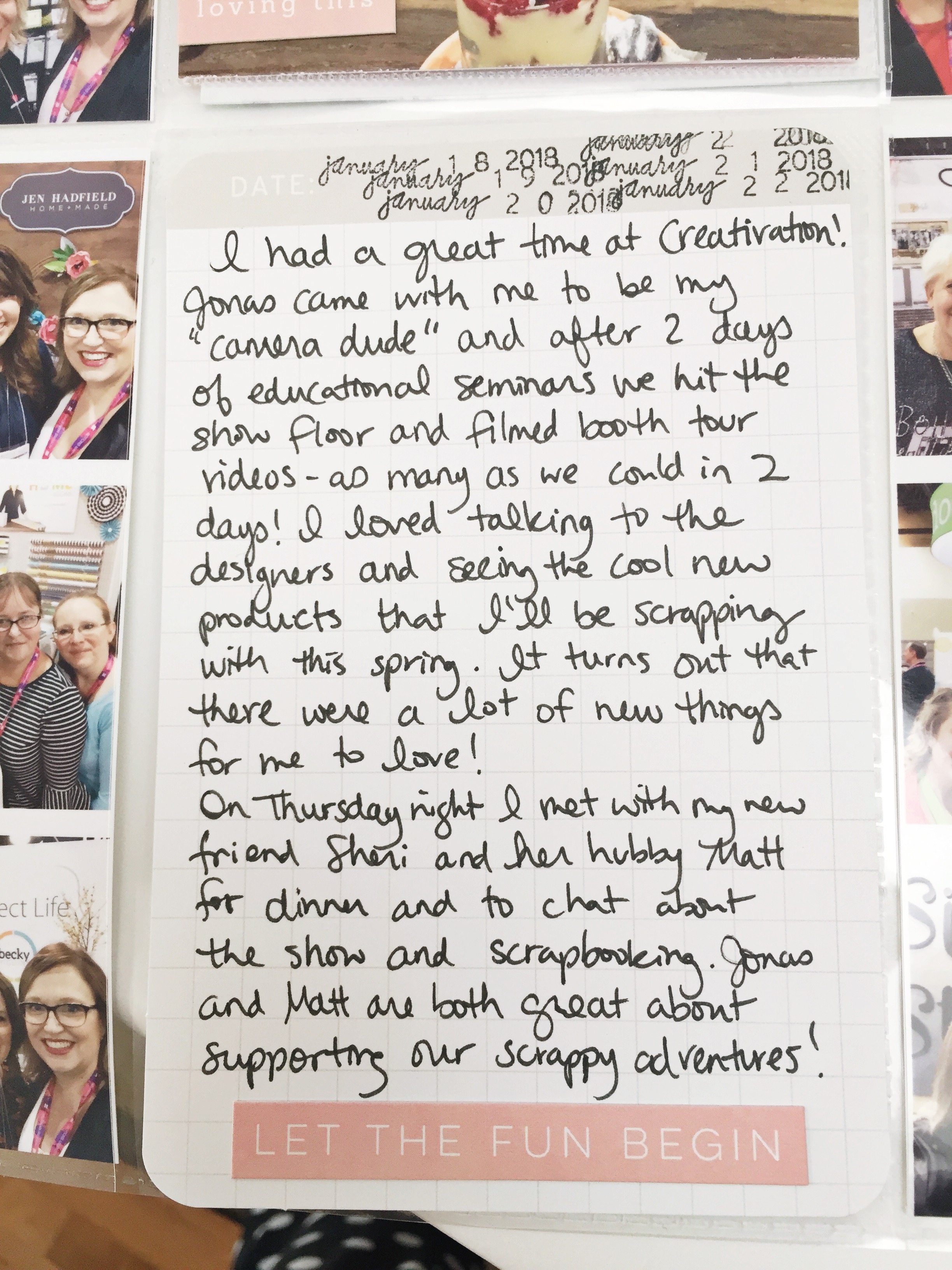 As well as a photo of me with my new friend Sheri!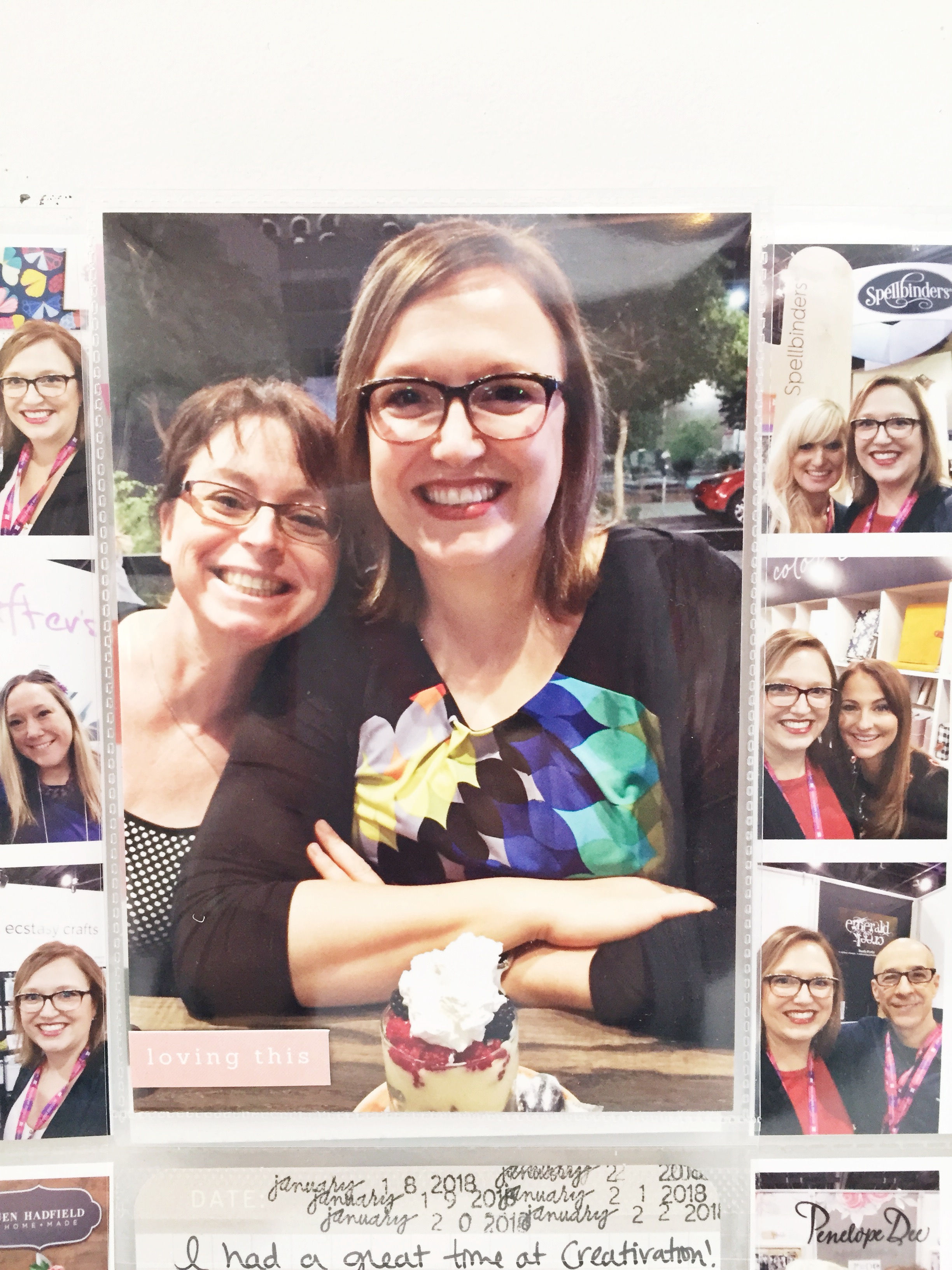 I'm so happy that I was able to scrap some of the details from my trip to Creativation.
Have you tried a kit from The Wild Hare kits? I always enjoy the products in mine, that's why I keep ordering new kits! If you're ready for something fun give it a try. There's no monthly commitment.
Would you like to join me for Scrapbook Live next month? Sign up for emails by filling out the pink and blue box.
Happy scrapping!
Alice!