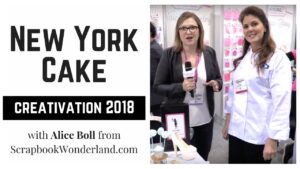 I was walking down the aisle at Creativation 2018 and I suddenly spot a fabulous shoe! WHAT???!!!
Soon, Lisa Mansour from New York Cake was introducing me to the sweet world of cake, fondant, icing and chocolate! YUM!!! Creativity has never tasted so good!
I was curious about how I might bring some of the molds and tools into my crafty world too… the opportunities are so enticing, kind of like a chocolate shoe!
What kinds of crafts or creativity do you get into? I've made chocolates with chocolate molds and they are SO FUN, and the more I learn about cake decorating the more I want to try!
Alice.