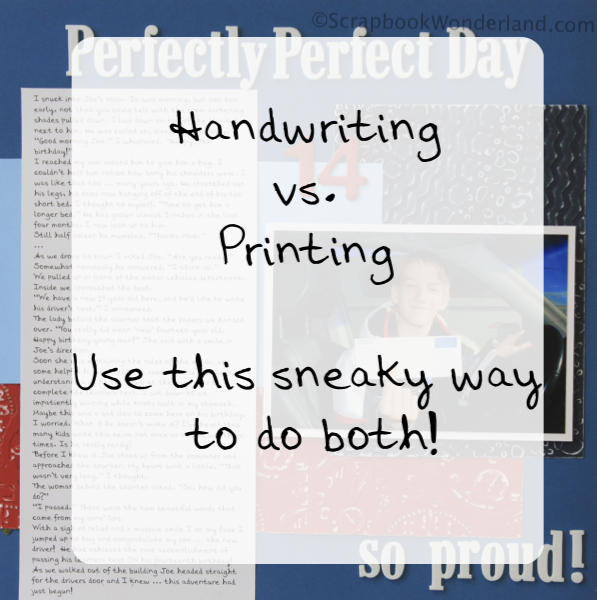 The war is on! Whether you should use handwriting or typing for journaling is a subject of vigorous debate. Everyone has an opinion. This can make adding journaling to your scrapbook page a huge stumbling block.  Just what you need, another problem with journaling!
You've probably been told to use your own handwriting. You've heard the arguments for using your handwriting on your pages.
Your family will appreciate your own touch
It is faster and easier
It makes your page personal.
You think, "Yeah, but have you seen my writing?"
You've also read many tips on ways to improve your own writing, so you will be more comfortable in adding it to your page. Useful tips like:
Practice on scrap paper first
Give yourself some lines to write on
Use pencil, then cover it with pen
Try different pens with different point sizes
These tips help, but you STILL might not be loving your handwriting, so you go back to typing your journaling on the computer. There's several advantages to using the computer:
You can use fonts as a design element
You can resize to make it fit the space you have
You can shape your journaling
You can use spell check
It's nice and neat
While all of these points are super handy, it still doesn't give you the personal touch of adding your own handwriting. So, how can a creative scrapper win this war?
Create your own font!

At yourfonts.com you can create a custom font using your own handwriting or printing! The process is very easy. Follow the 7 simple steps and you can create your own font too!
Print Template
Complete Template
Scan & Save Template
Upload Template
Preview Your Font
Download
Install & Use
Here's a couple tips that made this easier for me.
Follow the directions!
Read, and re-read the directions for Step 2. Take your time to fill out the template right so you'll be happy with the font you create!
You need to be able to use a scanner, or find someone that can help you.
Take the time to check your font over before you complete your purchase. I was unhappy with a few of my letters, so I fixed them on my template and re-scanned it. (I used a white-out tape to cover over my 'poor' letters, that seemed to work just fine for me.)
Read the instructions carefully on how to install your font. I've never done this before, but was able to figure it out by following the directions.
When you are finished you can start using your custom font on your scrapbook pages!  Here's a page that I created using my own font.
Here's what I love about it:
Every letter is the best letter I make.
I can easily change the size of my font to fit the journaling space on my page.
I can edit and make changes to my writing easily.
It lines up so straight and pretty!
This would be so AWESOME for digital scrappers too!
Consider this the hybrid option between handwriting and typing. This war now ends in a tie!
Now go ahead and have fun creating your own fonts!
Let your creativity shine!
Alice.
Click here to create your own font!
*This post contains affiliate links. I only share what I love! You are free to visit the site without my links, but if you love what I've shared I'd appreciate you using my links!