Where do you find scrapbook design inspiration? In this post, the beginning of a series that will be featured on Wednesdays, I'll share some of the best resources that inspire my scrapbook pages.
Many of these you'll expect, but I'm sure there's a few places you probably haven't mined for their scrappy goodness!
Warning. This post has a lot of links! I wanted to share as many of my favourite sources of design inspiration all in one place. Be prepared to be inspired!
TIP! Bookmark this page! Make it easy to refer back to this list of resources by bookmarking this page.
Pinterest
We'll get the easy one out of the way first, just like when you take a test. Don't worry! There's no pop quiz at the end. 😉
I separate my Pinterest board into several different categories and I create new ones all of the time. I want my pin boards to reflect my current interests and I want them to useful! I don't want to just pin something and forget about it.
Bonus: Pinterest Tip!
Most people I know aren't doing this but it makes your boards so much easier to use. You can pin something into more than one category! You just have to pin it onto both boards. It's a two step process, but in the end you will have that cool idea in a couple of categories if it applies to more than one.
How do you use this? Find a great idea for a Christmas page? Pin it to 'Scrapbooking' AND 'Christmas' pin boards, that way you'll be more likely to come across it when you need it.
Here's a few of my scrappy related pin boards:
Scrapbooking
Scrapbook Wonderland (all of these pins link back to cool things I've shared here!)
Scrapbook Organization
Scrapbooking Sketches
Scrapbooking Christmas
Art Journaling
Colour Palettes
Pictures To Take/Photography
www.pinterest.com/scrapbookwonder/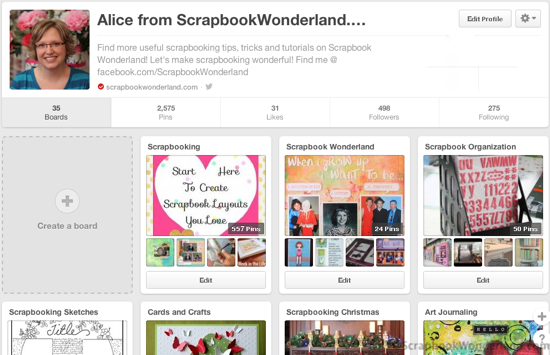 Email Lists
I sign up for email lists to get inspiration right in my inbox! Here's a few websites that have emails I can't wait for. Usually you sign up in a box in the column on the side to get the emails and often there's a fantastic bonus for signing up too!
Redefined Kreative: Join Khristina Sorge as she takes you on an exploration of design, colour and creativity!
Cathy Zielske is one of the first people I think of when thinking of clean and simple design, well, she did write the book about it! Her emails are full of great tips and she has a fun and quirky sense of humour to bring to this fun hobby that's so much more than a hobby!
I also have a few friends that share fabulous scrappy tips!
Melissa Shanhun of Digital Scrapbooking HQ: Great source of useful tips to learn digi techniques.
Alison Day Designs: Alison does scrapbooking and cardmaking and her eye for design is amazing. Find out what she's up to:
Cara Vincens from The Hooting Pirate is the go-to gal for planner inspiration. You can find Cara here:
Oh… and I share all kinds of scrappy goodness too! You can sign up for Scrapbook Wonderland emails here. I have a special gift for you too!
scrapbookwonderland.com/subscribe
Magazines
Are you still missing Simple Scrapbooks and Creating Keepsakes Magazine? I sure am! Luckily, I know of two amazing publications to help you get your fill of gorgeous scrapbooking layouts and designs.
Creative Scrapbooker Magazine
creativescrapbooker.ca
Scrapbook and Cards Today
If you know of any other scrapbook magazines that are still in print please share them in the comments!
Forums/Facebook Groups
If you are looking for inspiration a scrapbooking forum is an excellent place to go! However, they can be really hard to find. Facebook groups have replaced many forums these days. Want a few great groups? Check out:
Blogs
As you know blogs are a great source of scrapbook design info.
Missy Whidden's designs are bright, colourful and gorgeous. You should also catch her YouTube channel which rocks!
littlenuggetcreations.blogspot.com
Simple Stories: I love their products and their blog is full of useful ideas since I buy their stuff!
Tiffany Lowder posts lots of scrappy stuff and a bit of fun travel/life thrown in. She's one of the co-hosts of the Scrap Gals Podcast. I love her casual approach to scrapbooking and life.
Did you know? On the Scrapbook Wonderland blog there's a tab just for DESIGN!
You can click the tab at the top of the page or this link: DESIGN
Non Scrappy Blogs
Yes, there's good stuff that inspires my scrapbooking that is not 'about' scrapbooking! I find inspiration in so many things, you'll be seeing more posts about them in this series.
To get you started looking for design inspiration in some non-scrappy blogs you'll want to visit these two:
A Beautiful Mess: Elsie Flannigan (now Larson) was a big name in scrapbooking. Now she shares all kinds of creative ideas, I don't even know how to describe it, except for, 'so much fun'!
abeautifulmess.com
I Heart Organizing: Organizing and gorgeous design are what you'll find here. Jen has one of the prettiest blogs I've seen! (Her organizer/planner is absolutely adorable too!)
iheartorganizing.blogspot.ca
Podcasts
The Scrap Gals podcast is hilarious! Tiffany and Tracie are a couple of southern gals who love scrapping as much as I do! You can find them on the PodBean podcast app or check out their site:
www.thescrapgals.com
I love to listen to their podcast while I scrapbook. It's like having friends over for a crop!
Inspiration is Everywhere
Over the next few weeks I'll be sharing more in the Scrapbooking Design Inspiration series about using books, art, architecture and more, to inspire your scrapbook layouts. Don't miss it!
What are your best scrapbook design inspiration resources? I'd love know! Share them in the comments below.
P.S. If you sign up for the Scrapbook Wonderland email list you'll receive the blog posts once a week right in your inbox. Sign up here.
Let your creativity shine and get scrapping!
Alice.