No more boring titles!
This creative title lettering technique will make the title on your Halloween layout extra spooky.
But don't feel that this technique is just for Halloween.
You can use this technique for other themes and pages too!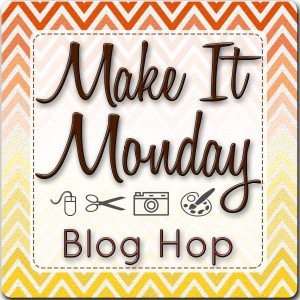 If you are following the Make it Monday Blog Hop you've arrived from DigitalScrapbooking HQ where Melissa was also scrapbooking Halloween. I'll share the next stop on the hop at the end of this post.
Let's face it, scrapbook titles are a necessary part of the page, but it's easy to get stuck in a rut and keep doing the same thing over and over again.
Do all of your titles have Thickers? Maybe die-cuts? Stickers? Stamps? Whatever your title of choice is I'll bet you use it a LOT!
We ALL do it!
Let's take your scrapbook titles and give them a bit of a facelift by jazzing them up with heat embossing.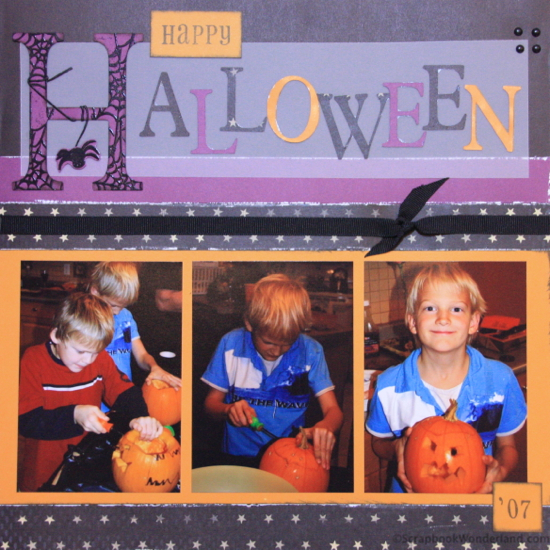 Cool tricks used on this title include:
Heat embossing on the first letter
Using more than one size of  letters (a much larger first letter)
Using multiple colours
Staggering the letters instead of keeping them in a straight line
Wrapping waxy flax (a type of string) around the first letter
Adding a smaller word as part of the title (Happy)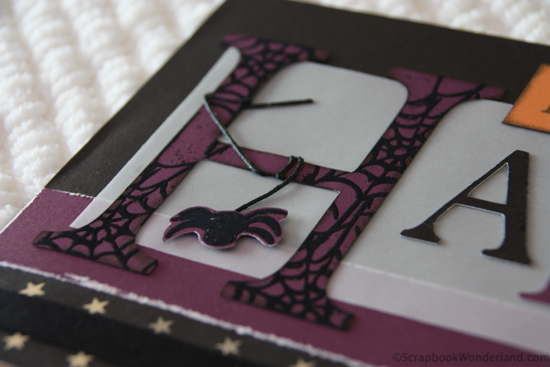 4 Steps to Create the "H" in Halloween:
Cut the "H" using a die cut machine. The "H" is 3.5″ tall and the rest of the letters are 1.5″ tall.
Stamp a cobweb onto the "H" using a Versamark ink or a pigment ink.
Apply black embossing powder and melt.
Wrap the "H" with waxy flax string and hang a stamp embossed spider from the string.
Not sure about how to heat emboss or haven't had a lot of success with it? Here's a video I made that takes you through all of the steps and gives you my best practices and techniques so you'll fall in love with heat embossing like I did!
I hope you'll be inspired to get creative with your scrapbook titles! I'd LOVE to see an example of a creative title you've made. Please share them on the Scrapbook Wonderland Facebook Page.
On your next stop on the Make it Monday Blog Hop Jen Wright has a free pumpkin-themed template to make a quick and fun Halloween layout! HOP HERE.
If you are ready to fall in love with scrapbooking again and you want to make scrapbooks you love sign up for the Scrapbook Wonderland mailing list. Subscribe.
Let your creativity shine!
Alice.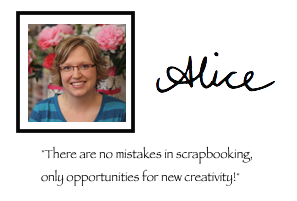 Make it Monday Blog Hop:
Scrapbook Wonderland: YOU ARE HERE!