As a scrapbooker I want to be able to share my layouts with my family, but I find that my family members don't grab the albums and snoop through them very often. I found a way to share my latest and greatest scrapbook layouts with my friends and family and create a great display wall all at the same time.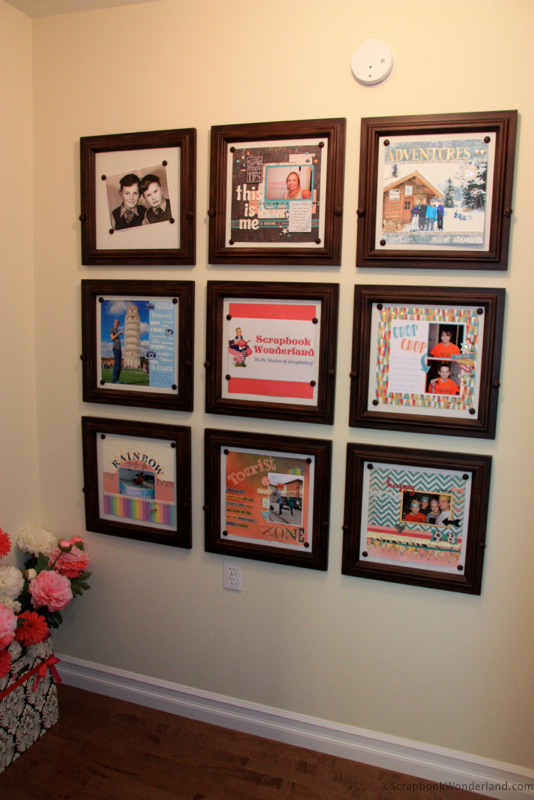 The 9 frames that I use are slightly larger than a scrapbook page and they have a magnetic surface covered in a linen fabric. I can easily pop a new layout up on the wall for my family and friends to see by using magnets! When I have something else to display I pop one of my older layouts into the album it belongs in.
Benefits of a gallery wall:
Share new layouts without picking up a whole album.
Gives my family a chance to see what I'm doing.
It is a great way to decorate my house with custom artwork.
Use the gallery to post special photos before you are ready to scrap them.
Enjoy your finished layouts more when you get to see them more often!
 Recommendation:
I love the magnetic frames because it is so easy to slip new layouts into the frames. I had shadow box frames before but I never changed them out because it was too much work. These ones are from Creative Memories but I'm sure I've seen similar frames online and I know I've seen how-to's on Pinterest! Here's a link to a pin on the Scrapbook Wonderland 'scrapbook organization' pin board.
If you are ready to fall in love with scrapbooking and create scrapbooks you love you can sign up for the Scrapbook Wonderland email list to get more inspiration like this HERE.
Have a wonderfully creative day!