There were so many brilliant things at CHA2017 Creativation! I'll try to give you some of the highlights I noticed and fell in love with. I didn't make it to every booth, or see everything, I think I would have needed a week!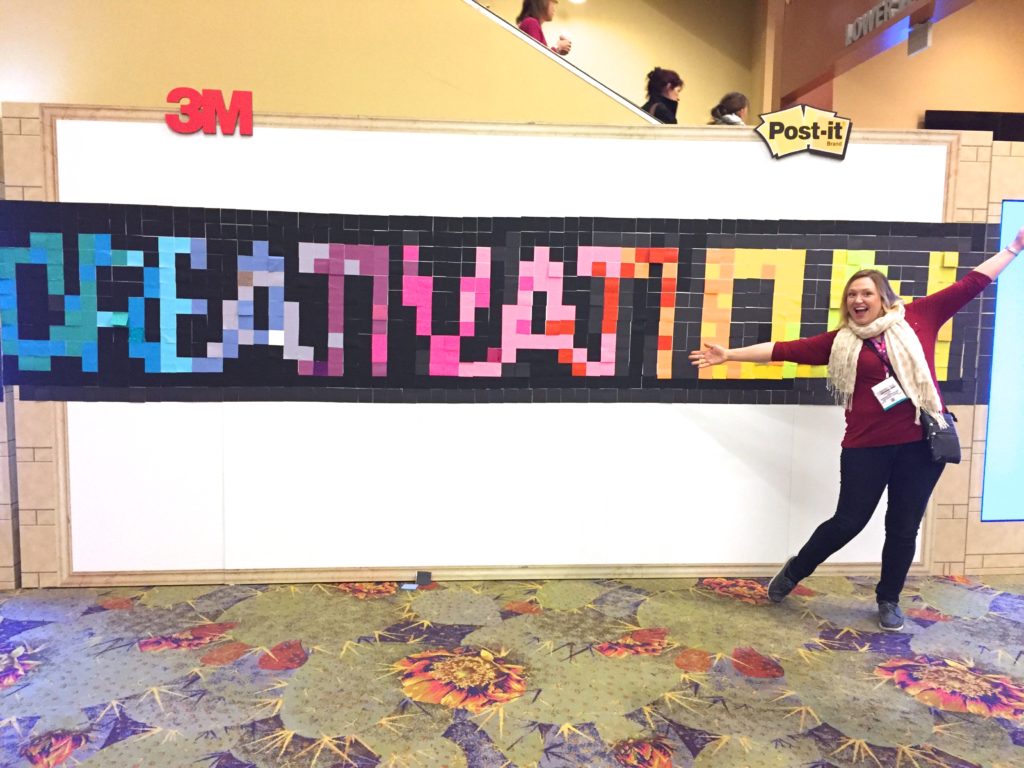 Trends
Gold was still the dominant metallic, but copper is edging in and I'm sure we'll see more of it.
Emoji's were easy to find, with the happy face and even the "chocolate swirl". 😉
We are seeing more marble-effect papers.
There are plenty of tropical embellishments like palm leaves, flamingos, and pineapple, perfect for summer or a tropical escape.
Lots of the florals were photographic style and very bold. Heidi Swapp's "Magnolia Jane" line and My Mind's Eye "In Bloom" are perfect examples of this elegant look.
I saw several black and white papers that would be perfect for adding your own colour, like in the Dear Lizzy "Lovely Day" collection.
Florals on a navy background are everywhere!
Handwritten words.
Multicolour letters in alpha sets.
Stars and constellations.
Mini puffy stickers that you can use for scrapbooking, pocket pages or planners were a staple at many booths.
New
As for new products, I saw some cool things…
Amy Tangerine had some inflatable embellishments that are reminiscent of like a float toy you'd use in a pool.
I saw "amusement park" lines at several booths with castles and theme park embellishments. Notably "Say Cheese III" from Simple Stories and "Magic and Wonder" from Echo Park.
Uchi's Design had Animated Stamps… super cool! You might want to check out MY VIDEO for this one, they make stamps move!
The copper wire-look (it's not actually metal) alpha from Pink Fresh Studios is fabulous.
I really loved Heidi Swapp's Letterboard and can't wait for it to be released.
Maggie Holmes has some Thickers in her "Chasing Dreams" collection that are gold on top and have pink that you see from the side, love them!
Lawn Fawn had some cute new stamps and plaid paper that is fun and bright.
Doodlebug Designs has some adorably cute papers and I loved their sweet little unicorn.
Spellbinders had stamps and dies for many different styles, I'm really looking forward to the labyrinth die… it's a fresh twist on a gear-type of embellishment.
Echo Park has a Toy Box collection coming out with retro toys like wooden blocks and a barrel of monkeys.
One of the most eclectic and creative paper lines is the "Life in Color" line from Bo Bunny. It's such an unexpected mixture and it coordinates for an amazing effect.
Sizzix has some embossing folders that have a thin die embedded in them, so they emboss and cut at the same time.
If you always wish there was more purple in the world of scrapbooking Graphic 45 has a new line with a lot of purple.
Planners
Planners were everywhere! I love the Composition Planner from Webster's Pages, the planners from the Carpe Diem collection (there's a purple one!) and Heidi Swapp's too. Me and My Big Ideas also had some great looking planner supplies to go along with the disc-bound Happy Planner.
Many places had embellishments that are a great fit for planner gals, (and guys).
We R Memory Keepers has a Punch Board that will work for ANY planner, coil, disc or hole punch. Now if you have incompatible parts for planners you'll be able to mix it up, or add your own.
Practical
Now let's get practical.
Glue Dots has released a tape runner!
It's available in permanent or temporary/non-permanent. I tried the permanent tape runner, it's a 'fit in your hand', snail-size tape runner and it's refillable. It glides nicely during application. I think I'll be switching to it! They also have a roller for small glue dot squares that would be very handy.
I Missed It!
I didn't get to see the new Distress Oxide ink from Ranger in action, but the projects I saw it on were cool, so I was sad I missed the demo.
I'd love to hear which products you are anxiously awaiting!
Alice.