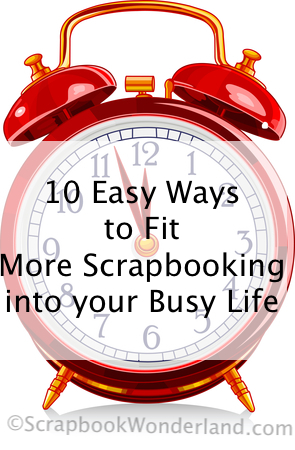 Do you love to scrapbook? Are you proud when you create pages that capture your families memories? Do you just not have ENOUGH TIME to scrapbook? Here's 10 EASY ways you can fit more scrapbooking into your busy life!
1. Make scrapbooking a priority.
Let's be honest, we make time for the things in our life that are important. If taking kids to soccer, gymnastics, and dance are important to you it gets done! Laundry gets done because we know we will need clean clothes. Put scrapbooking on your list of things that NEED to be done.
2. Schedule a time to scrap.
I know this can be hard. There's so many other things going on in our lives, but refer back to #1!  If this is a priority it should be scheduled. I tend to scrapbook in the evening, after supper. Maybe that doesn't work for you, if you are a morning person schedule scrapbooking first thing in the morning. Just imagine how the rest of the day will feel knowing that you have already completed a  layout!
3. Keep it handy.
If you can't get at your scrapbooking supplies, or you have to pull everything out each time you need to scrapbook you just won't do it. Make it an easy choice by making it available! This same thinking is used when you buy baby carrots and pre-washed and chopped lettuce, if it's easy to use, you will!  This involves designating a 'space' for scrapbooking. You don't need a whole room. An accessible shelf or stack of drawers will work just fine.
4.  Set goals.
If you set a goal to accomplish a certain amount of scrapbooking each week you will be more likely to get more scrapbooking done. Make sure that you are setting SMART goals; specific, measurable, achievable, relevant and a goal that has a timeline. For example, you might want to scrapbook 2 layouts each week for 3 months.
5. Scrapbook with a friend.
It's fun to scrapbook with a friend. I find that although I'm not as efficient, I enjoy the time spent with my friend so much that I'm motivated to continue scrapbooking on my own. If you don't have a scrappy friend nearby join a club or take a class. By taking part in a scrapbook club or class you will be creating scrapbook pages more often. This can be the start of your inspiration so you will feel more excited to scrapbook on your own.
6. Use waiting time to become inspired.
When you are waiting for dentist appointments, doctor appointments, hair cuts, read scrapbooking books and magazines. Toss some sticky notes in your purse so you can flag pages that inspire you. If you are stuck waiting in a long line at the grocery store find inspiration on a scrapbooking app. (I love the free layoutaday app for my iPhone!) When driving to activities listen to scrapbooking podcasts.
7. Scrapbook in the moment.
Be sure to capture the moment as it happens! When your child says something hilarious jot it down on a journaling card you carry in your purse. When you get home you can simply add that journaling card to the page.
8. Technology is your friend.
I already mentioned my favourite iPhone app, but there's so many ways you can use technology to make scrapbooking easier; create photo books, type your journaling, upload photos to a photo printer, try an online class. Put your technology to use for you! My friend Beth has created a list of the top 10 apps for scrapbookers at ScrappingWonders.com
9. Turn off the TV.
If you find that you have time to watch your favourite shows, you have time to scrapbook!  Or… Scrapbook WITH the TV! I don't turn off my TV, instead, I scrapbook with it! I catch up on my favourite shows AND get my scrapbook pages done! (If you're talking to me, and I'm up to date with every show, you KNOW I'm getting tons of scrapping done!)
10. Involve your family.
If you have kids they might love to scrapbook too. Find specific tasks they can help with. Journaling will have extra special meaning when printed by them. Have them sort embellishments your embellishments by colour. I recently hired (yes, hired) my 14 year old son to photocopy all of my stamp sets so I could make a stamp index book. When I'm stuck for inspiration on a page I'll ask my husband for ideas. Although he is REALLY not a scrapbooker, his perspective often leads me to try something new or creative. Recently he even sent me a photo and a quote from one of our boys so I could create a layout!
If you are feeling guilty about not scrapbooking enough you might want to check out the Guilt-Free Scrapbooking series here.
I'd love to hear your tips to fit scrapbooking into your life! Post your tips in the comments.
Let your creativity shine!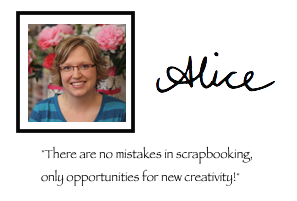 Love tips like these? Join the Scrapbook Wonderland email list! It's free and totally non-spammy!