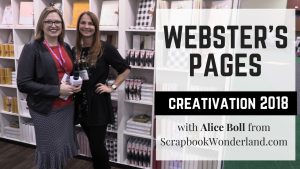 Laura Graff from Webster's Pages showed me the new paper collections 'My Happy Place' and 'The Good Life' and the beautiful planners, composition notebooks, traveler's notebooks and the new pocket size TN's at Creativation 2018.
***hidden Easter Egg***
For the Layout A Day (LOAD) Challenge go to ScrapHappy use code "YOUTUBE15" to save $15 before January 31, 2018
I personally use a Webster's Pages regular sized planner (I have the White Diamond) AND I use the Composition Notebook (light teal). The white one keeps track of my life and the teal one I use for coming up with ideas, brainstorming and taking notes, and the larger size is great for that!
Click image to shop. (*affiliate link)
What kind of planner are you using? Is yours pretty or functional? Or, have you found the perfect balance between beauty and function? I'd love to know!
Happy scrapping!
Alice.