If you ask a scrapbooker, "What is the hardest part of making a scrapbook layout?" the most common response is…
JOURNALING.
Why, oh why does it have to be so difficult?
It doesn't. When you have a few good tricks up your sleeve.
Journaling Tip: Tell a friend.
If you struggle to get past the "he's so cute" and "it was fun" kind of journaling, this is the place to start.
When you look at your photo on your layout you already can see the adorable cuteness, or the joy from all of the fun… you don't really have to write that, but what do you say instead?
Tell a friend.
Sit down with a friend and show them your photos. Automatically you'll start telling them all about the fun thing that led to that photo being taken. You'll give them the 'behind the scenes' info about it.
This is the MAGIC! This is the elusive journaling you've been searching for! You've caught the rainbow unicorn, so now let's use it!
Write down the story you just told your friend. This is what the person looking at your layout needs and wants to know.
Don't have a friend handy?
With the magic of social media you can easily show friends your photos.
In fact, you probably have done this already.
You know when you post a photo on Facebook or Instagram and you write a description of the photo?
Chances are you've already told your friends the 'great story' that goes with this memory.
You can probably just copy and paste it. 😉
Not Our Baby Layout
Here's a great example of how telling a friend about your photos can help you find a good story to tell.
As I flipped through my photos on my phone with my friend I found a cute photo of my neighbour's dog, Baby. Actually, I have quite a few photos of Baby.
Normally, I wouldn't scrapbook about my neighbour's dog. What kind of story do you tell about your neighbour's dog? That seems a bit obscure for a layout.
By showing my friend these photos I found myself telling her about all of my photos of Baby, and how someone looking at my photos could easily think we have a beautiful golden retriever. It made me laugh at how much our family enjoy's this sweet dog that likes to come over for a visit whenever we are hanging around outside.  We love that she comes over because she's such a sweet dog.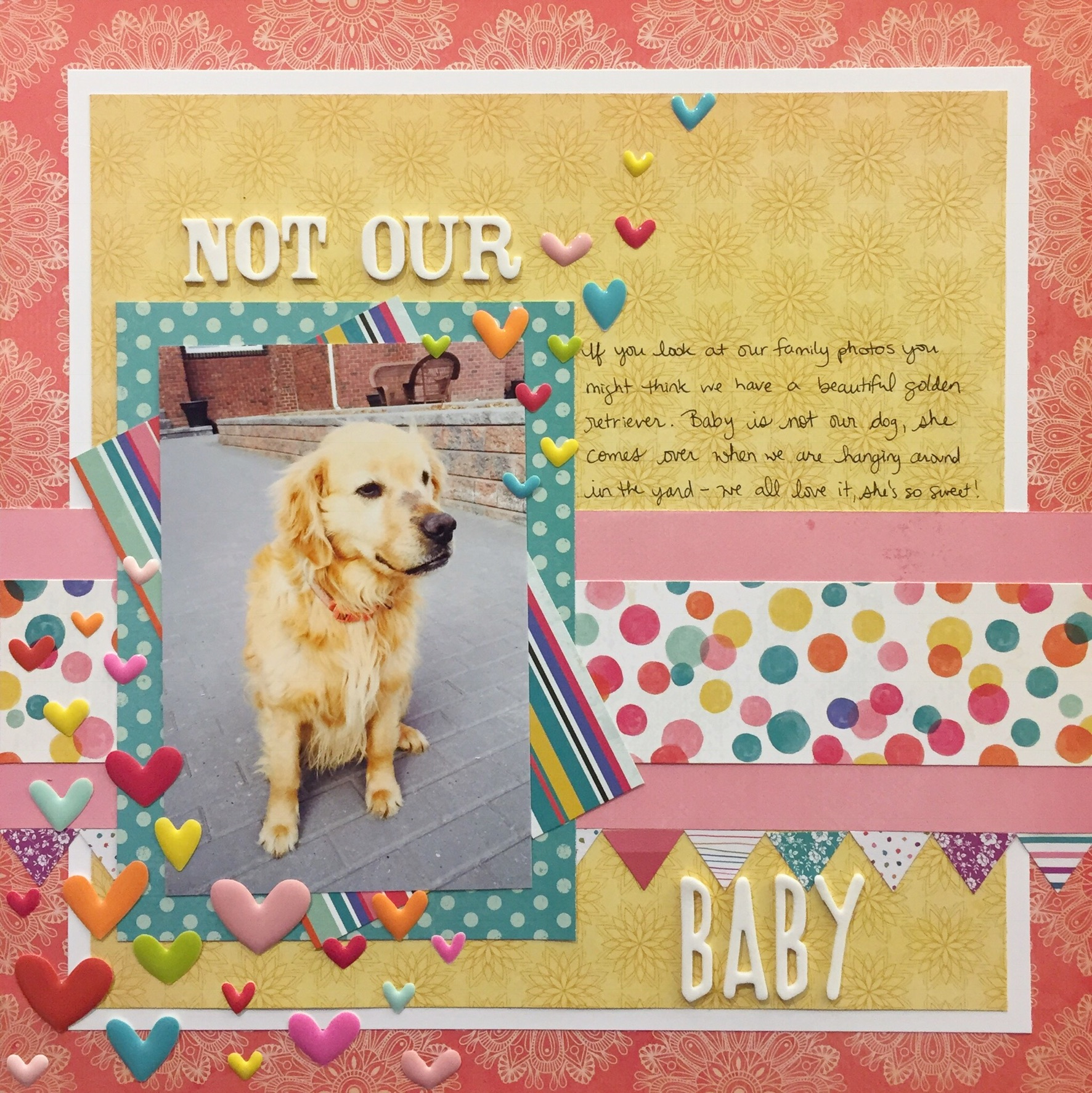 Telling my friend helped me find a fun perspective to share on this layout… about our neighbour's dog.
Which types of photos do you struggle to journal about? Leave a comment and you could see your suggestion featured in a future Journaling Tip post!
Happy scrapping!
Alice.