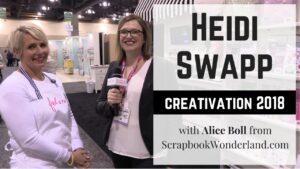 Heidi Swapp has done it again! She has brought out new innovative products for our home decor… this time in NEON!
Her new paper line is called Hawthorne an it's absolutely gorgeous. Who would have thought she could top her Magnolia Jane collection from last spring? It has a strong purple presence, which is perfect with the Pantone color of the year being Ultra Violet.
She also is releasing a summer collection called Pineapple Crush. It's fun and bright an perfect for holiday or summer scrapping.
She's brought out the most sparkly and glittery planners that you could imagine, one of them is even iridecent, and the glittery ones are protected so you won't be shedding glitter everywhere.
Here's the video from her booth:
Which new product will be on your shopping list?
Alice.