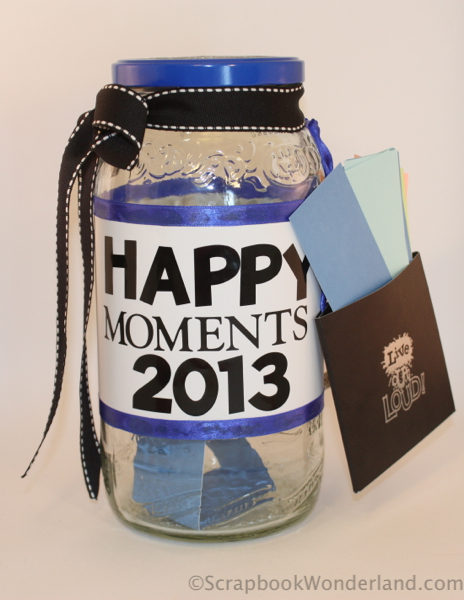 Happy New Year!
On Facebook the other day a friend shared a cool idea they had found online… or more likely that had been shared by someone else 😉
Take an empty jar and fill it with notes about the good things that happen throughout the year. On New Year's Eve you open it up and read about the awesome stuff that happened that year.
Brilliant!  I love several things about this:
The whole family can participate
There is no 'set amount' that needs to be completed
Whatever ends up in the jar will be a happy memory
You can create the jar any time… not just New Year (birthday, anniversary, etc.)
and…  it is practically DESIGNED for a scrapbooker!
How easy will it be to make a "Highlights of 2013" layout when you have all of the details in one handy little jar?  SUPER EASY! All of the journaling is done for you!
Of course I had to make 'the scrapbooker version' of the jar… I couldn't just use a plain old spaghetti jar, right?
Here's the steps to create a Happy Moments jar:
Find a jar. I used a gigantic pickle jar.
Peel off the label and wash it well.
Decorate the lid. I heat embossed a fun saying on it (Live Out LOUD!) and used some glitter glue.
Wrap and glue some paper around the jar for the label. I used Liquid Glass from Close To My Heart as an adhesive.
Add sticker letters.
Wrap and glue ribbon around the label and the top of the jar.
Create a mini envelope to hold the strips of paper to write on.
Tie the envelope to the side of the jar with some ribbon.
Add your first happy moment to the jar!
Do you have any tricks to capture the little moments for your scrapbook? How do you involve your family members? Post your suggestions in the comments!