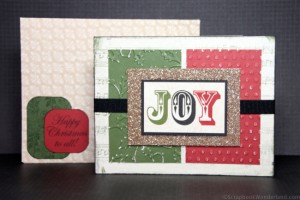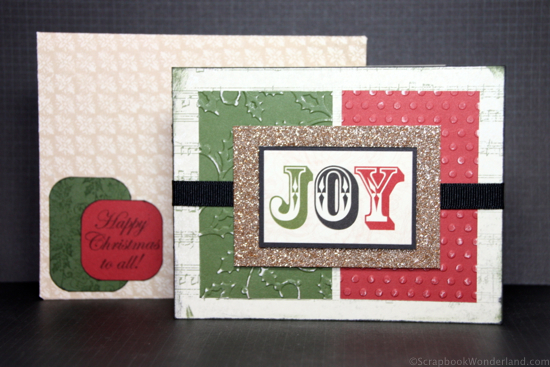 It's Christmas card time! This card is a traditional paper card created using a digital template as inspiration. What a cool idea!
The credit doesn't actually go to me. My friend Carol Cassel from Scrapbook Campus is running "12 Days of Christmas Cards" and each day has a free digital template and an example of how you may use it… from 12 different designers! I was excited when she invited me to be one of the designers.
Here's a peek at the digital template. (If you want the download version you'll have to be on the email list. Hurry, this will be sent out on December 8, 2014!) To sign up for  the 12 Days of Christmas Cards click HERE.
The templates are simple so you can add as much creativity to the basic design as you like! I love having a basic design that can be used over and over. I could easily turn this into a birthday, thank you, sympathy, or get well soon card.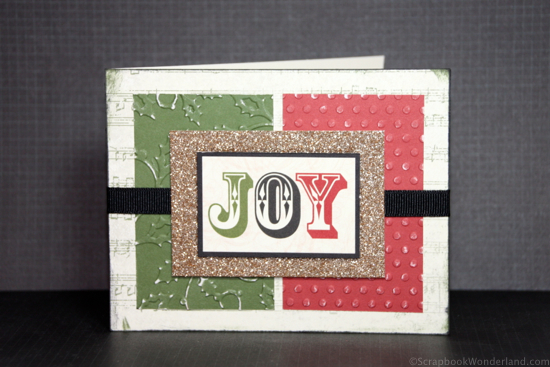 Adding a custom envelope that matches the card makes this extra special.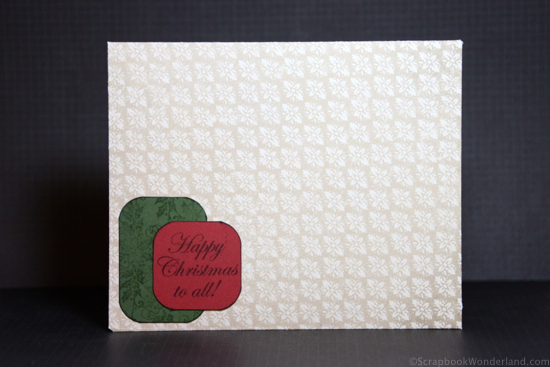 Here's the video so you can see how quickly you can create this simple, elegant card. At the end of this post I'll share a list of supplies and dimensions.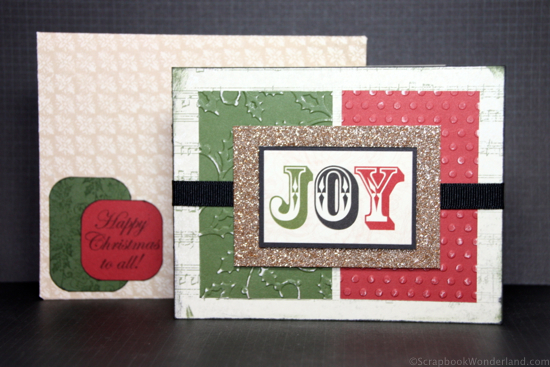 To sign up for  the 12 Days of Christmas Cards click HERE. Don't worry if you've missed the first ones, as you'll receive access to all of them at the end!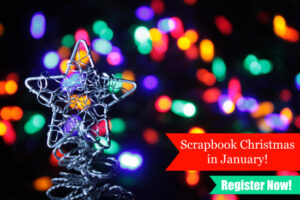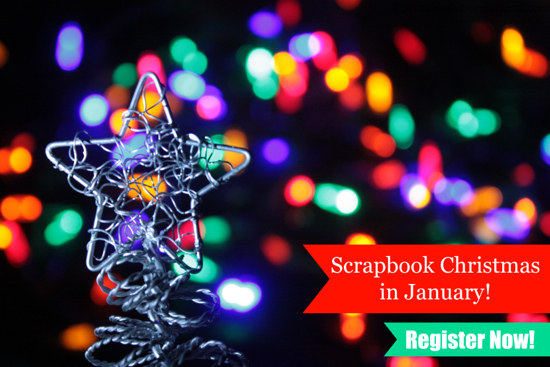 Are you feeling stressed and worried that you won't be able to get your Christmas scrapbooking done this month?
Get rid of the stress and Scrapbook Christmas… in January! This new class will teach you how to capture the important moments now and scrapbook them after the hustle and bustle of the Christmas season is over… in January! Get more details HERE.
Do you make your own Christmas cards? Do you use templates to inspire your design? Leave a comment to share your method!
Alice.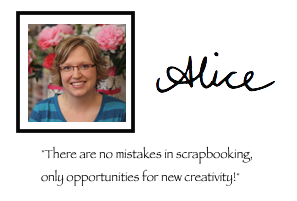 Dimensions for card pieces:
Card base: 4-1/4 x 11 (fold it in half)
Patterned paper base: 4-1/4 x 5-1/2
Red rectangle: 2 x 3-1/4
Green rectangle: 2 x 3-1/4
Gold glitter paper: 2-1/4 x 3-1/4
'Joy' image: 1-1/2 x 2-1/2
Ribbon: need approximately 7 inches
Dimensions for envelope pieces:
Envelope base: 8-1/8 x 8-1/8
Green rectangle: 1-1/2 x 2
Red square: 1-1/2 x 1-1/2
Supplies:
Most supplies are from Close to My Heart. (in Canada you can order them HERE)
Patterned paper: Yuletide Carol (X7187B)
Joy sticker: Yuletide Carol Complements (X7187C)
Stamp set: Noel (C1598)
Red Cardstock: Ruby
Green Cardstock: New England Ivy
Gold Glitter paper from the Brown and Tan 3 pack (Z1830)
Green Ink: New England Ivy
Black Ink: Black
Foam tape
Non- CTMH supplies
Envelope Punch Board
Embossing templates: ProvoCraft and Ellison
Tim Holtz scissors