In part 2 of the bucket list series let's look at creating a bucket list of pages you'd like to scrapbook.
Did you miss part 1? That's where we created at a bucket list of techniques you'd like to use. See PART 1 HERE.
2. Create a Scrapbooking Project Bucket List
Let's make a list of specific scrapbooking projects you'd like to complete.
This can be layouts, mini books, whole albums, whatever kind of crafty project you'd like to create can go onto this list.
Why?
1. It's helpful to have a list of projects you'd like to complete. This gives you a jumping off point when you have time to scrapbook. It also shows you what kinds of projects are important to you right now.
2. It's good for days when you don't know what to scrap. Sometimes you are just not sure where to start. If you have a pre-made list of page ideas that you would like to complete you can see which idea sparks your interest and scrapbook something that truly inspires you.
Scrapbooking something that truly excites you is the best way to stay motivated to keep scrapbooking. These are the pages that you will be the most creative with. You'll find your ideas flow much easier when you want to scrapbook something and you aren't trying to complete a project because you 'have to'.
3. If you have a list you can add to it when you see a good idea. You know how Pinterest can be a vacuous time suck of pretty pictures? (It's not just me, right?) When you look up, you realize that you have been staring at, and pinning, other people's amazing ideas for hours and you still haven't completed your project, or found that pin you were looking for? Oops!
If you have a bucket list of page ideas you can jot down great ideas for later, that way you don't have to get sucked into the Pinterest vortex the next time you are looking for inspiration.
The bucket list is also perfect for those times you are talking to your friends and catch yourself saying, "I should totally scrapbook that!"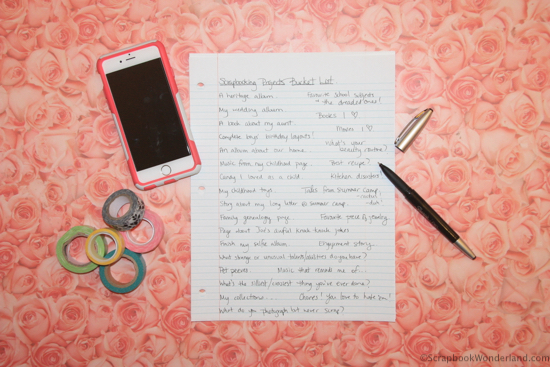 Want a peek at my Scrapbooking Projects Bucket List?
A heritage album.
My wedding album.
A book about my aunt.
Complete boys' birthday layouts!
An album about our home.
Music from my childhood page.
Candy I loved as a child.
My childhood toys.
Story about my long letter at summer camp.
Family genealogy page.
Page about Joe's awful knock-knock jokes as a 5 year old.
Finish my selfie album.
What strange or unusual talents/abilities do you have?
Pet peeves.
What's the silliest/craziest thing you've ever done?
My collections.
What do you photograph but never scrap?
Favourite school subjects and the dreaded ones!
Books I love.
Movies I love.
What's your beauty routine?
Best recipe?
Kitchen disasters!
Tales from summer camp. (cactus – duh!)
Favourite piece of jewelry.
Engagement story.
Music that reminds me of…
Chores! You love to hate 'em!
By calling this a bucket list it helps to take some of the pressure off of these incomplete projects. You are meant to get around to them eventually, but there is no sense of looming dread over the fact that they are not done yet. Hey, you haven't kicked the bucket yet, right?
Are you ready to go and create your own bucket list of projects you'd like to create? Feel free to use any from my list if you like them!
I'd love to hear what kinds of projects will go on your list, let me know in the comments.
Bucket Lists Part 3
Tomorrow we will look at the final part of the bucket list series, so check back for that!
Let your creativity shine!
Alice.